JOE MARLER HAS once again apologised for the 'slur' he aimed at Bristol's Jake Heenan during a Gallagher Premiership match last month.
The Harlequins prop received a two-week ban from the English authorities, with four weeks suspended, after inciting a melee with his comments.
Speaking on his podcast, The Joe Marler Show, the England international went into detail about the circumstances leading to the brawl, but insisted he had no idea Heenan's mother was in hospital at the time.
I f**ked it all up again. I'm really sorry to Jake and his family, the guy I tried to insult, and also to my teammates and the club. They must really now be at the point where they are like, 'Here we go again'. At what point do you go, 'Yeah, you can say sorry mate but just stop f**king doing it'. I guess this might be the point.
Recounting the incident, Marler said: "He caught me off guard because we were walking over to this scrum, and he said, 'Mate, you can't be kicking me at the breakdown', and I went, 'I didn't f**king kick ya, you were lying on my legs and I pushed you off me, and to be honest I've got no f**king idea who you are'. There was the shit level banter I started at.
"And then he replied, 'You're better than that, brother, you're better than that, brother'. I was like, 'Oh f**k, he's got me here, I know I'm better than that', but because he's mentioned the word brother, for some reason I went down the family route, and I went 'I'm clearly not your brother. We can't be related from the same woman because your mum's a w***e', which is just f**king shit, just a shit slur, sledge, whatever you call it.
"He didn't respond to that and I thought, 'Oh, ok, that's not really affecting anything'. We were forming up the scrum and Yann Thomas, their prop, said 'What did you just say to him?' I said 'I called his mum a w***e'.
"F**k, Yann, he is a big unit walking over. He straightaway grabs me by the collar. It all kicks off. The lad I said it to in the first place, Jake, he came in and his face and eyes and reaction was like, 'Oh, f**king hell, this has kicked off, why has it kicked off so hard?'"
It was only after the game that Marler was made aware of the situation involving Heenan's mother in hospital, and while he reached out to apologise, his previous indiscretions were taken into consideration when assessing his punishment.
In 2016, Marler labelled Wales prop Samson Lee a "gypsy boy" and was fined £20,000 with a two-week ban, while two years ago he was hit with a 10-week suspension after grabbing Alun Wyn Jones' genitals during a Six Nations clash.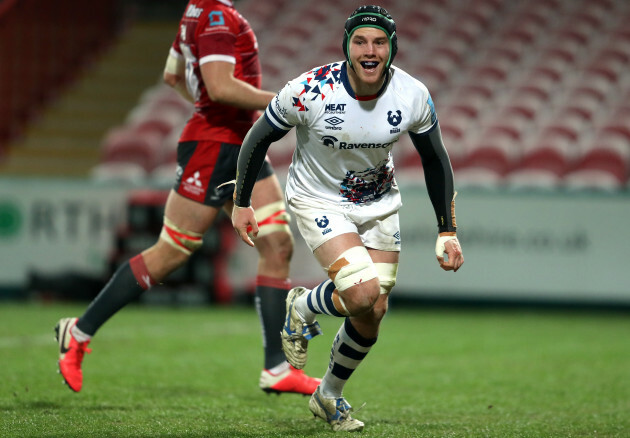 PA Bristol Bears' Jake Heenan. PA
Marler said that it was only on seeing Heenan's reaction that "it started to dawn on me, maybe I have put my foot in it somehow, maybe something going on behind the scenes
"I had absolutely no idea [his mother was in hospital]. There was no way I could have and there is no way I do that level of research going into a game. It was just a realisation of this why you shouldn't attempt to make slurs against family members because you have no knowledge of what is going on."
Marler also revealed that his wife took him to task over the whole episode.
She turned round to me after and she was like, 'You're an idiot, aren't you? You're just a moron.'I went, 'What do you mean? I thought you're meant to defend me'.And she went, 'Why am I defending you? That's not even a funny attempt. Why don't you just stop doing it? Or, if you feel the need to do it, just don't bring family members into it. You never know what's going on in people's lives and just because it doesn't affect you on the pitch doesn't mean it's not going to affect other people'."
– Additional reporting by Press Association