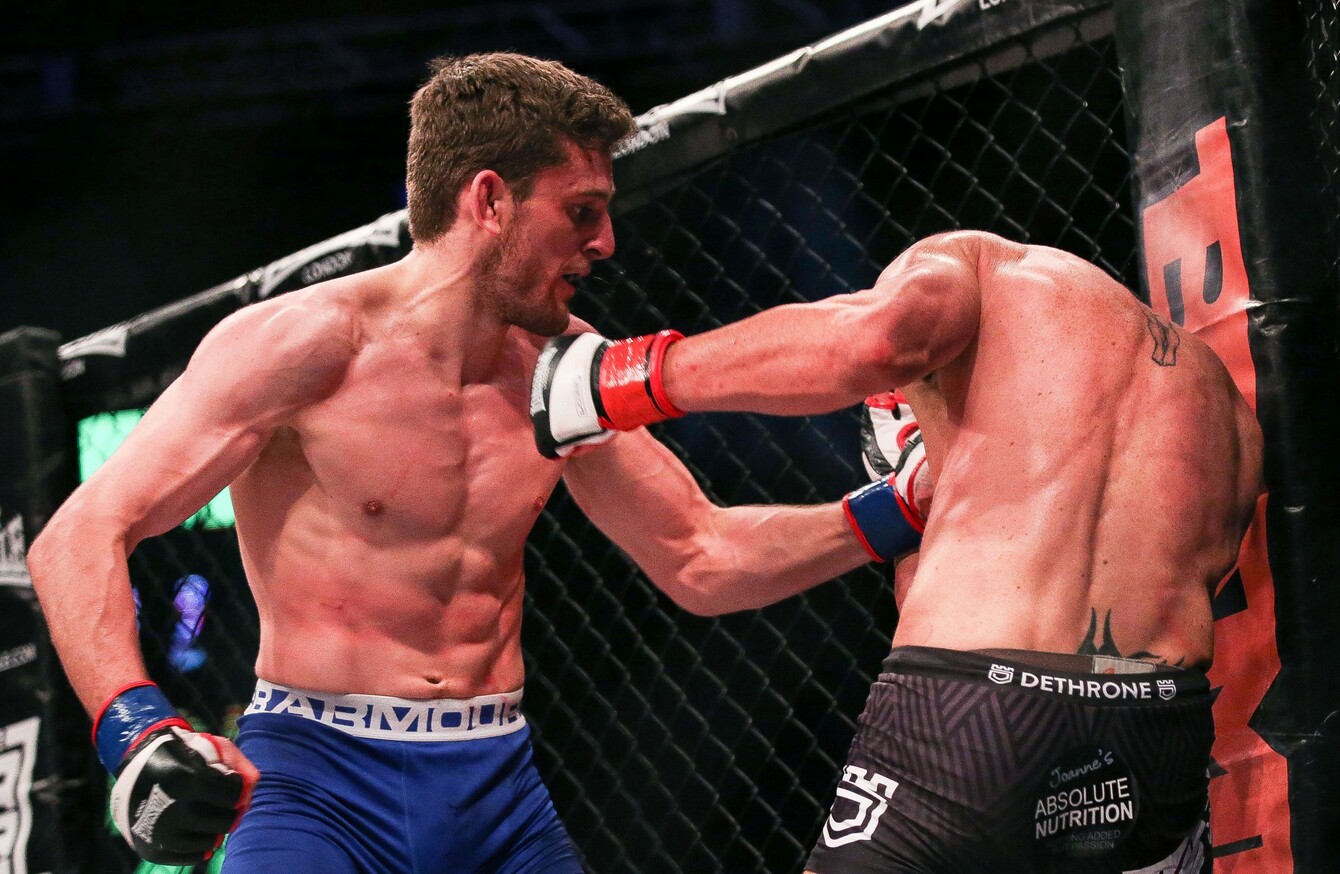 Joe McColgan putting the pressure on Peter Queally during their bout last September at the 3Arena.
Image: Gary Carr/INPHO
Joe McColgan putting the pressure on Peter Queally during their bout last September at the 3Arena.
Image: Gary Carr/INPHO
VICTORY IS A double-edged sword for Joe McColgan.
He's determined to overcome Arnold Quero on Saturday night at Cage Warriors 81, but there's also concern over the potential consequences of such a result.
McColgan was one of the first names on the card when Cage Warriors recently announced their return to Dublin following a three-year absence. However, sourcing an opponent for the Belfast lightweight has been complicated.
Several fighters were offered the bout before — with just three weeks to go — Quero accepted the opportunity to be the man in the opposite corner at this weekend's event at the 3Arena. The delay made McColgan's preparations more challenging. Without an opponent to visualise, it's not easy to focus the mind on getting ready for a fight that may never happen.
It might seem surprising that Cage Warriors were faced with a difficult task in matching a fighter with just two professional bouts under his belt. However, since his most recent win in particular, McColgan's reputation has preceded his record.
Last September he took on Peter Queally at BAMMA 26 at the 3Arena. By those who only inspected their respective records of 1-0 and 8-2, the fight was billed as a mismatch. McColgan had fought just once as a professional, whereas Queally was in line to make his UFC debut a month earlier until visa processing times prevented him from stepping in as a short-notice replacement to face Tim Means at UFC 202 in Las Vegas.
Nevertheless, McColgan delivered a superbly accomplished performance to score a unanimous-decision victory over Queally, a regular training partner of UFC lightweight champion Conor McGregor at Straight Blast Gym in Dublin. It was a huge scalp for McColgan. As a result, he has now become a scalp himself.
Source: BAMMA/YouTube
"What happens if I go out and KO this guy in the first round on Saturday night? This guy has 19 fights, he's got the best record on the whole Cage Warriors 81 card. It's a record you could see in the UFC," McColgan (2-0) told The42 ahead of this weekend's clash with Frenchman Quero (13-5-0-1).
"Say I beat this guy, I'm 3-0 after beating three really tough guys — who's going to take the fight then? You know what I mean? I don't want to be going through this hassle again just to get a fight. I don't want to be taking back steps. I'm taking massive risks by taking these fights.
"Name another fighter in the whole world that's taking these fights this early in their career. Maybe there are some guys but they're few and far between. We're rare guys. I don't know how hard it's going to be to get a fight after this. That has been playing on my mind."
McColgan is a full-time bank analyst by day, but when it comes to fighting he's not concerned with numbers. In mixed martial arts, as is also the case in boxing, fighters generally use the early stages of their careers to polish their records with bouts that carry little risk. The Belfast native has neither the interest nor the time to go down that route.
In 2010, McColgan had never heard of MMA. Having now experienced two professional bouts at the age of 30, he knows he won't have the luxury of easing his way through the difficulty levels. He wants big fights and he wants them now.
"I had absolutely no idea what MMA was," McColgan explains. "My brother started doing it and he was telling me about it. I just said: 'That sounds mental. There's no way I'm doing that'. But a few other boys I knew started training as well so eventually I thought I'd give it a crack.
"I remember the first night, the coach started talking about doing armbars and triangles. I had no idea what he was talking about it. They could have been kicks or punches for all I knew. I had no background in martial arts whatsoever. I just played football and basketball in school, that was all."
While honing his craft on the Irish amateur circuit, McColgan earned his combat education as a member of the Fight Academy Ireland camp in Belfast. Wins against Straight Blast Gym pair James Heelan and Levi Kehoe saw him christened 'The SBG Hunter'. Last year's triumph over Queally added extra substance to the moniker.
He's now competing for leading European promotions such as BAMMA and Cage Warriors, a commitment which is accompanied by a hectic schedule. As well as training regularly in Belfast, McColgan has been travelling twice a week to Team Ryano in Dublin, where he's been sparring with the likes of former UFC fighter Paul Redmond.
His lunch break at work is usually set aside for strength and conditioning. With other sessions also taking place in the morning and evening, a typical day of work and training usually doesn't end until 11pm. Unlike the majority of his peers, however, the prospect of substantial earnings from prize-fighting isn't what McColgan is incentivised by.
He's already settled in a rewarding job so his livelihood isn't dependent upon his success in the cage. An increasing number of fighters are abandoning other professions in order to focus solely on training and the pursuit of McGregor money. McColgan's outlook is much different.
"I don't know anything other than this so for me to compare myself to someone else, I'd need to put myself in their shoes," McColgan says. "I don't know what their mentality is. Are they actually throwing all their eggs into one basket? Do they actually believe that they're going to be making millions from this sport?
"I can't believe that anyone does think that. No one makes millions from this sport, bar [Conor] McGregor. These guys who are training full-time, the likes of [Peter] Queally, does he actually think that he's going to make big money from this? I just don't know.
"But one of the main differences is that financial gains aren't my goal in this sport. It's just competition for me. It's the glory, the respect and everything else that goes with it. When I choose to take a fight, I'm making my decision to take that fight based on: Is this the right fight for me? Is this going to take me to the next step?
"Are those the same factors that those other boys are thinking about? Are they taking a fight to pay an electricity bill, or whatever? Are they taking the wrong fights at the wrong times because of that? They're making decisions about fights based on money. Is that going to override things such as whether a fight is right for your progression?
"Any time I've taken a fight, money has never come into the thought process. If the fight is going to get me to the next level, then it's the right fight for me."
Leading a double life also has psychological benefits, he believes: "On top of that, in this sport you're constantly thinking about the fight. These boys are going home, twiddling their thumbs, thinking fight, fight, fight the whole time. I'm not. I'm thinking about other problems in work. I have such a good distraction from the fight game.
"I'm thinking about the fight when I'm at training, of course, but when I'm at work my mind is on other things. That's a huge advantage, absolutely huge. Your mental strength is so important in this game. I think if you're constantly thinking about that fight, constantly worrying, obsessing about it, that can't be healthy for your mind going into a fight."
His Fight Academy Ireland team-mate Karl Moore will compete for the Cage Warriors light-heavyweight title in Saturday night's main event, but McColgan knows that his own bout will attract plenty of attention too. By getting the better of Peter Queally and calling for more experienced opponents, McColgan has raised the bar for himself. But this is where he wants to be.
"I know there is a lot more expectation now but it's not weighing on me," he insisted. "I understand that people are going to be expecting me to go out and have the same performance. But I also understand that every fight is different. Different styles will create different problems. I'm never going to have the same result or the same performance in every single fight.
"But I don't feel any additional pressure. Fighting is a process and I work through it. Things like the pressure that other people are putting on me are outside of my control, so I don't waste time focusing on that. It doesn't even come into the equation. The Queally fight, I always knew I could beat him. For everyone else it was a massive statement but for me it was business as usual."
Although he doesn't crave the financial rewards, that hasn't diminished McColgan's desire to succeed at the highest level. He was a spectator for past Cage Warriors events when the likes of Conor McGregor and Joseph Duffy kickstarted their careers before moving on to the UFC. McColgan wants to follow the same path.
"BAMMA and Cage Warriors are huge shows," he said. "You'd be splitting hairs between them. They're both unreal platforms to be fighting on, loads of exposure. But I think Cage Warriors has the edge on the basis that they're live on UFC Fight Pass, Eir Sport, BT Sport… that's huge. I've always wanted to fight on Cage Warriors.
"Watching McGregor, Joe Duffy and those guys making names for themselves, I want to do what they have done and I want to do it on Cage Warriors. I think that's the platform to do it on. I'm so excited to be fighting on Cage Warriors. The fact that it's in the 3Arena is just the cherry on top."
Arnold Quero will be the most experienced opponent he has faced, so victory this weekend is certainly no banker for Joe McColgan… and that's just the way he wants it.
Cage Warriors 81 takes place at the 3Arena in Dublin this Saturday night, 4 March. Click here for more information.