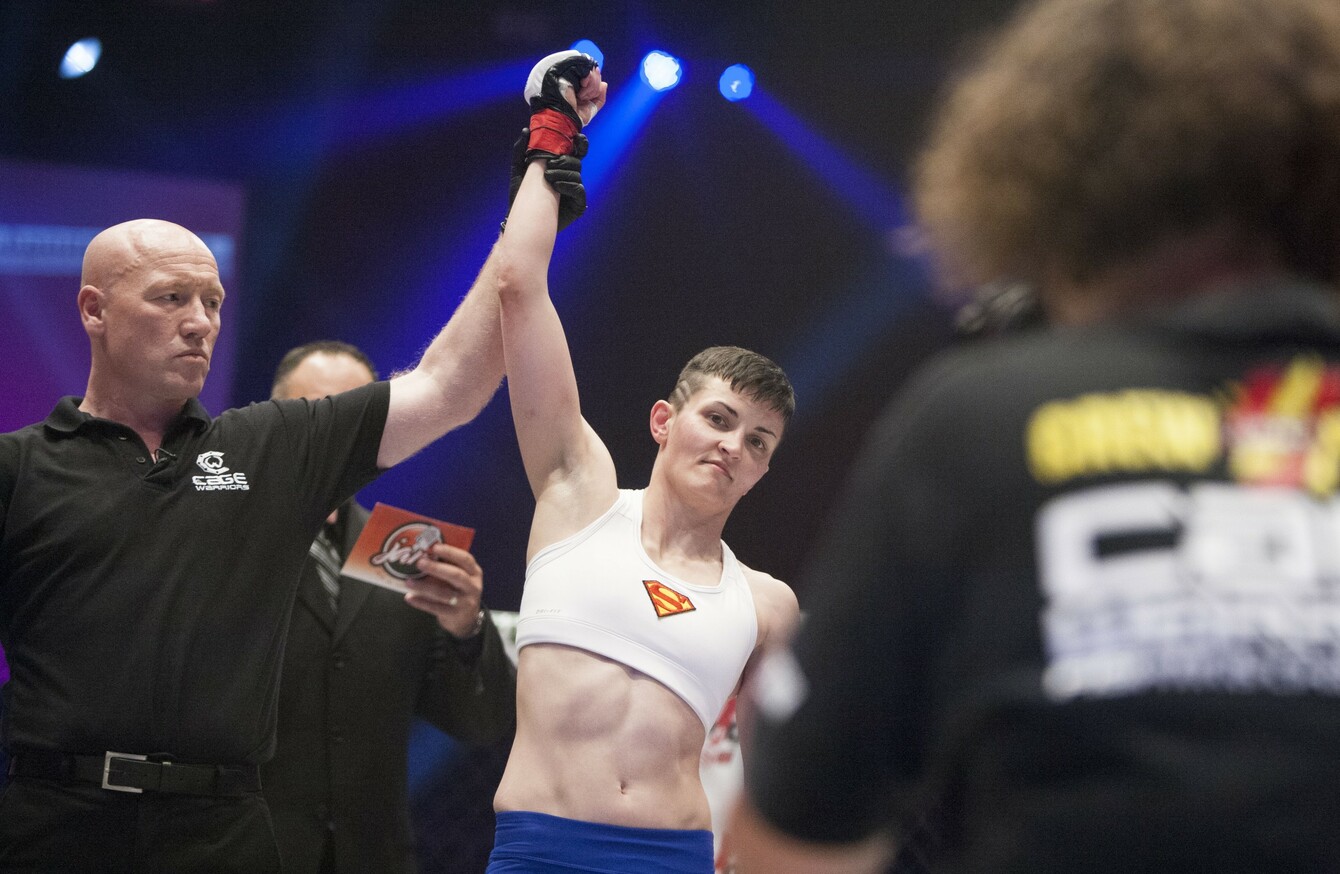 Image: Gary Carr/INPHO
Image: Gary Carr/INPHO
AN MMA FIGHTER is doing some light pad work in a Limerick gym, when she turns and asks:
"D'ya ever get hit in the liver?"
It wasn't a threat, of course, but more of a preface explaining the typical target areas that fighters aim for in the cage. It's also a useful FYI for self-defence purposes.
These are the kind of trade secrets that Catherine Costigan has picked up over an extensive career in mixed martial arts.
But for over a year now, the door of the cage has been shut for Costigan as she recovers from her latest injury.
And here, inside the walls of the Pankration Kickboxing Academy, is where the real healing begins before she makes her professional comeback at the Cage Warriors 81 show on 4 March.
Injuries? She's had a few, and the surgery room is a place she has frequented. She previously underwent procedures on her hip as well as requiring neck fusion surgery.
And most recently, she required surgical work on her back to correct a herniated disc that was attacking the lower region of her spine.
Dr Ashley Poynton, who has previously worked on athletes such as Brian O'Driscoll, is responsible for returning Costigan to full strength. He operated on her the day after her birthday.
"I've faced every possibility that I'd hope I have." she told The42 "It's tough because I'm a small fighter. I've ended up training a lot with bigger people. There's no girls my weight.
"Even the guys or the girls that I get in now are at least 60-65kg but I'm not going any higher than that anymore."
My neck still gives me pain at different times, but there's no danger of me ever being paralysed again. I have a fantastic physio in Nenagh as well that I've been with for nearly 10-12 years. He's the only guy who could get rid of my neck pain.
"There's been a few tough times but I think it defines me as a fighter."
Despite the sequence of setbacks, the 'Alpha Female' has never considered quitting. Rather than despair at her situation, Costigan's first inclination is to tease out ways of working around the problem and eventually steering herself back on track.
"I think the more surgeries I have, the more experienced I am with handling the knockbacks. Definitely with the lower back, it wasn't as easy (as it was) with the neck fusion. I came back faster with that.
"Because it's the lower back, I'm sitting every day. I'm walking and there's pressure being loaded whereas the neck wasn't having that constant pressure on it.
"The pain was the same after the surgery for about a month or two, which I was a bit disheartened about but I never believed that I couldn't do it."
Costigan is still seeking a return to winning ways. The first portion of her professional career delivered a 5-0 record, but the burgeoning success was replaced by two consecutive defeats in 2015.
The first one took place at Invicta in Las Vegas, when she was defeated by American fighter Amber Brown. A number of factors contributed to that result, including a poor pre-fight camp and other issues beyond Costigan's control.
She can still recall the emotions that immediately followed the moment she tapped out.
"It's like you're frozen in time when you lose, everything is going on around you but you can't control it.
"When I fought Amber, it was like slow-motion, every hit that's landing, you're thinking 'I'll get out of this', and I did everything to not let the referee stop that fight in every way.
"The fights that I've lost, even in my amateur days, there's certain key moments that you remember.
Source: Joseph Blake/YouTube
"You'll feel the tap, you'll feel the choke, you'll memorise that feeling and you'll never lose that feeling."
The defeat was compounded by the heavy investment in getting to Vegas, paying for medicals and even attending to a plethora of media requests. She appeared on NBC News and was even being interviewed on the day of the fight.
Because she took some of those interviews on her own mobile, Costigan came home to a 'gigantic' phone bill and had just $400 left.
The 37-year-old has "never minded working hard to do what I love," but in order to afford those medical tests that are expensive and time-consuming, she needs sponsorship.
A suit shop located in Cork has stepped in to help her with the costs for Cage Warriors 81.
"Andrew Rae from Simply Suits in Cork just said to me, 'I'm going to give you the money because I believe in you'. He normally sponsors a lot of guys and gives them suits. But for me, obviously, he couldn't put me into a man's suit.
"He gave me the money and that was amazing because now it's less stress because I've had to find that money and it was probably either going to come out of the pay for the rent this month and try to pay it back when I get paid the money (for the fight)."
She continued: "I like doing things on my own, I'm very independent like that. I've never had a huge amount of sponsorship. It's been hard to convince someone to sign an MMA fighter. For years people didn't even know what that was.
That's all changing and now a lot of people have a lot of respect for it. But yeah, when you see runners or when I go to Dunnes and someone is packing bags and they're collecting money for some sport — there's no-one collecting money for me.
"I've got to earn everything to pay (for) everything."
Her first attempt at recovering from the Invicta defeat, was later that year at BAMMA 22 in Dublin. Her back pain was already an issue at that stage, and she took a cortisone injection to get through the fight.
Source: BAMMA/YouTube
But against Celine Haga, who failed to make weight, Costigan suffered her second successive defeat and took some time out to thoroughly sort out her back problem.
But through experiencing the loss, she's learned to appreciate the wins even more.
"When you are undefeated, you do believe that you can beat anybody. Even if you have the crappiest of camps, you think you can do it.
"When you lose, you think the worst thing has happened but then you realise you're not dying of cancer, or have serious problems.
"Yeah, it's a struggle everyday paying the bills but everybody has that. I've always believed in hard work, my mother built it into me."
Costigan is due to face Wendy McKenna — a newcomer to the professional ranks — in her comeback at Cage Warriors next Saturday. And this time, the preparation is hitting the right key.
Costigan, along with her coach Dermot McGrath, has made adjustments to her nutrition and strength and conditioning training, although she always ensured her body was in 'tip-top shape' while she was out of action.
She even trained late at night to prepare for the fight against McKenna which will be late in the evening.
Before Christmas, she was offered a fight with a tempting €8,000 if she consented to fight a bigger opponent. But after the experience of fighting Haga with a weight difference involved, she sensibly declined.
Landing a slot with Cage Warriors is a poignant way for Costigan to relaunch her career, given that her previous dealings with Cage Warriors ultimately resulted in her linking up with Invicta.
Looking to the future, pursuing a deal with the UFC is not beyond her but plans for an atomweight division would have to be in place for that to happen.
The wealth and adjoining fame is not on her radar. Her ambitions are far less materialistic.
I don't know if I'll ever make millions or billions. I never really wanted it. If I could have a nice house, walk my little shih tzu (Oscar), and afford a '99 at the end of the day when I'm not on a diet, sure that's just heaven to me.
"There's not much more you want in life. I'd rather help people with my money if I ever made money. The world isn't getting nicer, it's getting tougher."
Cage Warriors 81 will be staged in the 3Arena, the same venue where Costigan had her last competitive outing.  That's where the healing can continue.
"The best thing is always when you're fighting in front of an Irish crowd, it's fantastic. They get to see you live right there."
To purchase tickets for Cage Warriors 81, you can contact Catherine on catherinecostigan.wordpress.com. 
The42 is on Instagram! Tap the button below on your phone to follow us!