IT'S ALWAYS INTERESTING to see the player that preceded the coach, so the unearthing of a video of Joe Schmidt in action for Manawatu against France in 1989 was always going to be intriguing.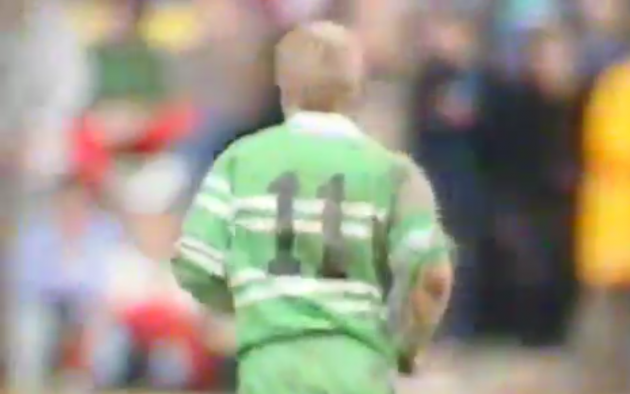 Schmidt was a left wing during his playing career.
The Ireland head coach is widely reputed as a master of analysis, so The42 thought it might be worthwhile turning the tables on Schmidt and examining his individual contributions in this fixture.
Normally, the scouting of players would be undertaken over the course of several games, but given the dearth of footage of Schmidt in action on the pitch we will attempt to highlight some of his qualities and work-ons based on this single match tape.
What becomes clear in picking apart Schmidt's performance on what was almost an historic day for Manawatu rugby is that the Kiwi did practice what he now preaches.
Lining out with Manawatu was the pinnacle of Schmidt's playing career, as an Achilles tendon injury in his mid-20s forced him to turn to coaching. A win over France would have been sensational, but Manawatu came up short on a 28-23 scoreline.
Kick chase
Manawatu's tactics against the French were strongly founded in a clever kicking game. Just as important as the kicks themselves from halfbacks Jason Hewett and Glynn Champion was the chasing from Schmidt and his fellow outside backs.
We get a fine example of Schmidt's efforts in the clip above, as he hares after a nicely-weighted box kick from once-capped All Black Hewett and makes a good contact on France fullback Philippe Bérot.
This is primarily a work-rate duty from Schmidt in chasing the kick from on onside position, but the left wing makes Manawatu's exit stick by getting a good contact on Bérot to swiftly shut down any counter-attacking possibility.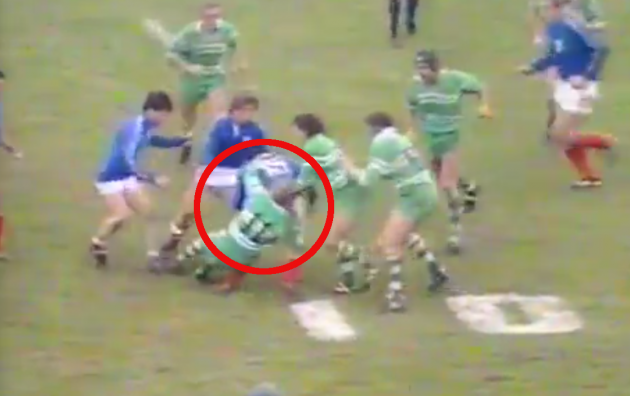 That follow-up after the chase is vital, and Schmidt consistently performed well in this sector of the game against the Five Nations champions.
Below, we get another strong illustration of Schmidt's dogged kick-chasing as he turns a deep Champion effort into a brilliant kick by sprinting flat out to get up the pitch and pressure the high-profile Jean-Baptiste Lafond into an error.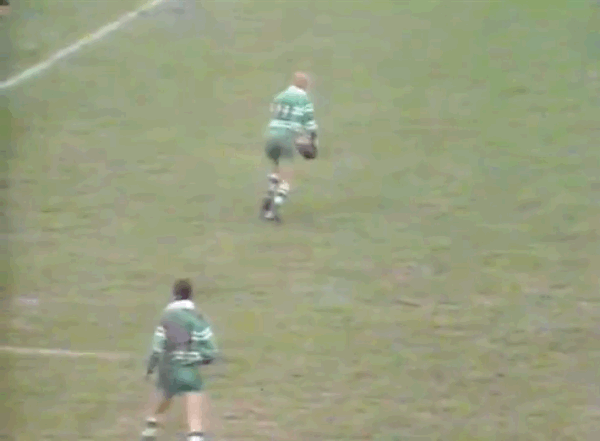 The wing position has often been seen as simply an attacking, try-scoring one at various stages in rugby's development but Schmidt demonstrates that the wide men can be integral in the success of a team's kicking game.
In the clip below, Schmidt is once again all over Lafond on the chase after a lovely touch from Champion.
Schmidt showed strong signs of being an alert player throughout this game, in the sense that he was always alive to the next play, what was coming around the corner or how he could have a second involvement.
There's an illustration of that above, as Schmidt pounces on the ball after pressuring Lafond to carry into touch. Schmidt is immediately looking to take a quick lineout and though the referee blows for halftime, these are good signs of a sharp player.
Pace
Perhaps the key physical attribute we want our wings to have is out-and-out pace and the firm impression from this game is that Schmidt offered that.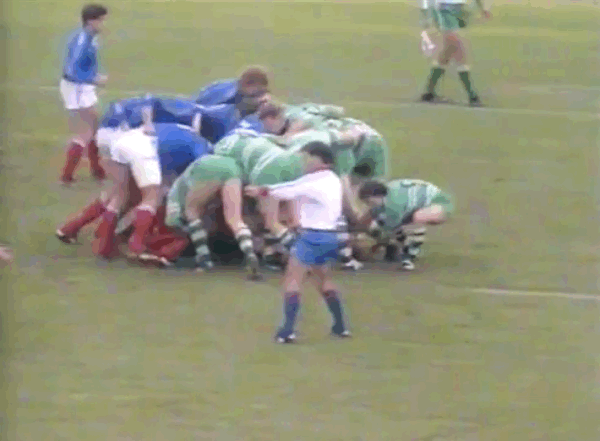 We see that pace as Manawatu run a clever pre-called diagonal kick on first phase from the scrum above, a move built around taking advantage of France's narrowness in defence.
Schmidt comes agonisingly close to getting to Champion's bouncing kick for a first-half try here, burning past the lauded France wing Lafond, who played club rugby with Racing and Stade Français during his successful career.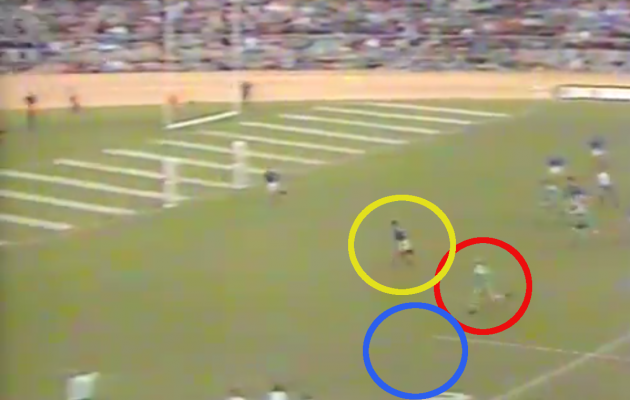 Schmidt [red circle] above starts further out than Lafond [yellow], but shows his searing speed to make up the ground.
He comes up inches short and it's easy to put it down to a lack of luck, but Schmidt might reflect that he could have started from a slightly wider position on his chase of the kick here [perhaps where the blue circle is above].
Clearly the Manawatu wing didn't want to give France any hints as to the set-piece play, but being even another metre wider in his starting position might have resulted in a try.
Those are the narrow margins of playing against an international rugby team. Champion will reflect on a kick that was minutely too heavy.
Attitude
Success in rugby isn't always about being the best athlete, the most talented handler of the ball or the greatest tactical genius. Much of the time, it's mental qualities that help the best stand out from the rest.
When assessing any player, we therefore look at their body language, communication, habits off the ball and other factors of that nature.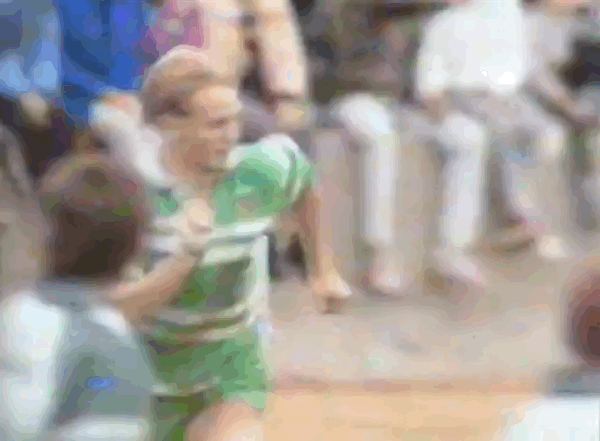 Schmidt showed up strongly in that regard against the French. Above, we see him sprinting back into position immediately after coming up short on that first-half try-scoring opportunity.
There's no lying on the deck rueing a near miss, no beating of the ground in frustration or berating Champion for putting too much on the kick. Instead, the wing gets up, bounds back up the pitch and keeps his head on a swivel to stay awake to what France are doing next.
Below, we see Schmidt provide another small detail that impresses, as he shows in midfield when Manawatu look to return a kick.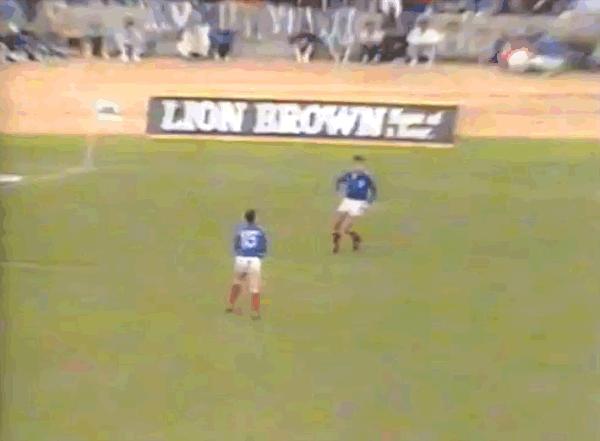 In this instance, the easier thing for Schmidt to do is simply hang out near the left touchline and wait for play to flow his way.
Sometimes that's what we want our wings to do in phase play, dragging the opposition defence wider, but on kick receipt we want our back three to link up with each other.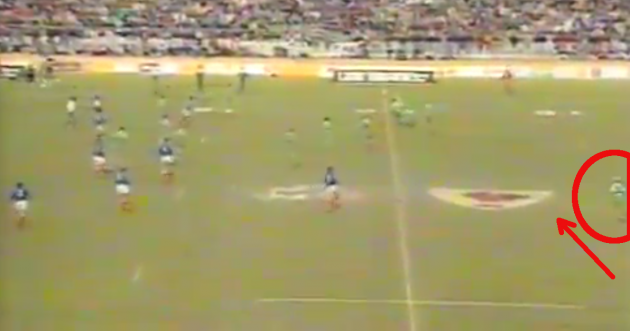 Schmidt doesn't get the ball here, but again we're looking for those good habits from our wings and this is another of them. Finally, in the clip below we see that Schmidt is also alive to the possibility that he will need to hit rucks.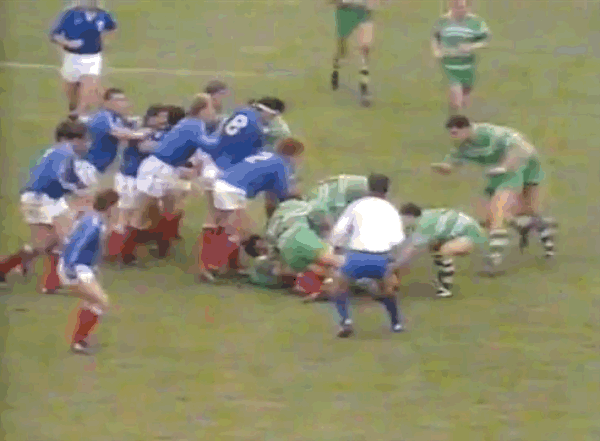 The ball runs loose from Manawatu here, but we see Schmidt straightening up and heading towards the point of imminent breakdown just prior to the spill. He's ready to take an offload or resource the ruck if required.
Defensive work-on
We mentioned before that wings must be seen as so much more than just try scorers, and that means defensive duties extend beyond making exiting kicks successful. The wide men must make their hits in defence too.
The one major blot of Schmidt's copybook from this meeting with France was a missed opportunity to get a smashing hit in on Bérot.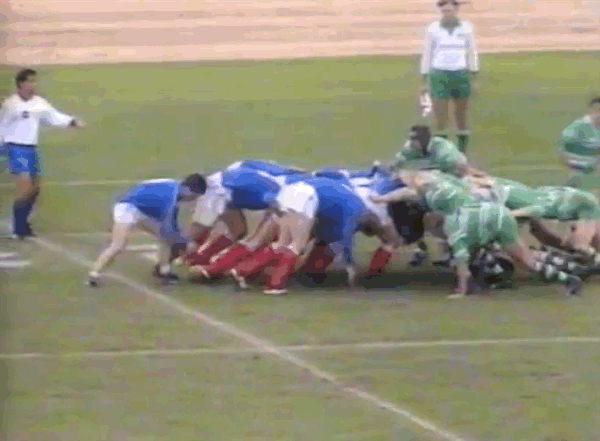 France run a subtle loop play in midfield before Toulouse outside centre Denis Charvet drops a short pass off to Bérot coming short on his right shoulder.
Schmidt has worked to get up to the front line along with his midfield, having started a couple of steps deeper than them, and as Bérot takes possession, the future Ireland coach is presented with an ideal chance to slam a big right shoulder into the fullback.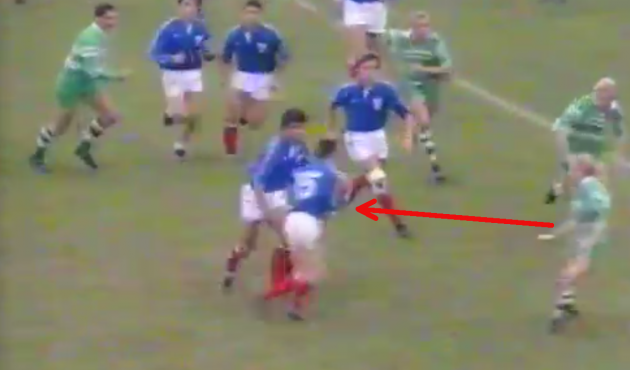 Schmidt has done the hard work of getting up into the line, and even if there is a slight possibility that Bérot will throw the ball out the back door, the Manawatu wing must seal the deal by hammering into the tackle here.
Instead, he just slightly eases off and allows Bérot through a soft right arm and up to the gainline. Against a team like France, who thrive on getting through the first tackle, it's a missed opportunity.
More than makes up for it
Even in the incident above, we can see how eager Schmidt is to get back after Bérot steps past him. He's anxious to fully redeem himself and get a shot in on a French ball carrier.
A try-saving tackle later in the half certainly saw Schmidt cover himself in defensive glory.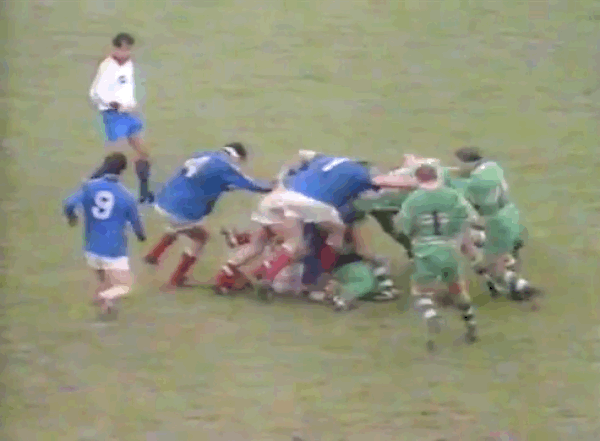 France rampage onto the front foot again with a big break from Thierry Devergie, before the back row offloads to inside centre Marc Andrieu after drawing Manawatu fullback Peter Williams.
Schmidt works back from wide on the left to make a superb covering tackle with Andrieu looking likely to score.
It's not an easy tackle to make, given Andrieu's momentum with ball in hand, as well as the possibility of the French centre getting a strong fend in on Schmidt.
We see evidence of the Manawatu wing considering that very possibility as he initially gets his left arm up towards Andrieu's fending right arm, most probably looking for that all-important slap down before tackling.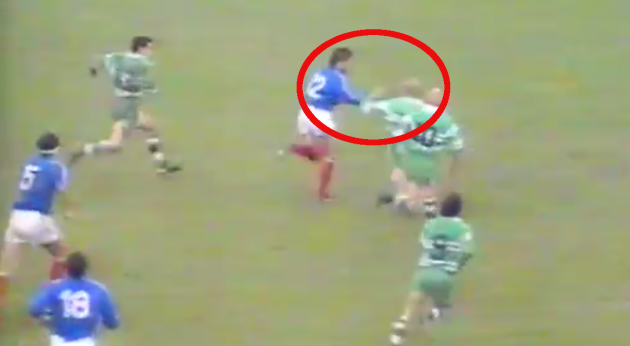 Schmidt then goes in low and gets a firm wrap of the arms around Andrieu's legs to bring him to a shuddering halt.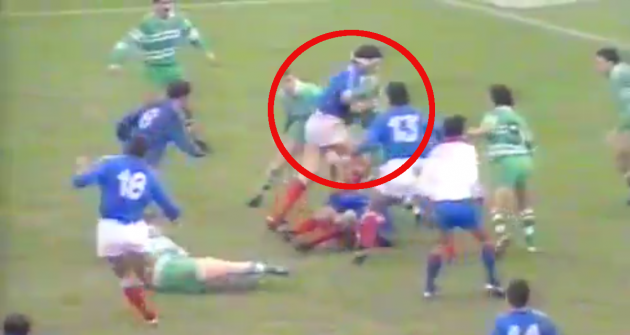 Schmidt bounces immediately back onto his feet and completes another tackle, this time helping to wrestle the imposing lock Olivier Roumat – who won 61 France caps – to the ground.
Again, that thirst for a second involvement after an initially successful action stands out.
Try time
The icing on the cake in a strong individual display from Schmidt against the French was a second-half try, as that same diagonal kick from Champion that was just too long earlier in the game was executed perfectly.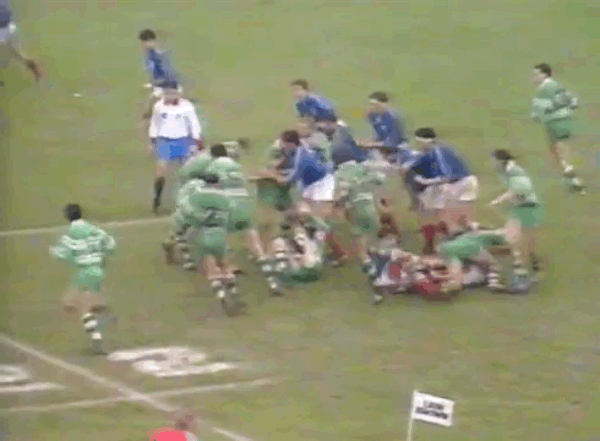 Again, Schmidt's searing pace is evident as he scorches past Lafond to dot down before the ball bounces up ideally, and we can't be critical of his starting position given the aplomb with which he finishes.
A quick pump of the fist and one or two high fives and Schmidt is back up the pitch ready for more.
It's interesting to delve back to the build-up to this Schmidt try, as Manawatu perform a handful of plays that might seem somewhat familiar.
YouTube
The passage starts with an attacking lineout for the Kiwi province on the right-hand side of the pitch, from where they run a clever lineout play.
The front pod of the alignment loops around towards the tail to take the tap down and power into contact just beyond the 15-metre line.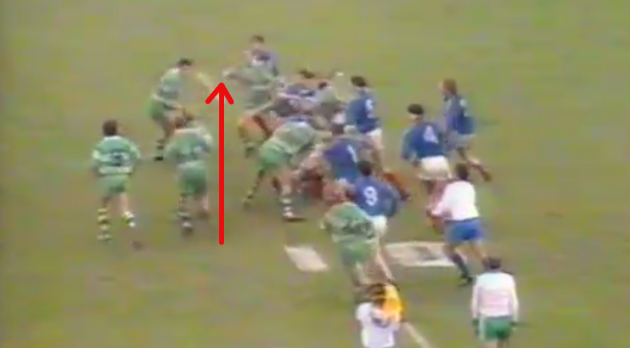 The very next phase sees Manawatu launch a highly-contestable garryowen, with Champion back in the pocket and ready to kick as part of this multi-phase power play.
The out-half kicks from a position of strength, and crucially has strong chasing options either side of him.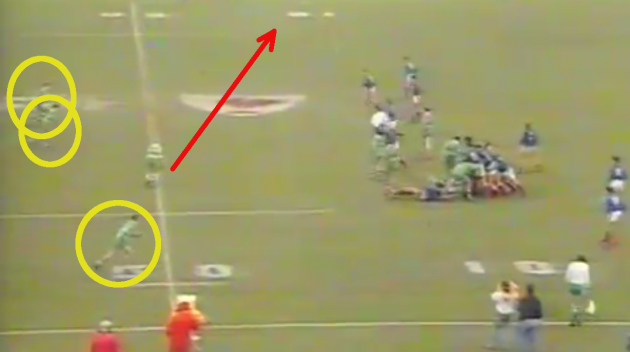 The kick itself is highly accurate [Sexton-esque one might say] and the chasing from right wing Dave Gosling is superb too.
Crucially, Gosling – whose son Hamish was playing for Manawatu up until last year – gets off the ground and into the air, meaning there's major pressure on France wing Pierre Hontas as he attempts to field the ball.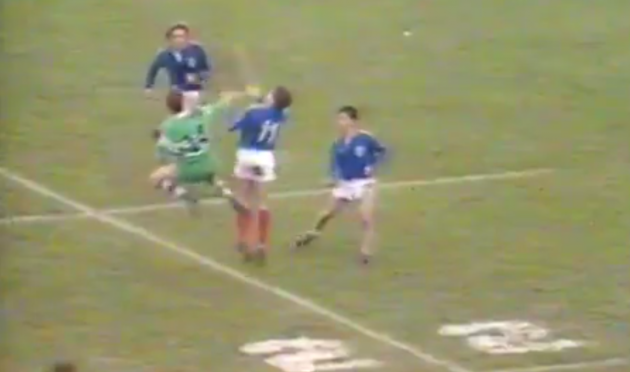 The pressure pays off as France make another error, coughing up possession. The Manawatu pack ploughs into the ruck and suddenly that same opposition narrowness is evident, with acres of space available deep on the left.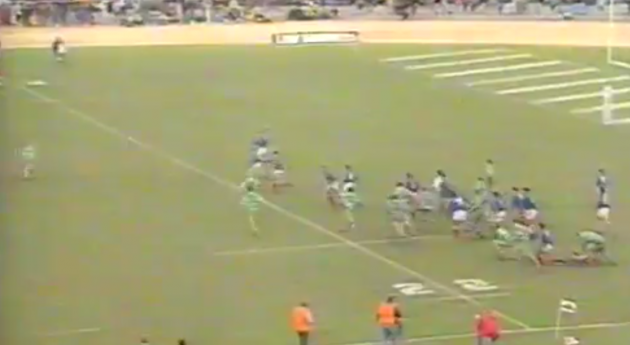 Schmidt is on hand to finish from Champion's perfect kick and Manawatu have a wonderful try.
A clever set-piece foundation, highly-accurate kicking, dogged kick-chasing and the exploitation of an opposition flaw; sound like a familiar mix?