JOE SCHMIDT AND Eric Elwood put the Mike McCarthy signing saga behind them at the RDS tonight as they chatted amiably over sandwiches.
The Leinster and Connacht coaches caught up after the home side's 17-0 league win and there was not a hint of animosity.
Schmidt and Connacht CEO Tom Sears clashed earlier this month when it emerged McCarthy, who impressed with Ireland in the November Series, would be moving east in the summer.
The New Zealander got into the festive spirit as he helped move a tray of sandwiches for catering staff in the press room.
He was then greeted by Elwood who joked about taking a couple of the triangular treats back to his team in the visitors dressing room.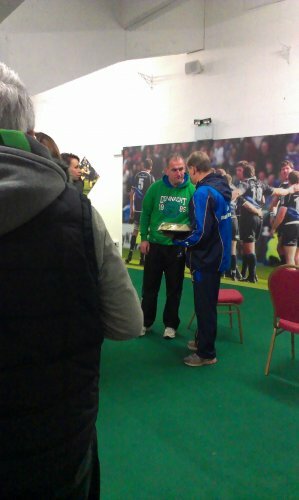 Elwood was asked by TheScore.ie if their light-hearted meeting would officially dispel any rumblings of bad blood between the provinces.
He said, "First of all, we weren't arguing over sandwiches; I only asked him for one.
Secondly, Joe is doing his best for Leinster Rugby – that's his job. I've to do the best for Connacht Rugby. He's fighting for the best for his side. That's the business we are in.
"I respect Joe massively, he knows that. I think he knows and understands what we're trying to do down in Connacht. It's a mutual respect for one another.
"He has done great things and absolutely nothing [about bad blood] could be further from the truth.
"He's a good rugby man, I get on really well with him and he's one of those people I could pick up the phone to, which I've done in the past, and, to me, there is no issue at all."