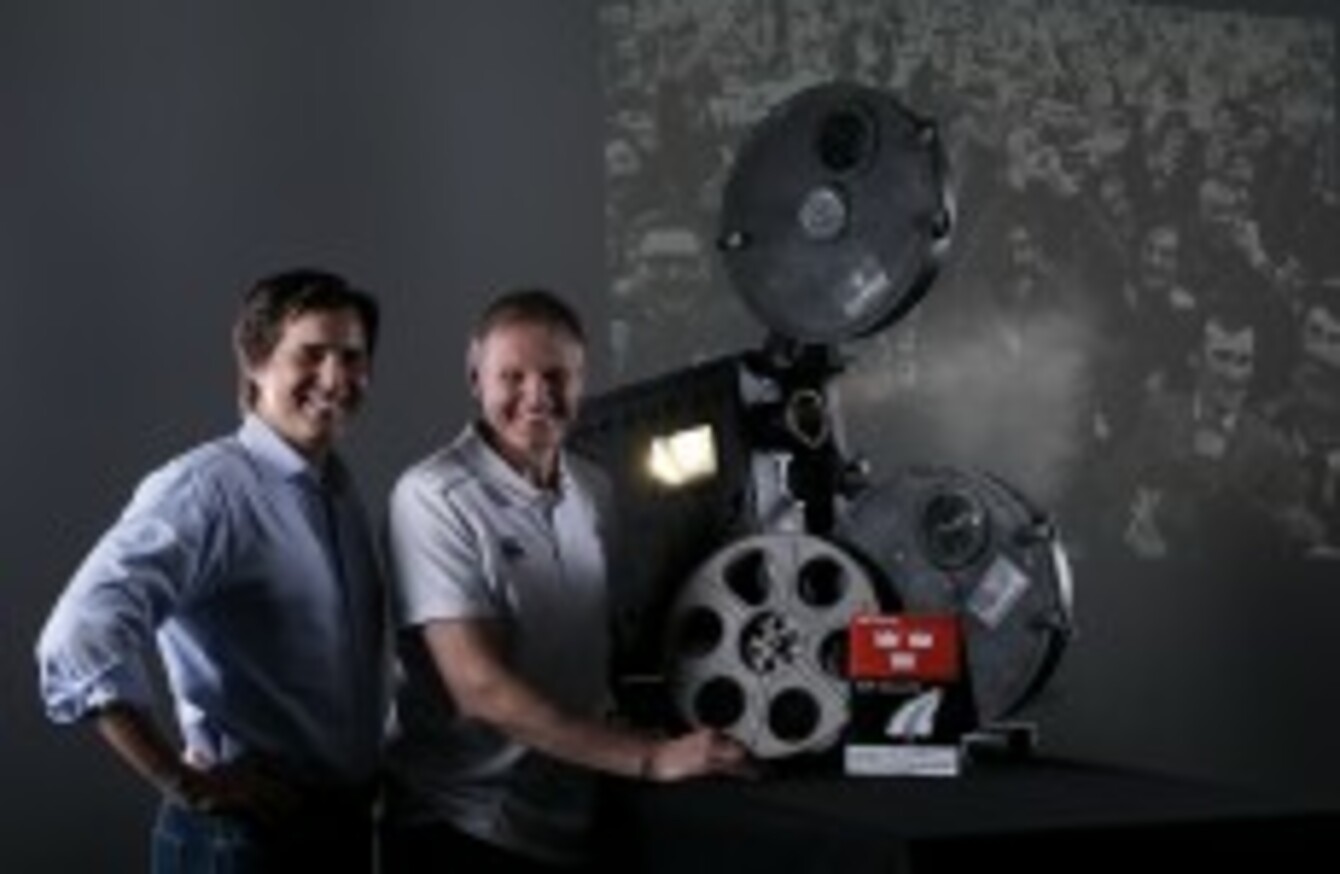 Joe Schmidt and Dr. Mike Gervais launching the new Guinness ad campaign 'Munster: Self Belief'.
Image: Billy Stickland/INPHO
Joe Schmidt and Dr. Mike Gervais launching the new Guinness ad campaign 'Munster: Self Belief'.
Image: Billy Stickland/INPHO
IRELAND HEAD COACH Joe Schmidt says Ian Keatley was selected ahead of Paddy Jackson in his squad for the November Guinness Series on the basis of the Munster out-half's impressive form.
The 22-year-old Ulsterman was the most notable absentee from the 37-man group Schmidt named yesterday, having been involved under the Kiwi last season, even if he did miss the tour to Argentina due to a long-standing back problem.
Jackson's recovery from that injury has seen him make a stunted start to the provincial season, only completing his first 80-minute outing last weekend against the Leicester Tigers.
"None of those decisions are ever easy," said Schmidt of leaving Jackson out. "I think the thing with Paddy is that he's played one full game this season. He's played a part in other games, but he was returning from injury.
Part of the problem with bringing Paddy into the squad is that we take him out of the Ulster environment, where he needs to be playing at the moment. He needs game time more than anything else. He doesn't need to be training with us."
"We also think it's not the best thing for him to be double up in two environments that operate with different systems. A nice clear head to do the best he can in Ulster, we think is better preparation for him. He's certainly on our radar.
"He was obviously disappointed, but he's a tough young man. We've got a lot of respect for Paddy. He's been in some tough situations on the pitch. Six Nations a couple of years ago, where there was some tough outcomes as well.
"He's worked his way through those and we've no doubt that he'll work his way through this period, and come back stronger and be competitive for selections in the Six Nations."
While Johnny Sexton will head into the November Tests as clear first-choice, Ian Madigan and Keatley provide back-up and will likely compete for a start in the clash with Georgia on 16 November.
That Munster out-half has been in promising form so far this season, looking composed close to the gainline and distributing superbly, particularly off his right side. Keatley's drop goal against Sale topped off an impressive month.
Ian Keatley is a guy who finished last season strongly and did miss selection," said Schmidt this afternoon. "But he finished strongly, his performance against Toulon was very good in that very high-level semi-final of the European Cup.
"He did very, very well on the Emerging Tour and the feedback from Dan McFarland and the coaching staff there was that he led be example, both on and off the field. He's done well this season. There are some aspects of his game that we've been talking to him about and he's been working away on.
"This camp gives us a little bit of an opportunity to work with him and help him to develop as a player. I'd say Cossie [Ian Costello] and Brian Walsh [at Munster] are doing a great job keeping him that he will progress as well."
"Ian Madigan, again, has had a very good start to the season. So it's form and it's opportunity really. Paddy hasn't had the opportunity but will get the opportunity with Ulster. The other guys have had opportunity to be playing often and their form has been good enough to be selected."
*******************
Munster's historic 12-0 victory over New Zealand in 1978 is retold in a new Guinness ad campaign, 'Munster: Self Belief,' which will air on Irish TV for the first time on Wednesday 5 November ahead of Ireland's opening Guinness Series fixture.
– First published 14.07