YOU'D HAVE TO feel some sympathy for whoever it is that takes over from Joe Schmidt after the 2019 World Cup.
While there are no guarantees that his impressive track record in charge of Ireland will continue over the next year and a half, Schmidt has already set a new standard for Irish rugby in terms of consistency.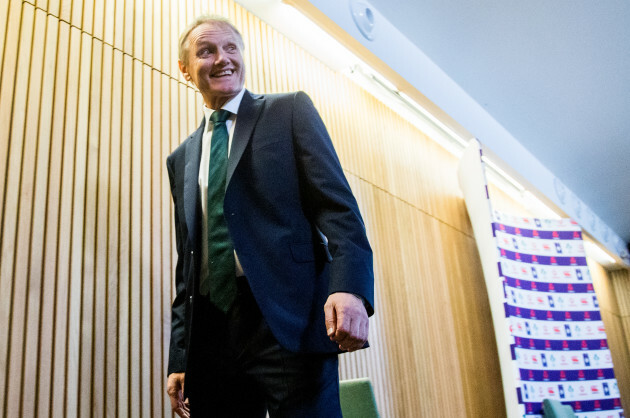 Tommy Dickson / INPHO Schmidt after Ireland's title was confirmed. Tommy Dickson / INPHO / INPHO
There have been failings in his time in charge – the 2015 World Cup quarter-final defeat to Argentina must still hurt – but after Ireland yesterday confirmed their third Six Nations in five years under Schmidt, it's safe to say that he has a truly exceptional record.
When you add in a first-ever win over the All Blacks in 2016 – Ireland get another shot this November – Ireland's maiden win away to South Africa and the current record-setting 11 consecutive wins, and it's clear that Schmidt has been groundbreakingly effective in his position.
That series in South Africa in 2016 was one that Ireland could and probably should have won, but overall it's hard to argue against the suggestion that Schmidt has been an excellent head coach for Ireland. Some would even say their best ever.
It is highly likely that he will return to New Zealand after the 2019 World Cup in Japan, and there is no doubt that he will be passionately driven to go out on a high in that tournament, righting the wrongs of 2015 and making more history for Ireland.
By that time, indeed by next weekend, Schmidt could be a Grand Slam-winning Ireland coach.
The opportunity in Twickenham next Saturday against a suddenly vulnerable England is thrilling for Schmidt, even if Eddie Jones' side will be expected to react ferociously to the first worrying setbacks of the Australian's tenure.
Schmidt is already a genuinely great Irish coach in many supporters' and pundits' eyes, but if his team can seal the deal in London on St. Patrick's Day, the remaining minority of dissenters will certainly find it hard to be heard.
The 28-8 win over Scotland yesterday provided the latest evidence of some of Schmidt's coaching qualities.
Billy Stickland / INPHO Schmidt has had a huge impact on Irish rugby. Billy Stickland / INPHO / INPHO
It's difficult to imagine there are many people in the game who watch more rugby than Schmidt and his ability to produce brilliantly clever set-piece moves and power plays [which involve multiple pre-planned phases of attack] is unrivalled.
Take Jacob Stockdale's second try just before half-time against the Scots. From a five-metre scrum, Ireland played out three phases of simple but detailed attack to give the Ulster wing a clear one-on-one in space out on the left.
Or take Garry Ringrose's big linebreak from an earlier scrum – again, a delightful Schmidt move saw Ireland first attack to the left before suddenly switching across to the right through Bundee Aki.
There are some who justifiably argue that Schmidt's method of attacking is too reliant on players following patterns, rather than creating for themselves, but there is still scope for decision-making even within those patterns.
Given Schmidt's notorious demands for accuracy and his often scathing video reviews, Ireland's players simply must be excellent when they do make those decisions.
The aforementioned 2015 World Cup disappointment will remain a stick to beat Schmidt with and it is obvious that Ireland underperformed in that defeat to Argentina.
But take players of the quality of Paul O'Connell, Johnny Sexton, Sean O'Brien, Jared Payne and Peter O'Mahony out of any team and they will be rocked. Schmidt went about learning from the misfortune, understanding that Ireland's depth was not good enough.
This championship has underlined the growth he has encouraged in this area. Andrew Porter stepped up in Tadhg Furlong's absence at crucial times, while James Ryan has emerged to ensure major competition in the second row.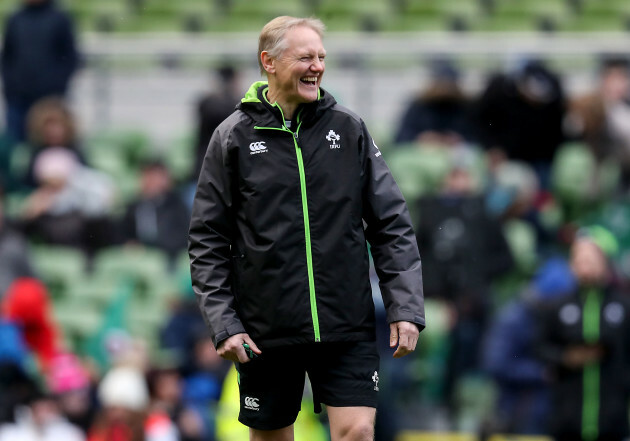 Billy Stickland / INPHO Schmidt is at his happiest out on the pitch with his players. Billy Stickland / INPHO / INPHO
Dan Leavy has been superb with O'Brien and Josh van der Flier missing, while Jacob Stockdale has been a revelation through his emergence on the wing. Jordan Larmour has been exposed to Six Nations rugby and there are many more players pushing hard for game time.
Outside centres have dropped like flies, but Garry Ringrose was sublime yesterday.
It is clear that Sexton and Conor Murray are still far ahead of the next in line in the halfback positions, but again they would be similarly important to most teams in the world.
That Sexton's involvement in training this week was limited by a back issue and he was never likely to drop out is perhaps a problem – Joey Carbery needs more exposure – but then again it also underlines how much he wants to play for Schmidt.
The head coach might worry that he has been demanding so much of this playing group for so long now, but it is evident that his messages are still getting through.
Schmidt may be hard to work with at times and some players may not enjoy his ceaseless demands but they understand that the Kiwi is making them better all the time, even in his fourth season in charge.
A Grand Slam success would sear Schmidt into the Irish sporting consciousness forever, if he has not already left an imprint.
An achievement of that scale for just the third time in Irish rugby history would be lauded by a far, far wider audience than the diehards and more casual fans who have followed Schmidt's successes at Leinster and with Ireland in recent years.
His record is already mightily impressive but a Grand Slam for this deeply intelligent man would seal him the title of Ireland's greatest ever coach.