Murray Kinsella reports from Cardiff
THE MEDIA THRONG descended on Ireland's team hotel in Cardiff yesterday.
Irish, English and Kiwi journalists eager for a word from Joe Schmidt. You could tell we're into the knock-out stages of his World Cup with a mere glance around the tightly-packed room in the Hilton Hotel.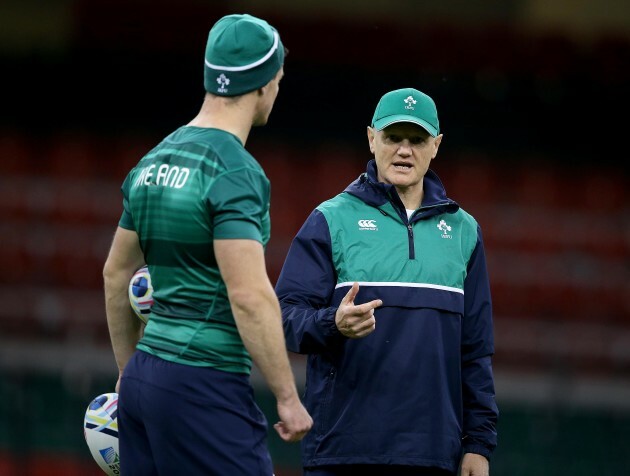 Dan Sheridan / INPHO Schmidt with out-half Johnny Sexton at the Millennium Stadium yesterday. Dan Sheridan / INPHO / INPHO
The ante has been upped, the pressure rises. This is Joe Schmidt's first World Cup, remember, though you feel that he has a greater degree of control over things than he sometimes leads us to believe.
The Irish citizen has admitted he will make mistakes at this tournament, but so far they have been limited. Expectation has been placed on Ireland's shoulders, many expect a first ever semi-final.
"Fear," says Schmidt when asked what drives him on amidst the pressure. "I have a love/hate relationship with my job. I love coaching and I've got a fantastic group that I work with.
I really enjoy so many elements of it and at the same time I think I'm like anyone, when the pressure is there you're conscious of it, you're trying to be the least reactive to it as you can be, because if you're not calm you can't expect your players to be calm.
"You learn from experience. I've been doing the job probably for 15 years now, certainly not at this level or in this really high-pressure environment, but it's happened in stages for me.
"I've been really lucky to work with some really fantastic player-driven teams that I've been able to enjoy the role of coaching them. And as I say that's the bit I really enjoy."
From Bay of Plenty to the Blues to Clermont to Leinster and now with Ireland, Schmidt has managed to turn the pressure into success more often than not.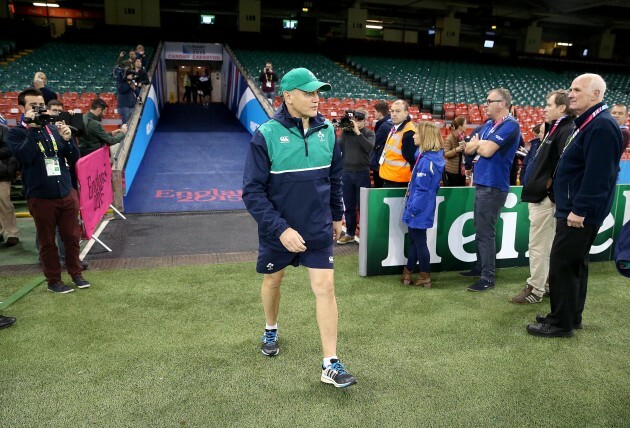 Dan Sheridan / INPHO Schmidt says he still feels the pressure. Dan Sheridan / INPHO / INPHO
The burden he has felt this week ahead of tomorrow's World Cup quarter-final against Argentina is simply the latest distillation of the same spirit.
"I think I'd feel pressure wherever I am, whatever job that I do, because I just really want it to go well and there's so many elements we don't control," says Schmidt. "You don't control a decision a referee might make.
"I was going to say you don't control the weather but that is managed with the roof being closed (in the Millennium Stadium), but you don't control the injury situation or losing players in the build-up.
With those elements you don't control, you feel you've got to get as much as you can have an influence over as nailed on as possible so that the other things hopefully go ok for you."
Schmidt and his coaching staff have got the blend right up until this point, sending out an ultra-motivated team last weekend against the French, then compensating for the loss of key leaders during the game with superbly-prepared replacements.
The latest test for Schmidt is a knock-out tie against the Pumas, who bring excellent form into the tie.
Exclusive Six
Nations Analysis
Get Murray Kinsella's exclusive analysis of Ireland's Six Nations campaign this spring
Become a Member
"I'd never exude confidence but you've got to be quietly confident," says Schmidt when asked what gives him optimism this weekend. "You go out there with a strategy which is not too different from the strategy you started against Canada with.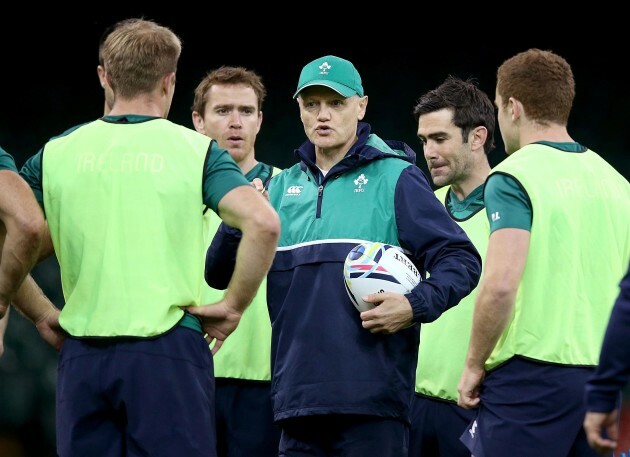 Dan Sheridan / INPHO Schmidt enjoys working with this group of Ireland players. Dan Sheridan / INPHO / INPHO
"We tried to keep things very low profile leading into the World Cup. I think people reading form then when people are probably keeping things under the radar, that's fine but since then we have tried to build and we've tried to build each match.
"That doesn't always work – Italy for us was a very tough day at the office. They made it very difficult for us. There are a number of similarities in the way Italy and Argentina tend to play.
They'd be very much 'get in your face', they tend to challenge you at the breakdown and, on top of that, Argentina have the luxury of some world-class finishers and some people very adept at transferring the ball to those world-class players."
Schmidt then proceeds to list off almost every single one of Argentina's players and their various attributes, as is his tendency. Clearly the long days of analysis and preparation have continued before this quarter-final.
Another sleepless Saturday night ahead?
"I won't sleep well but tend to find if I work late enough that night I can get a bit of sleep. There've been nights when I didn't sleep at all but I didn't know until later that I had appendicitis at the time and that contributed to it."