JOE SCHMIDT HAS stressed that he has no say in the selection of the Irish provincial teams, stating that suggestions to the contrary are "absolutely untrue".
Neil Doak, Anthony Foley, Matt O'Connor and Pat Lam have full freedom in composing their Ulster, Munster, Leinster and Connacht XVs, the Ireland head coach claimed this afternoon.
Ulster have positioned Jared Payne at outside centre this season, despite his excellence at fullback for the province in recent seasons. The perception has been that Ireland have influenced the northern province in pushing Payne to 13, a notion Schmidt refutes.
While the Kiwi did not specifically name Payne, he did point to the midfield as an area where he is not picking players for the provinces.
"I think there has been a massive misnomer saying that I influence provincial selection. That is absolutely untrue: the guys that are selected in the centre, or to carry water, are nothing to do with my selections.
They are from the provincial coaches, and that's the way it should be. They are looking to do the best for their province. If there is a discussion point and they determine that it's best for the province, they may play someone somewhere.
"But it's certainly not up to me, so for someone to imply that Darren Cave has been blocked – he's very much on our radar. Darren Cave had a shoulder operation, he's come back from injury, then had a rib injury.
"But he's still a guy that's still in our thinking for 13. To say that Eoin Griffin may have left because he saw the writing on the wall is massively disappointing. Because Eoin Griffin was on our radar, still is, and we keep an eye on what's happening at London Irish."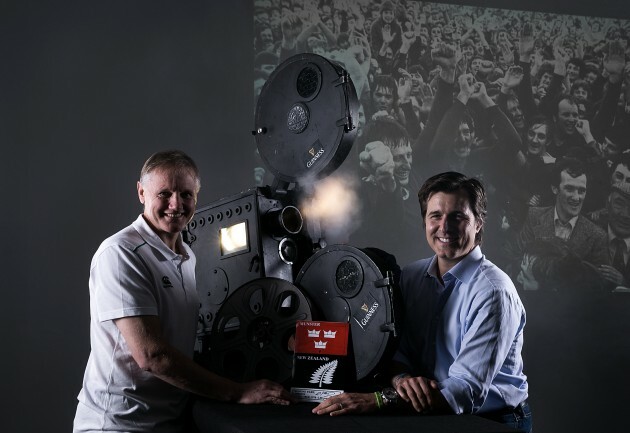 Billy Stickland / INPHO Joe Schmidt and Dr. Mike Gervais launching the new Guinness ad campaign 'Munster: Self Belief'. Billy Stickland / INPHO / INPHO
Schmidt went on to state the speculation regarding his influence on the selection of the provincial sides is extremely unhelpful as he looks to go about his own job as national team coach.
He underlined that he and his Irish coaching staff look to work with Doak, Foley, O'Connor and Lam in order to benefit both the provinces and team Ireland.
"It's frustrating when selection is a tough enough job without there being an impression that you're actually influencing selection before you make it," said Schmidt.
"We make selection reactively, if we do have any proactive influence in selection it might be an individual player receiving feedback from us, particularly at the end of a tour, or during the time with the provinces.
But anything we feed back we try to feed back through the provincial coaches, or the approval of the provincial coaches. We have a very hands-off approach.
"We have a very close watch and we do get to training and talk to provincial coaches, but we try not to interfere with what is happening, because the provinces are coached by very good coaches.
"We have a lot of faith in what they are delivering in their provinces. Therefore, we actually benefit from that quality of provincial coaching. We get the product of their efforts."
*******************
Munster's historic 12-0 victory over New Zealand in 1978 is retold in a new Guinness ad campaign, 'Munster: Self Belief,' which will air on Irish TV for the first time on Wednesday 5 November ahead of Ireland's opening Guinness Series fixture.