THE MOST JOEY Carbery moment of Joey Carbery's career?
He's still only 22 so it's not like there are thousands upon thousands of minutes to skim through searching for one that sums up his precocious ability.
But there is one incident against Fiji last November that still stands out clearly above the rest.
A stunning flash of decision-making, intelligence, footwork, acceleration, poise, balance and passing skill – this was Carbery at his best.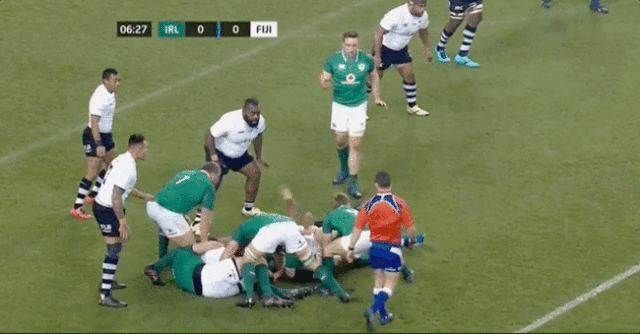 Click here if you cannot view the clip above
Many commentators would argue that the Leinster man is an instinctive player, with his ability to beat defenders seemingly coming naturally to him.
While Carbery believes that instinct is part of his game, he is also able to explain this thrilling linebreak against Fiji in very clear decision-making terms.
"When you're out the back of a shape of forwards, sometimes you want to be looking at the third or fourth defender to see what he's doing," says Carbery when asked what, if anything, was going through his head in this instance against Fiji.
"He's normally the cue, whether he's bitten in or he's staying out. I had a look at him and he seemed to read that I was staying out, so his shoulders were turned.
"I did think that maybe there was something back on the inside and I was lucky enough to get through."
The reverse angle below allows us to better appreciate Carbery's explanation.
Click here if you cannot view the clip above
Which defender is Carbery targeting?
It's the fourth Fijian defender out from the ruck, in this case, as highlighted below.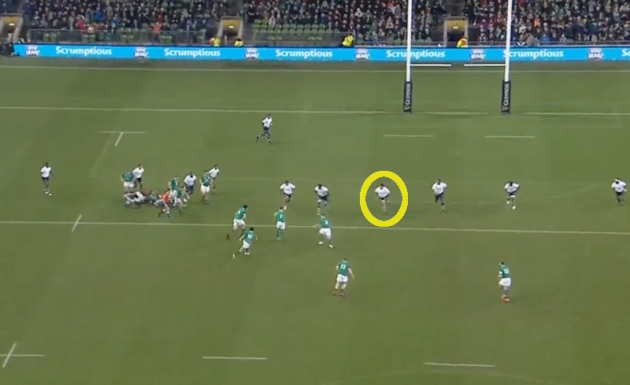 Carbery sees that the Fijian defender, tighthead prop Manasa Saulo, has "read that I was staying out, so his shoulders were turned."
We can see as much in the shot below, with Saulo slightly angling himself outwards to Carbery's right.
The gap in the defence is obvious to us with the benefit of the freeze frame, with Carbery's team-mate, Andrew Porter, helping to create it by luring in and blocking off the Fijian defender inside Saulo.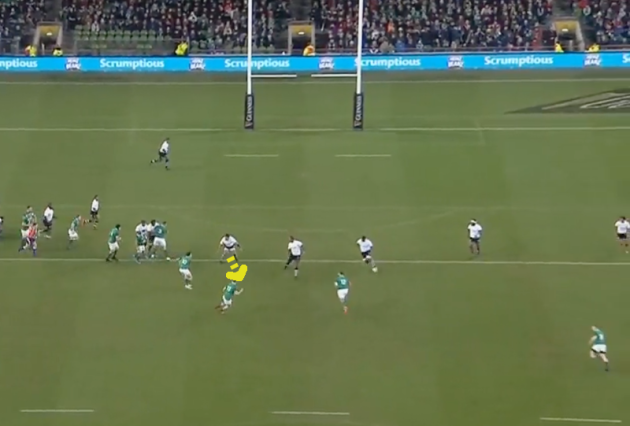 Carbery knows by now that there is "something back on the inside" for him and he bursts off his right foot, straightening through the gap and cutting the defensive line.
He is calm in behind the defence, pushing back off his left and bringing the ball into two hands again after his initial sprint for the linebreak saw him tuck it into his right, before firing off a beautiful left-handed pass to provide Darren Sweetnam with an easy run-in.
The beauty of the pass is how rapidly it travels through the air – even though Carbery himself is moving at pace upfield.
"We do a good bit of extra work on passing," says Carbery of that skill.
"It's hard to replicate when you're moving as fast as you are in a game scenario but we do a lot of practice in trying to get the ball through the air as quickly as possible, getting that kind of sharpness in your pass rather than a lofty one."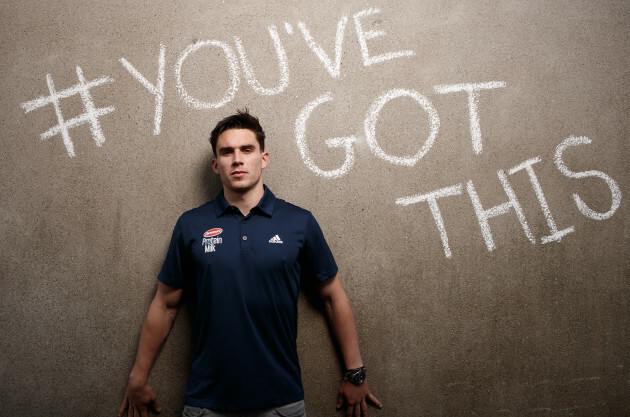 Joey Carbery has teamed up with Avonmore Protein Milk.
It's a tighthead prop who Carbery exposes for the break against Fiji and picking on forwards is a core part of his game.
"Especially when you have a bit more time, like when you're at 15 you might see a forward a bit further out [in the defensive line]," says the Athy man.
"Obviously, some forwards these days are as quick as backs but sometimes you might see the occasional one where it might be a bit of a mismatch, so you take him on."
We get another example of that below, with Carbery beating replacement Castres hooker Brice Mach last season.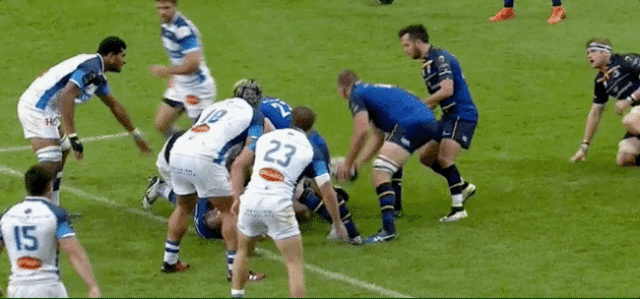 Click here if you cannot view the clip above
It's another fine example of Carbery picking on a slow-moving forward in the defensive line, while it's also notable how the Leinster man transfers the ball into his right arm in order to fend Mach with his left hand on his way past.
"That's a bit more instinct," says Carbery when asked about his habit of switching the ball from side to side in order to fend.
"You know you need to be able to switch the ball to keep the ball away from the defender but I would never actually think 'I need to change the ball here.' I think that comes from the amount of time having played the game."
Even when Carbery isn't making linebreaks, his footwork is a useful tool.
Click here if you cannot view the clip above
His right-footed step helps him to evade the on-rushing England back row Don Armand in the example above before he takes a punishing, illegal hit from Joe Marler after slipping a pass inside to Dan Leavy.
Carbery says his footwork comes from a combination of cues in the defence and his instincts.
"I'd say it's a bit of both. You can read body language, like if someone turns their shoulder a bit too early or they're chasing too hard.
"But it is instinctive as well, like sometimes you don't even know you've stepped and you've already stepped! It's both.
Click here if you cannot view the clip above
"Always being the little kid, you have to try and find a way not to get hit too hard," continues Carbery. "I would do a bit of work on it in training though.
"Before most leg sessions in the gym, we would do a bit of footwork and coordination. Then before training and before games, we would do a bit. It's always good to keep on top of that."
The assist for Sweetnam against Fiji is a good example of Carbery's passing at its best, but it's an area of the game in which he consistently delivers good quality.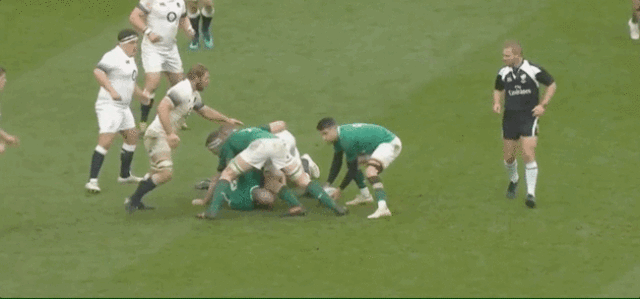 Click here if you cannot view the clip above
Carbery enjoys being able to open up his range of passing and get width onto the ball, as in the case above against England.
But he is also adept at picking out hard-running forwards close to the advantage line and slipping them into half-gaps for shorter gains.
"You're trying to look at the defender who might be the one you're trying to target, so that's depending on whether he's looking out or looking in," says Carbery of that kind of passing.
"We normally have more than one option, so trying to pick that right option depending on what the defender is doing is something you need to be able to work on and see within a second."
Of course, playing at out-half or fullback is not all about putting team-mates into holes and dancing around defenders with his footwork and vision.
Kicking is a central part of modern rugby and Carbery's skills in this area are perhaps a little underappreciated.
The kick below on his Ireland debut against the All Blacks in 2016 stands out, a brave decision superbly-executed.
Click here if you cannot view the clip above
There are always so many possibilities for playmakers like Carbery – kick, pass, or run. Making the best decision possible is key for him.
Watching a player like Carbery live in the flesh is always an interesting experience, allowing the viewer to appreciate how much he scans the pitch when he is not in possession.
Some playmakers have a pre-defined process for this scanning of the pitch, but Carbery doesn't adhere to a specific system.
"You're constantly looking," he says. "I got told when I was younger that there was the 'TPT' one – 'Touchline, Posts, Touchline.' so you're trying to look at all three scenarios.
"But I think the more you play, the more experience you get and even the prep during the week, you can watch the other team and almost expect what they might be doing. That would help but you do get used to looking for specific cues in the defence.
"The more you do it, the more simple it seems to come. Doing the video work before, you can see what side [of the pitch] their fullback might favour as well, stuff like that."
While the decisions on when to kick have to be made rapidly under pressure, that pre-match analysis is key, helping Carbery to identify the pictures in front of him even quicker.
Exclusive Six
Nations Analysis
Get Murray Kinsella's exclusive analysis of Ireland's Six Nations campaign this spring
Become a Member
"With opposition wingers, sometimes they might be [positioned] that bit higher up the pitch or sometimes they might be coming across. It depends on the opposition player.
"Even if the fullback is right-footed, he's not going to like going back into his left corner, because it's going to be that bit harder to get out. Little things like that, doing your prep on the opposition, it makes your life that bit easier."
Intriguingly, Carbery works hard on his 'bad' left foot too – even if he relies predominantly on his 'good' right foot when he has the time to do so in games.
Below we see an example of his left-footed kicking against Castres.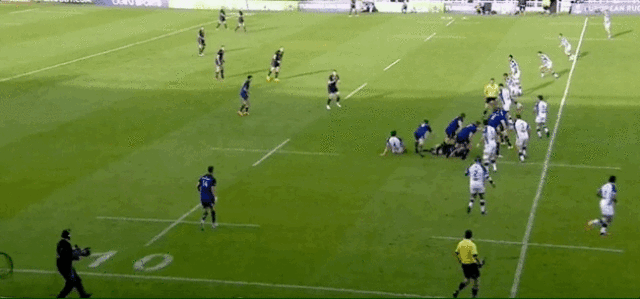 Click here if you cannot view the clip above
"When we were practising when I was younger, my dad always pushed me to kick two off my left and one off my right, every time. Two kicks off the left for every one off the right," says Carbery.
"From playing fullback, I know that playing against a 10 who can kick off both feet is a nightmare, especially when he can do it well. I'm always trying to work on it and the better it gets, the easier my job will be."
While left-footed place kicking is still beyond his comfort zone – "Maybe in a World Cup final like Dan Carter did [in 2015]!" jokes Carbery. "That was pretty incredible" – he is feeling more confident than ever off the tee this season.
He used his period on the sidelines after breaking his arm in that November meeting with Fiji to good effect in this regard, working hard with Ireland kicking coach Richie Murphy on his routine off the tee.
That period of focused place-kicking work resulted in one big alteration that has proven particularly helpful.
"I changed my tee when I broke my arm," says Carbery. "I got a higher tee that gives it a bit more of an angle on it. I think I'm getting a more consistent, cleaner strike with that so it's helped a lot. Richie was the one who suggested it.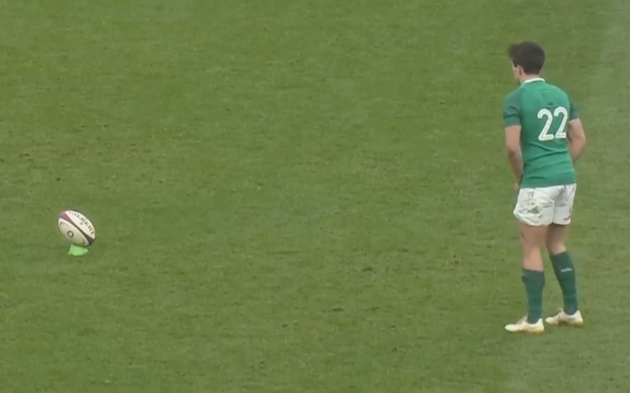 "The new one [above] is pretty much at 45 degrees, whereas the last one [below] was pretty straight up and down.
"I think the new one opens up the sweet spot on the ball a bit more and you can only really hit one point on the ball, rather than hitting up and down. It's a more consistent strike."
Standing at just over 6ft tall and weighing 86kg, Carbery is far from the biggest player in the professional game.
He is on the lighter side of the scale, although putting on bulk is not a concern for him.
Carbery is solid in contact and his acceleration and footwork make him excellent at beating defenders, while his defensive game is also generally reliable.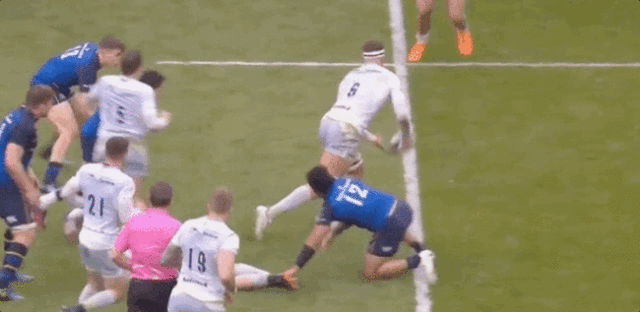 Click here if you cannot view the clip above
"Doing work with the likes of [Ireland defence coach] Andy Farrell and just getting reps under your belt is important," says Carbery of his defence.
"Also getting that mental switch around what you have to do when the tackle comes. I'm obviously not going to be smashing people but getting them to the ground is the main point. It's about being patient as well.
"You don't want to lunge into someone from too far away and they step you, it's waiting for them to make their move and then you adapt into it. "
Continuing to nail his defensive duties will be important for Carbery as he looks to become the complete playmaker at out-half and fullback.
While Johnny Sexton and Rob Kearney's ongoing strong form means he has had to be patient on the Ireland and Leinster benches at times, Carbery is enjoying his rugby and always looking to learn.
With a Grand Slam win on his CV, Leinster is the sole focus now until June and Carbery is happy to be working with the encouraging Stuart Lancaster.
"He has pushed me to be the player I am. He has given me confidence and told me he trusts me and that I'm a good player, I don't need to force anything. He's telling me to go out and do my stuff and I'm getting a lot of confidence from that.
"I feel I play my best rugby when I'm a bit more relaxed and a bit more instinctive, doing what comes naturally."
Avonmore Protein Milk is teaming up with Joey Carbery for its new 'You've Got This' campaign. Throughout the 'You've Got This' campaign Avonmore Protein Milk will inspire others by showcasing what it takes to make it in high-performance sport.
The digitally led campaign will highlight the hard work, dedication, and sacrifice top athletes make to reach their goals, by telling Joey Carbery's story.
The42 is on Instagram! Tap the button below on your phone to follow us!