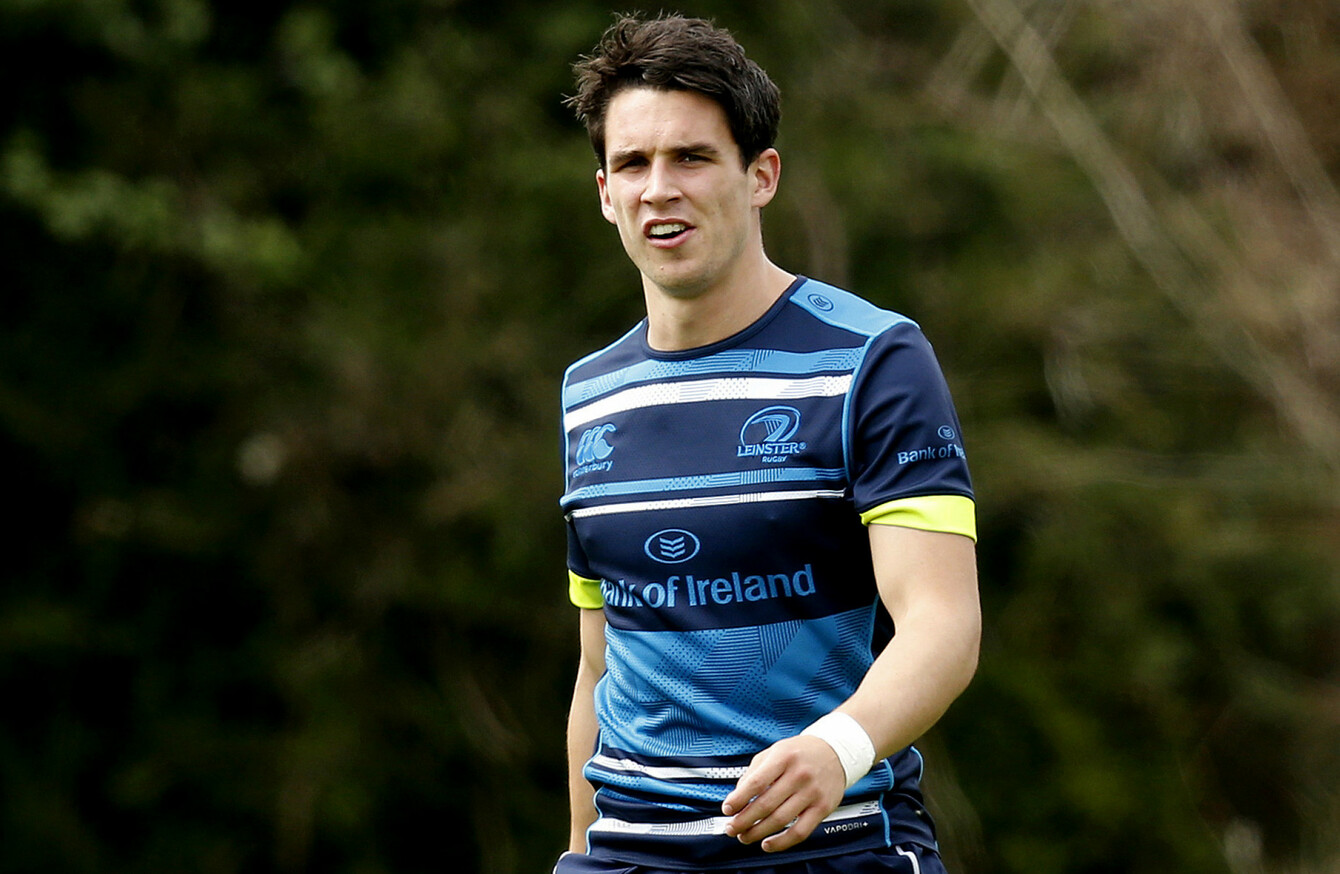 Carbery trained with the rest of the Leinster squad ahead of the Champions Cup final yesterday.
Image: Oisin Keniry/INPHO
Carbery trained with the rest of the Leinster squad ahead of the Champions Cup final yesterday.
Image: Oisin Keniry/INPHO
NOT FOR THE first time, we need to talk about Joey.
The first half of Leinster's Champions Cup final press conference was yesterday dominated by back-and-forth over the 22-year-old's future, which must have left the travelling English journalists somewhat bemused.
This is the biggest week of Leinster's season, and certainly the biggest week of many players' careers, but the agenda was set early in the piece by the province, allowing Stuart Lancaster to get his message across loud and clear when the conversation ought to have revolved around Racing 92 and Bilbao.
Lancaster was not shy in adding his voice to the chorus calling for Carbery to remain at his home province amid increased pressure on the out-half to move to Ulster ahead of next year's World Cup.
Carbery has previously made it clear that he does not want to leave Leinster — why would he? — but it appears the decision may be outside of his control if Joe Schmidt and David Nucifora get their way.
The IRFU insist no ultimatum has been issued but Carbery finds himself in a difficult situation, knowing he'll need regular game time at 10 next season if he is to go to Japan as back up to Johnny Sexton.
The latest reports suggest Carbery, and not Ross Byrne, could ease Ulster's headache in the pivot position next season by heading north on a one-year loan deal.
"I've been involved in this sort of situation quite a few times in England in my role, not just as an England coach but also in charge of the academies," Lancaster explained.
"Often you'll get a situation where maybe a player is sat and there's a decision to make: is this the right thing to do, is it right to go to an U20 World Cup? Is it right to have an off-season?
"My view has always been, and still is, you do what's right for the player. You put the player at the centre of the decision, so you don't do anything other than that. If one party thinks this and another party thinks that, it's about what's right for the player.
"I don't think it's anyone's fault that Joey hasn't played as much this year as everyone would have liked. You look at the injury at the start of pre-season and you look at the injury in the Fiji game that pretty much ruled him out of a whole chunk of time, and obviously the Six Nations came.
"In my view, Joey has developed brilliantly here. He's a fantastic player and I wouldn't want him to leave."
Lancaster, like many others, is adamant that staying at the eastern province best suits Carbery's needs, which is a point you'll find difficult to argue against given the calibre of player in the environment and the way he has developed there up until this point.
The benefit of learning off someone like Sexton cannot be underestimated, neither can the value of working under Lancaster, and when weighed against the continued uncertainty surrounding everything that is going on at Ulster, the general consensus is that Carbery is better off remaining where he is.
"It's my belief as well, not my understanding, my belief that the player should make the decision, because at the end of the day, if you're ever in this position, then you put the player at the centre and do what's right for the player," Lancaster continued.
"If the player feels it's the right thing to do, then everyone is going to respect that decision. If the player feels that the right thing to do is to stay and develop at Leinster alongside the other players who he's worked with and grown up with, then I think that's going to be his call."
Does Lancaster feel the interests of Carbery, or indeed Byrne, are at the centre of this process, which has reportedly infuriated Leinster?
"I think people have obviously spoken to both Ross and Joey to give their point of view, but then ultimately it's down to the player to make that decision and that's the way I see it.
"I think Joey is a great player, he's played at 15 and at 10 for us and he would have played more at 10 if he hadn't been injured.
"I've not been privy to what conversations have been had with the players. But we've got to ask the question, is it right for a player to move at this point and who is going to benefit? Because it's a massive decision to move a player away from his family and friends and away from the network which has supported him in his development.
"I'm always of the view that development takes its own course and things happen sometimes and I think I spoke this time last year, you asked me about Joey and if he is a 10 or a 15, and I look at Beauden Barrett and I still think the same.
"I look at Joey and the comparisons are so prevalent for me and I don't think we should change the course of someone's direction unless it's in the interests of the player first and foremost."
So the message is clear: Lancaster is firm in his belief that Carbery needs to stay at Leinster.
"Personally, my view, I want to keep working with Joey at Leinster," he adds.
The42 is on Instagram! Tap the button below on your phone to follow us!