IRELAND HEAD COACH John Bracewell will leave the position when his contract with Cricket Ireland expires in December, it has been confirmed.
The 59-year-old met with senior Cricket Ireland officials this week, where a 'mutual decision' on his future was reached although it could be a case of Bracewell jumping before he was pushed.
His two years in charge has coincided with a dramatic and alarming downturn in the national team's performances and results and his standing as head coach was becoming increasingly tenuous.
Bracewell has won just 21 of the 62 completed games during his tenure since taking over from Phil Simmons in May 2015, including heavy defeats to England, New Zealand and Bangladesh this summer.
The announcement comes just weeks after Ireland's elevation to Full Membership and Test status of the International Cricket Council was granted, a point Bracewell refers to in his statement.
The Kiwi says 'it is not my desire' to go down the Full Member route again having already done so as player and coach with New Zealand.
"Having been down the full-on Full Member road before with New Zealand Cricket, it is not my desire to do so again," he said.
"Whilst my wife and I have immersed ourselves into Ireland and Irish culture we feel it is now time to return home to New Zealand and our families. I have therefore agreed with Cricket Ireland to finish up at the conclusion of my contract.
"I have loved working with an honest group of players whose values and work ethic have been second to none. As challenging as the future may be, they will be the first to honour the Test cap and I am proud to have spent some time with them on that journey.
"I took on the role as Head Coach because I believed in the little guy getting a fair break and the cause of attaining test status appealed to my underdog psyche. That having been achieved, albeit by an unexpected turn of events, has left me looking for a new goal and challenge," added Bracewell.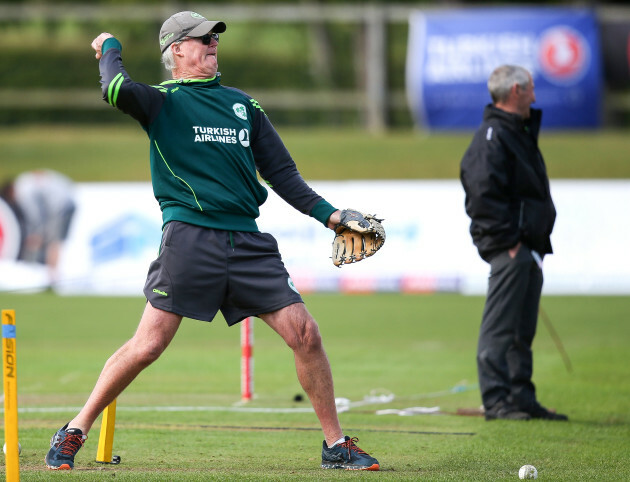 Oisin Keniry / INPHO Oisin Keniry / INPHO / INPHO
"Before my departure there are still a mountain of things to be put in place in assisting Richard Holdsworth and the coaching staff in preparing the Irish players for this new, exciting and very tough future. For the players there is the small matter of the Inter-Continental Cup to win, and a West Indies team to beat."
Bracewell will remain at the helm for the final three fixtures of the calendar year– the Intercontinental Cup games against Netherlands in August and Scotland in December and the ODI against West Indies in Belfast on 13 September.
Cricket Ireland CEO Warren Deutrom paid tribute to the passion of Bracewell during an admittedly transitional stage for the team.
"John is a man of great integrity who has offered a great deal to Irish cricket's cause in the last two years," Deutrom added. "He is admired by the players and his colleagues at Cricket Ireland and deserves both our sincere thanks and appreciation for his hard work, commitment and contribution.
"This mutual decision has been made as we focus on next year's World Cup Qualifier and future Test team, and our need to build an approach to deliver success over the coming years within a new performance structure, and as a new ICC full member country."
The search for a successor will begin in due course.
The42 is on Instagram! Tap the button below on your phone to follow us!