CORK CITY MANAGER John Caulfield has warned his players that they'll need to be disciplined in Friday night's Premier Division clash with Shamrock Rovers.
If Dundalk fail to win at home to St Patrick's Athletic, a win at Tallaght Stadium will see Caulfield's side crowned champions with six games to spare.
But it's set to be a feisty affair in Dublin as fourth-placed Rovers and City — who are separated by 29 points in the table — renew a rivalry which has been fuelled by verbal swipes from both sides throughout 2017.
As well as claiming that the Leesiders are not as strong as the Dundalk side they look set to succeed as champions, Hoops manager Stephen Bradley claimed earlier this season that City were a one-man team reliant on striker Sean Maguire, who has since departed for Preston North End.
Earlier this month, Bradley labelled Caulfield's comments "disgraceful" after he accused Rovers defender David Webster of making the most of an incident that saw City skipper Alan Bennett sent off in the first half of their EA Sports Cup semi-final, which the Tallaght outfit won 1-0 thanks to a goal late in extra time.
Bennett received a straight red card for an apparent stamp on Webster, although Caulfield insisted that no contact was made. The City veteran was only suspended for one match instead of receiving a three-game ban which generally accompanies a violent conduct charge.
"We look at Friday night as being a really difficult game," Caulfield said ahead of Cork City's third visit to Tallaght this season. "From the start of the season Shamrock Rovers were one of the teams that people said could win the league. They brought in so many players. There was a lot of talk about them, a lot of talk from themselves.
"We know it's going to be very difficult going up there. We know we need to be very disciplined because there's been a lot of gamesmanship going on, particularly in the last match with obviously the likes of Webster.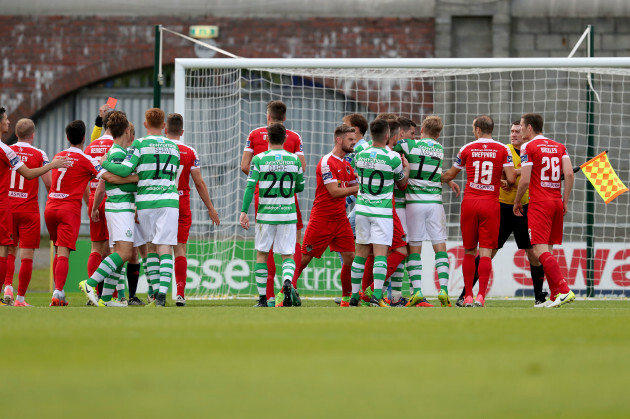 Bryan Keane / INPHO A scuffle breaks out as Alan Bennett receives his marching orders. Bryan Keane / INPHO / INPHO
"There's hard men in the League of Ireland — Alan Bennett, Brian Gartland, the late Ryan McBride, guys who just got on with it and played the game — but there's a few lads out there who pretend to be hard and when someone runs by them they hit the deck.
"We have to be prepared for gamesmanship. From that point of view we need our discipline because obviously we got caught the last day with Alan getting sent off. We must make sure that doesn't happen again.
"Fellas are hitting the deck for no reason. That's why for us it's about concentrating on our own game, not getting involved in what they do and hold our heads."
While Caulfield admits that the rivalry between the clubs has intensified this year, he insists that the hostility has been initiated by Friday's opponents.
He said: "We keep our heads down, we work hard and we've done our stuff. All the shouting has come from the other corner. As I keep saying, with any manager, your time will come and other people will decide your fate with your results after a period of time.
"But there's no doubt that there's been a lot of shouting and stuff at myself and at the club. But more importantly we're in a great position. We've done fantastically well over the last number of years, we've come from nowhere and built a really strong squad with great players.
"We have to hold our heads and not get involved. We expect them to be very physical, we expect gamesmanship, so we have to be very cute and make sure we concentrate on our own game and what's on the pitch. That's what we'll do and that's what we've done all season."