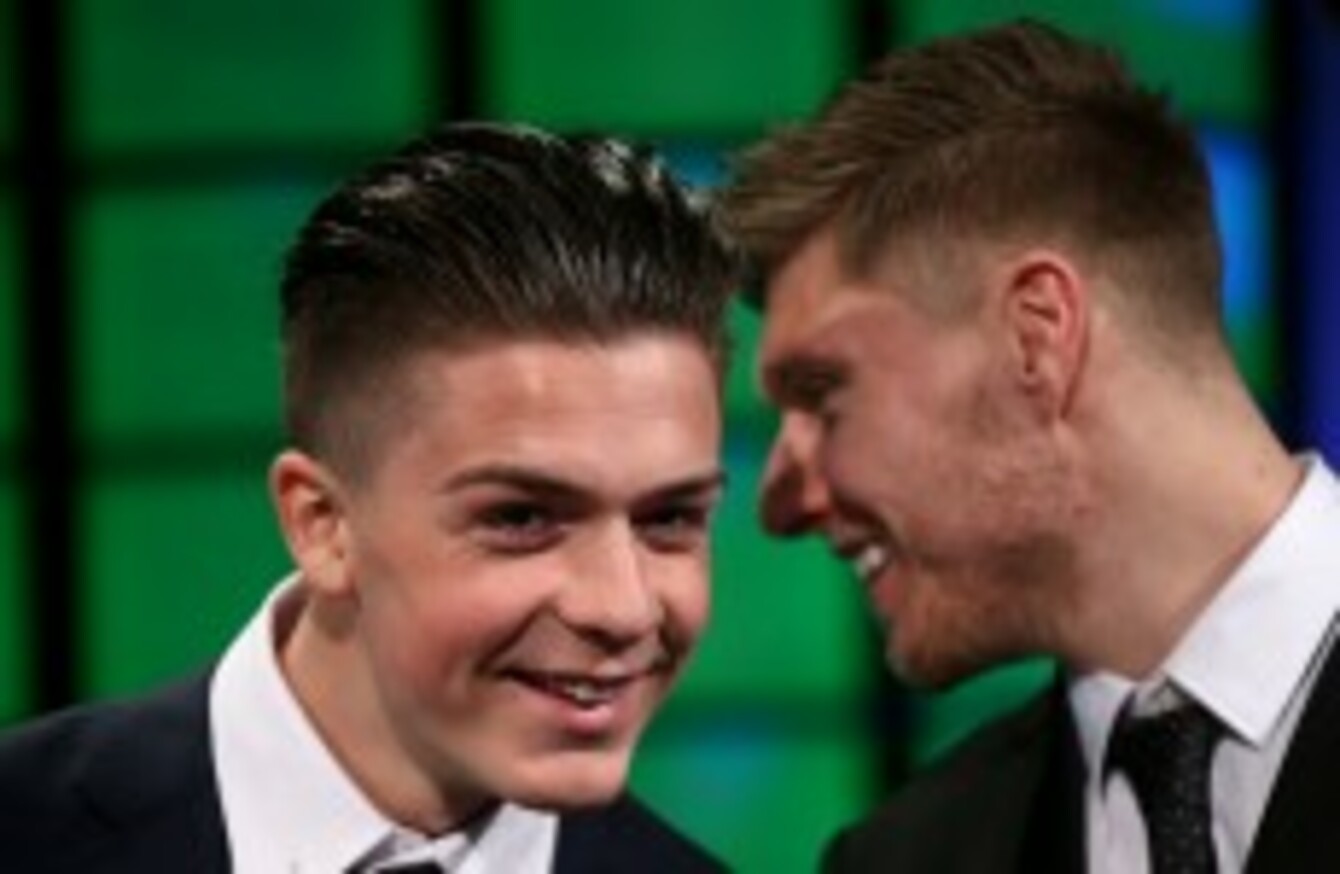 Grealish won the FAI U21 Player of the Year award.
Image: James Crombie/INPHO
Grealish won the FAI U21 Player of the Year award.
Image: James Crombie/INPHO
JOHN GILES BELIEVES Jack Grealish is already good enough to start for Ireland in June's crunch Euro 2016 Qualifier against Scotland and has urged Martin O'Neill to 'woo' the midfielder.
The 19-year-old starred for Aston Villa during last week's FA Cup semi-final win over Liverpool and his performance has reignited the debate and confusion over his international future.
Grealish, who was born in Birmingham but has represented Ireland at underage level, is now at the centre of a tug-of-war between Ireland and England with Roy Hodgson thought to be monitoring his progress closely.
Although he's been capped by the Boys in Green at U17, U18 and U21 level, Grealish would be able to transfer his allegiances to England until he plays a competitive international for Ireland.
But Giles believes it's not so much about fast-tracking him into the set-up to end England's interest but because he's already worthy of a place in the starting XI for the visit of Gordon Strachan's Scotland.
"I saw him for the first time last weekend and I think he is a very good player and a great prospect," Giles told Newstalk's Off the Ball. "If I was the manager of the Irish team I would want him in now, definitely."
"I wouldn't hang about with this lad at all. I would go out of my way to try and get him in.
"I'd get him in if I could straight away and I would put him in a competitive match – not just to qualify him. If I was picking a team for the Scotland match, I'd have Grealish in the team from what I've seen of him."
Grealish's stock has risen considerably in the last few months under Tim Sherwood at Villa Park. He has made 12 Premier League appearances as well as that stand out performance at Wembley last Sunday.
As Ireland player-manager, Giles handed 17-year-old Liam Brady his international debut having only seen him play once and he believes O'Neill needs to do the same with Grealish.
"I remember seeing Liam Brady for the first time," Giles continued. "He played at Leeds in a match and I only saw him the once. That was enough. There's certain lads you could look at 10 times and you think 'no, he's not so good' but there's other lads who are natural players who can come into the team."
"Liam Brady was one of them and I think this kid Grealish is another one of them."
"He's only a kid but that game last week was huge and he looked like a natural footballer.
"We're not gifted with a lot of players at the minute and with the players we do have, he's good enough to go straight in the side."
You can listen to the show here.