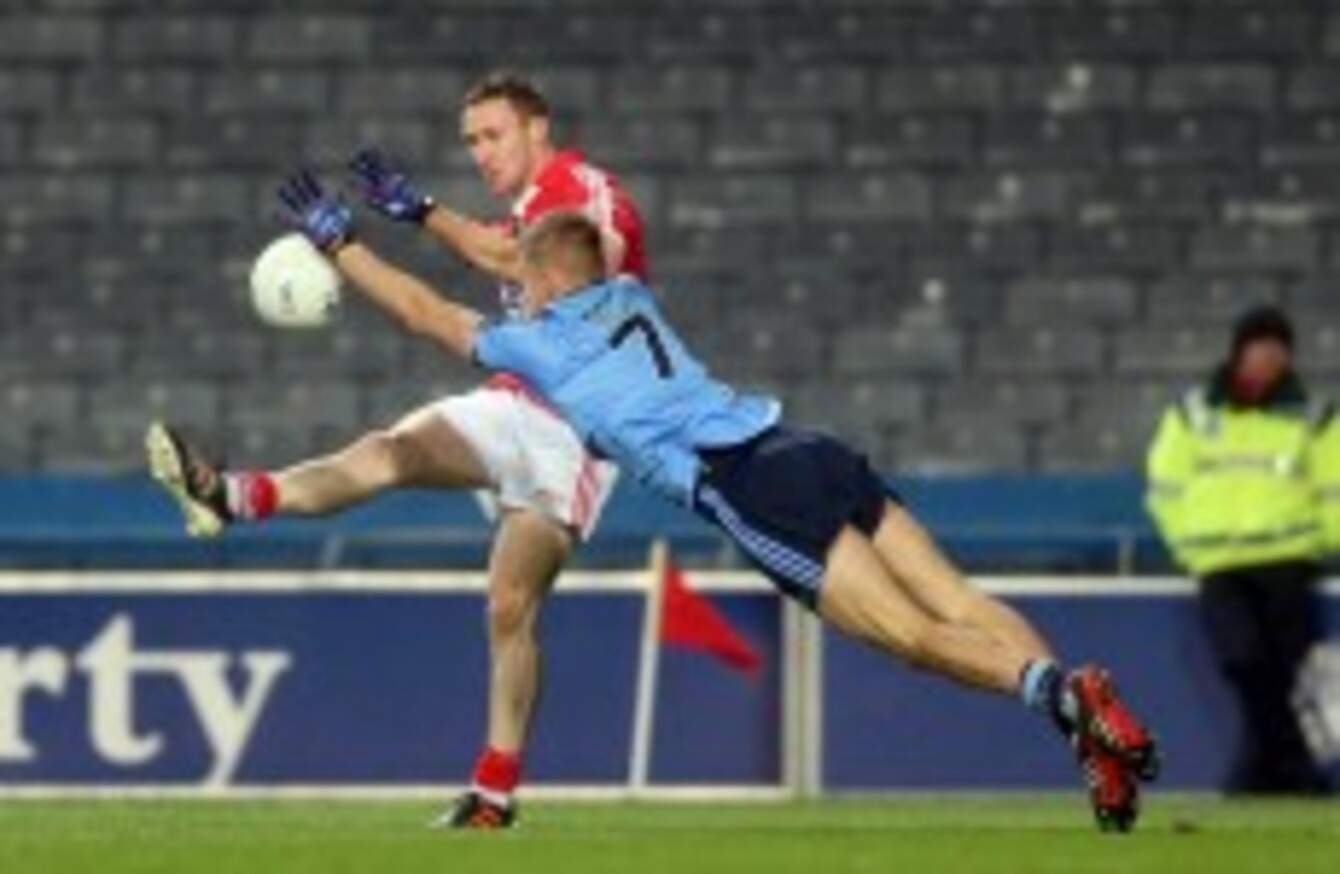 John Hayes in action for Cork on Saturday night against Dublin.
Image: ©INPHO/Donall Farmer
John Hayes in action for Cork on Saturday night against Dublin.
Image: ©INPHO/Donall Farmer
IN FEBRUARY 2011, John Hayes started in Tralee for Cork's league match against Kerry. On Saturday night in Croke Park, he was again in the starting line-up for the Rebels against Dublin.
The 29 year-old bagged 1-3 in helping Cork secure a fine victory. The fact that there had been a three-year hiatus in between those starts for Cork made it a more significant occasion.
Hayes bowed out of the Cork panel in March 2011 but impressive club form helped bring him back into the fold and he was drafted into new manager Brian Cuthbert's plans this season.
He got a goal off the bench in the McGrath Cup final against Kerry before getting late cameos in last month's league wins at home over Westmeath and Kildare. But Saturday night was a milestone.
"To start here now in Croke Park is a great place to come back to. To be fair to the last management, they had a lot of success with the guys that were in there, they kind of stuck with the guys that they knew which was fair enough.
"I got a couple of chances, some were okay, some weren't. I think at that stage I just thought that I wasn't really getting anywhere on the panel so I decided to step back and start enjoying my football again.
"When you hit your late 20s, it's not enough just to be number 27 or 28 on the panel, you want to be involved and I didn't feel I was going to get much of a chance so that was it.
"When I realised that there was an opportunity for me to come back, I said, 'look, I'm 29 now so it's the last chance saloon for me to come back'. It was the last opportunity for me to come back. I'm delighted that Brian has given me the chance to play with Cork again. It's just something that I'm going to take the opportunity this time."
Forward Line
Hayes is one of a number of attacking options that Cork have and admits there is serious competition.
"When you have fellas coming off the bench like Colm (O'Neill) and Donal Og (Hodnett), and taking on the onus like that it's good for the panel, it's good for the team.
"It's a very young panel I've come back to. All changes and stuff. But there does seem to be an abundance of forwards there. Everyone is on their toes. I see all the young guys there after winning Sigersons and are U-21 champions as well so they're very good young players and young prospects. It's an exciting panel to be part of."
The return of Colm O'Neill is another boost.
"It's great to see Colm back, he's a class act and a class player and the more good players we can have back the better it is for us."