Click here for more of The42′s Ireland v England anniversary series >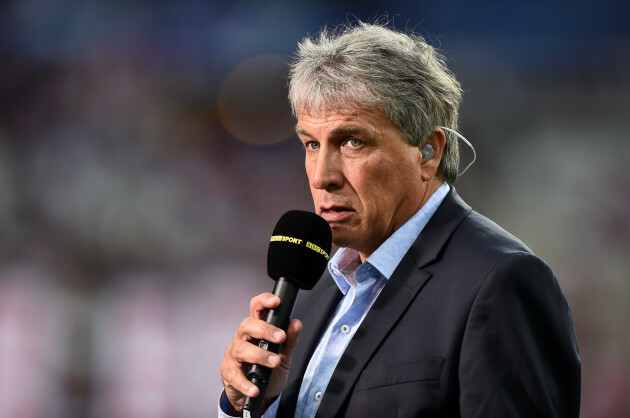 Andrew Matthews BBC presenter John Inverdale. Andrew Matthews
"TODAY IS ABOUT so much more than a game of rugby," exclaimed BBC broadcaster John Inverdale.
The sense of occasion on Saturday, 24 February 2007 transcended the realm of sport; indeed, it seemed all walks of Irish life were orbiting the contentious visit of our neighbours to the home of the GAA.
The French had already been in town to pop Croke Park's Six Nations cherry, and end any hopes of an Ireland Grand Slam, but the visit of our Gallic cousins didn't bring up any hostile memories or dark days of history, there is only one nation that can draw such umbrage from the Irish public.
Apprehension was dominating the air ahead of the occasion, and Inverdale knew he needed to explain as much to the millions of British viewers who may have just been tuning in for what they perceived as a relatively standard afternoon of Six Nations.
Rugby was still the main event that afternoon but the importance of the history, the anthems and the political progress were prominent sideshows on this side of the pond.
Fears of noisy protests over the opening of Croke Park to a "foreign game", all that had preceded it with the amendment of Rule 42, and the playing of God Save the Queen on such hallowed turf had supporters, administrators and players on edge.
The English media knew they were also treading a fine line in terms of delicately portraying such a complex, emotional occasion, all while covering 80 minutes of intense international rugby.
Firebirdfrenzy79 / YouTube
It's easy to think that 10 years on, everything having gone so swimmingly, particularly from an Irish perspective, that it turned out to be a routine visit for the English press but BBC broadcaster Inverdale recalls it was anything but.
Preparation at the British public service broadcaster had gone way beyond its usual meticulous levels; this was one of those fragile occasions that was all too easy to get wrong and particularly difficult to get right.
"I can't tell you how many thousands of emails and memos there were flying around about getting the tone and the texture of the broadcast right," Inverdale tells The42.
"I kind of knew the story anyway but I did a lot of reading about it just to make sure that if anything happened untoward that I knew what it was going to be about.
With the benefit of hindsight, obviously everything went very smoothly and the whole day was a monumental success.
"But there was no guarantee that was going to be the case because you've only got to have two or three people who want to cause problems and they would get a disproportionate amount of media coverage.
"So in the context of that day, had there been a mass demonstration, had somebody invaded the pitch wearing a T-shirt proclaiming some kind of political statement or whatever it might be … you have to sort of prepare yourself in your head for the what-if.
"And in the event of that happening, what are you going to say?, how are you going to pitch it?, all that sort of stuff.
"It's like a lot of things, in advance of something you're more apprehensive and concerned than actually subsequently you needed to have been."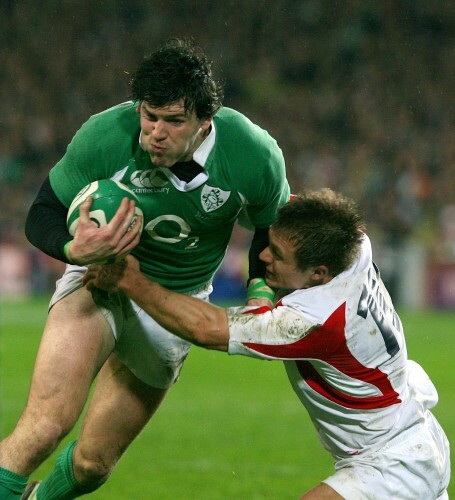 Billy Stickland / INPHO Ireland's Shane Horgan is tackled by England's Jonny Wilkinson. Billy Stickland / INPHO / INPHO
An experienced broadcaster of more than 30 years, Inverdale has covered all sorts of events including multiple Olympic Games and Wimbledon tournaments, but Ireland's 43-13 win against England is still etched firmly in the 59-year-old's memory.
And not just the occasion but the aftermath, and in particular the arrival of correspondence from a torn Irish fan, which personified the enormity of the occasion in Inverdale's eyes.
"In many ways, almost my abiding memory of the whole thing was I actually got a letter, about two or three weeks later.
"It was an anonymous letter, which you're almost always a bit dodgy about.
"It had somehow gone through the very convoluted BBC mail system and eventually found its way to me and it was from a guy, at least I assume it was a guy, who had been involved in the Republican movement during the Troubles.
"He said there was a part of him that wanted the day to be a disaster and part of him that wanted it to be a huge day of reconciliation.
"He said that on the morning of the game he was very confused about how he wanted the day to pan out off the field.
"Then he said, 'I just want you to know the BBC team did an amazing job in getting the atmosphere and the ambience of the day absolutely right, and this will be one of the most unusual congratulatory letters you will ever receive, but I want your team to know that they did the occasion proud.'
"I read that and I thought, 'well, blimey, that's one for the archives.'"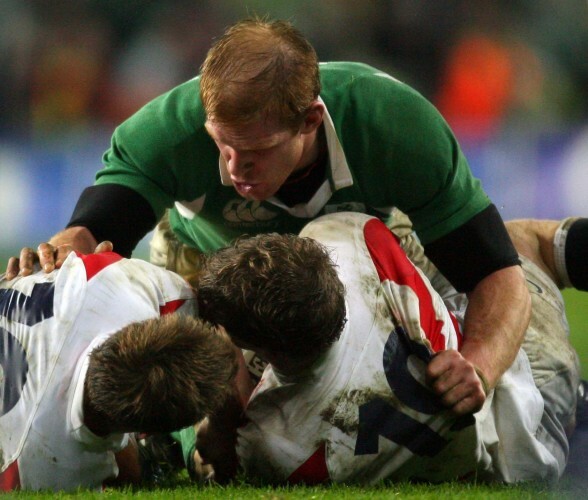 Billy Stickland / INPHO Paul O'Connell of Ireland over Jonny Wilkinson and Tom Rees of England. Billy Stickland / INPHO / INPHO
Rob Kitson, rugby correspondent with the 'Guardian', also recalls there was something special in the air that February evening in Dublin. A heightened intensity that told its own story.
"For those of us who are lucky enough to go to quite a few Tests, Ireland-England Tests at Lansdowne Road, this made those look like a garden fete," recalls Kitson.
"You didn't have to have a post-graduate degree in Anglo-Irish history to realise it was a big deal.
"Ireland were just super-charged that day. England were just blown away by an Irish side who were just not going to lose."
Ashton's England squad had been briefed on Anglo-Irish history by an expert beforehand but it wasn't until they walked out on the Croke Park turf, and were pushed back by the cacophony of noise and the curious tension, that the sense of occasion hit home.
"I think you'd be over-egging it to say that the English players fully understood maybe how much it meant to the Irish guys and the history and the sort of context of the occasion if you like.
"It's very easy to be told something in a lecture hall and slightly different when you see it head-on," explains Kitson.
Billy Stickland / INPHO The Ireland squad sing Amhrán na bhFiann. Billy Stickland / INPHO / INPHO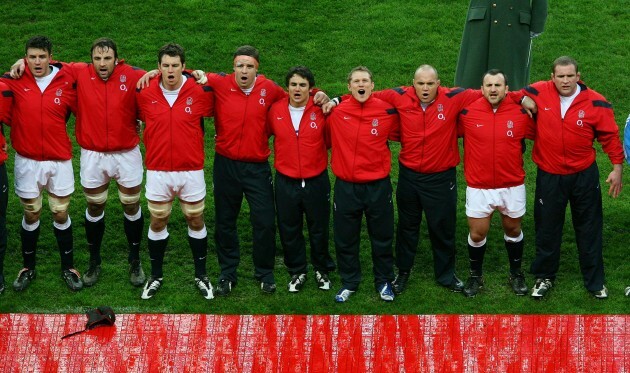 Billy Stickland / INPHO The England squad sing 'God Save the Queen'. Billy Stickland / INPHO / INPHO
Looking back at clips from the game, and particularly the anthems, 10 years on, it's still difficult not to be moved by the charged atmosphere in Dublin 3.
The formality of anthems before international matches, and the sentiment behind the meaning of their lyrics, is one of the most emotional experiences in sport, whether that be in the crowd or on the pitch.
But that day, after all the rhetoric that had previously been slung over the playing of God Save the Queen at Croke Park, 87 years after Bloody Sunday, the singing of the national anthems, with even more gusto than usual, and the respectful reception of them, was particularly moving.
As Ireland's Call ended the pre-match formalities, and its final lines rang out in the still Croke Park air, the release and expectant roar was incredibly stirring.
"Shoulder to shoulder, we'll answer Ireland's call.
"We'll answer Ireland's call."
John Hayes wiped his tears away while Ulster's Rory Best and Munster back rower Denis Leamy shared an emotive embrace. All the hysteria, hype and debate could be put to rest, rugby was the priority once again.
enjoyvideoclips / YouTube
And as far as the rugby went, it couldn't have gone much worse from an English perspective.
"I struggle to remember a game when you really thought 'my God, am I glad I'm not playing today', certainly in a white shirt, it wouldn't have been bad in a green one," adds Kitson.
"From very early on, I think it was 23-3 at half-time, they were getting absolutely pounded. Then they went down to 14 men too.
"It was one of those real heavy-duty occasions and you actually felt a bit sorry for the English guys because it was one of those days where there was absolutely no escape."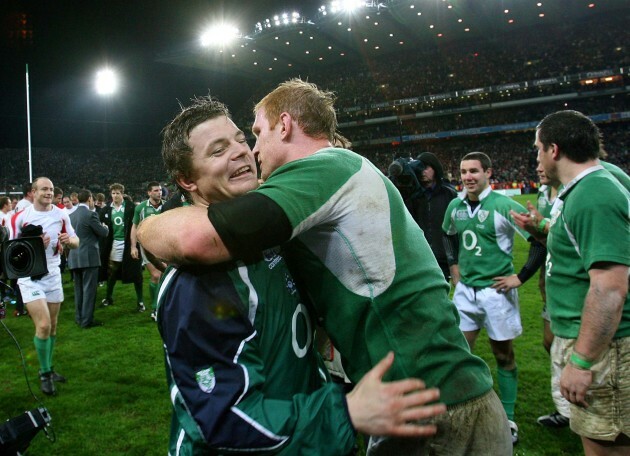 Billy Stickland / INPHO Brian O'Driscoll and Paul O'Connell celebrate at the final whistle. Billy Stickland / INPHO / INPHO
It may be 10 years since the Six Nations clash at Croke Park but in an odd way it seems like a lifetime ago, particularly as Ireland puts its hand up to host rugby's biggest tournament in just six years' time, with eight GAA grounds included as part of the bid.
"It's 10 years ago now and it almost seems like its lost in history in a funny kind of way," adds Inverdale.
"I went to a club game the night before the Ireland-England match and I had one beer after the game in the clubhouse and everybody was going on about 'are you nervous about tomorrow?', 'what's the BBC going to do that's special?' and it was kind of like the only conversation.
"It was 24 hours later, when you're in a different bar discussing how you did it and you kind of think, well, and I don't want to downplay it, we played it as straight as we could, we gave it the significance and the reverence that it required without giving it undue eminence over what was a hugely significant game as well.
"It was a balancing act I suppose in the end, just trying to get the tone right.
At this distance, because 10 years is 10 years, my recollection is we probably did it OK. I'm sure there's something we could have done better, because there always is.
"Of course 10 years on Ireland are kind of joint-favourites to get the Rugby World Cup in 2023 and you know obviously any Rugby World Cup final is going to be at Croke Park.
"The world moves at a very fast pace and the relationship between the rugby authorities and the GAA is absolutely key now to the Irish Rugby World Cup bid. If it was successful, what a fantastic boost that would be for the whole country.
"So maybe the success of that first match there opened peoples' eyes to the fact that actually these two elements can work together as co-operatively and beneficially as possible."
Subscribe to The42 Rugby Show podcast here:
The42 is on Instagram! Tap the button below on your phone to follow us!