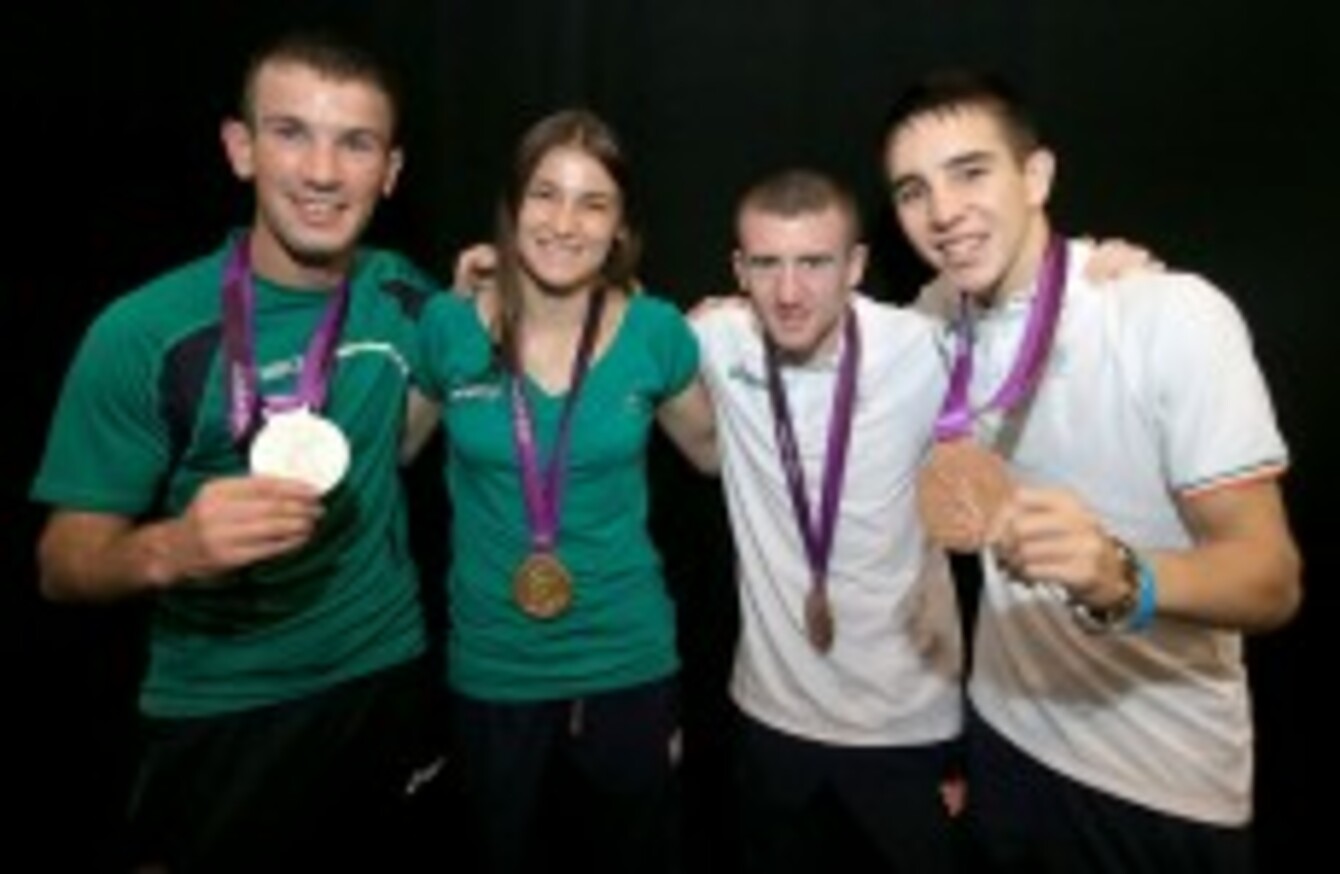 Nevin (left) with Taylor, Barnes and Conlan.
Image: INPHO/Dan Sheridan
Nevin (left) with Taylor, Barnes and Conlan.
Image: INPHO/Dan Sheridan
OLYMPIC SILVER MEDALLIST John Joe Nevin says he is in no rush to decide on his future.
The Mullingar fighter won Ireland's fifth medal at the London Games last night after being narrowly beaten by Team GB's Luke Campbell 14-11 in the bantamweight final.
As part of Billy Walsh's boxing team, the 23-year-old has helped to ensure that the country enjoyed their most successful Olympics in nearly 60 years.
While sticking with the high performance programme to mount a challenge for Rio in four years' time is an obvious option, many amateur boxers are often seduced by the lure of turning professional.
However, when asked by TheScore last night, Nevin insisted he will take his time before planning the next move.
"I'm just going to go home and enjoy the time with my family now," he told Will Downing. "I'm getting well funded off the Sports Council now but I'll view my best options when I go home now. I always said I'd love to win the full house: World, European and Olympic medals.
I'm looking out for my future as well though so I'll see what I'll do when I go home."
Nevin may have cemented his name alongside Irish sporting legends like Michael Carruth and Sonia O'Sullivan but he very nearly didn't make it to London. In the run-up to the competition, Nevin felt his form wasn't up to scratch but, thankfully, was talked into sticking with pre-Games training by his mentors.
"Since I won the bronze medal in September, I hadn't been performing well," he added. "I took a bit off and I went into nationals and even after that I came down with a fractured jaw, and I hadn't been performing well at all.
"I approached Billy about a month ago before we left and I couldn't do it, I didn't feel up to. He sat me down, him, Zaur and Gerry Hussey the psychologist and they got around me. We went into a tough training camp with the Indians and I came out flying out of that and I got my head right and just moved on since there."