WE'VE HAD SOME very good nights in Las Vegas over the last 18 months or so but unfortunately last Saturday wasn't one of them.
In his second UFC bout, Artem Lobov came up short against Alex White at UFC Fight Night 82, losing by unanimous decision. Everything went perfectly in the build-up so there are absolutely no excuses from our perspective. The whole week out there was great.
In the warm-up room beforehand, a few of the shots we had been working on were flowing very nicely. However, it was unfortunately one of those fights where it just didn't happen on the night. Even though he hasn't got a big reach, Artem is usually very good at landing shots and closing the distance. But he couldn't manage to do that on Saturday.
After consecutive defeats in the octagon, where does Artem go from here? I honestly don't know. I didn't speak to anyone at the UFC about it on the night but when I'm back over there for UFC 196, I'll probably have a chat with matchmaker Sean Shelby about it. Artem is quite tough on himself and he's already almost assuming that it's retirement time, but we'll have to see what the UFC decide.
After the fight on Saturday, both UFC CEO Lorenzo Fertitta and president Dana White came into the changing room for a chat. They told Artem: "You did what we ask fighters to do, and that's fight your heart out. You didn't just try to ride out the time instead of going for the finish."
Hopefully that'll count for something. I'll be campaigning for him to get another opportunity. I certainly believe he deserves it and the UFC won't regret it.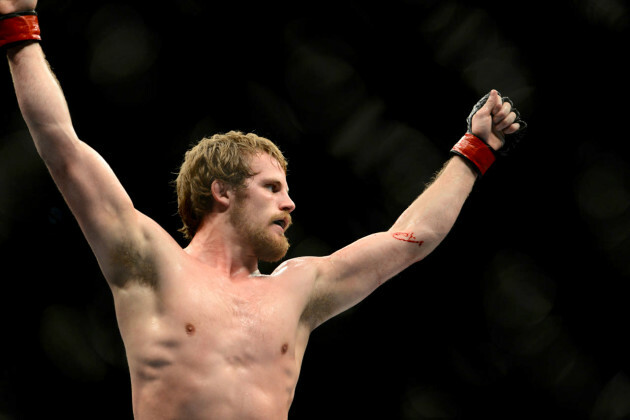 Rodrigo Romos / INPHO Gunnar Nelson Rodrigo Romos / INPHO / INPHO
A lot of people have been wondering about when some of our other fighters at SBG Ireland will be back in the octagon. Paddy Holohan has been working on getting our gym in Tallaght — which will open soon — off the ground, so he's been focusing his energy on that for now. Aisling Daly is still training hard but we're not planning to have her fight again until much later in the year.
As for Gunnar Nelson, he arrived back at SBG Ireland from Iceland recently to train with Conor McGregor. He's looking fantastic but we haven't discussed fights. I have a feeling he'll get a call-up for Zagreb on 10 April or Rotterdam on 8 May but there's nothing definite lined up at the moment.
I only arrived back from Las Vegas a couple of days ago but I'll be heading back out there again in a week or so for Conor McGregor's historic lightweight title fight against Rafael dos Anjos at the MGM Grand Garden Arena on Saturday, 5 March.
Normally at this stage — three weeks out from a fight — there would be a lot of emphasis on the scales for Conor. However, given that he's fighting at 155lbs this time instead of 145lbs, it's nice not having to worry about bringing the weight down so much.
All the training is focused on improvement, as opposed to making weight. If anything, we've had more fun in this training camp than ever before. Nobody gets into this sport to be the best weight-cutter. This time, everything has been geared towards getting better, not getting lighter.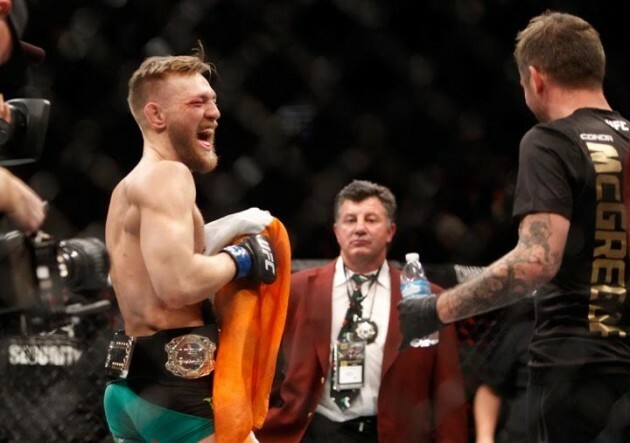 Getty Images / Steve Marcus/INPHO Conor McGregor with John Kavanagh following his UFC 194 win against Jose Aldo. Getty Images / Steve Marcus/INPHO / Steve Marcus/INPHO
You can definitely see the impact of that in Conor's clinch exchanges with the heavier guys in training. He's very skilful in the clinch but sometimes when he's cutting down to featherweight he gets pushed around if he's working with welterweights and above. But now, as well as having the skill, he's got a more solid frame that can't be moved around as easily. There's been a very noticeable strength difference.
Speaking of welterweights, I've seen that rumours of Conor fighting Robbie Lawler for the 170lbs belt at UFC 200 on 9 July have been gathering momentum. It's not something we have discussed specifically but after Conor wins the lightweight belt, it wouldn't surprise me at all if the next fight is for the welterweight belt.
If that's what Conor wants to do, I'll absolutely support that move. I think that would be fantastic. We're already talking about making history in a few weeks, but can you imagine what it will be like if Conor is the champion in three weight classes by the summer?
He's obviously already the featherweight champion but we haven't thought about that recently as we've been totally focused on the lightweight belt. Once that's out of the way, we'll talk about what to do with the featherweight belt.
As time goes on, it's harder to predict what will happen in the future. Conor has a sort of unusual body type in that even though he can make featherweight, he's still a very big lightweight. Given some time, as well as a bit of strength and conditioning work, he could also be a force at welterweight. This is an interesting time.
The42 is on Snapchat! Tap the button below on your phone to add!