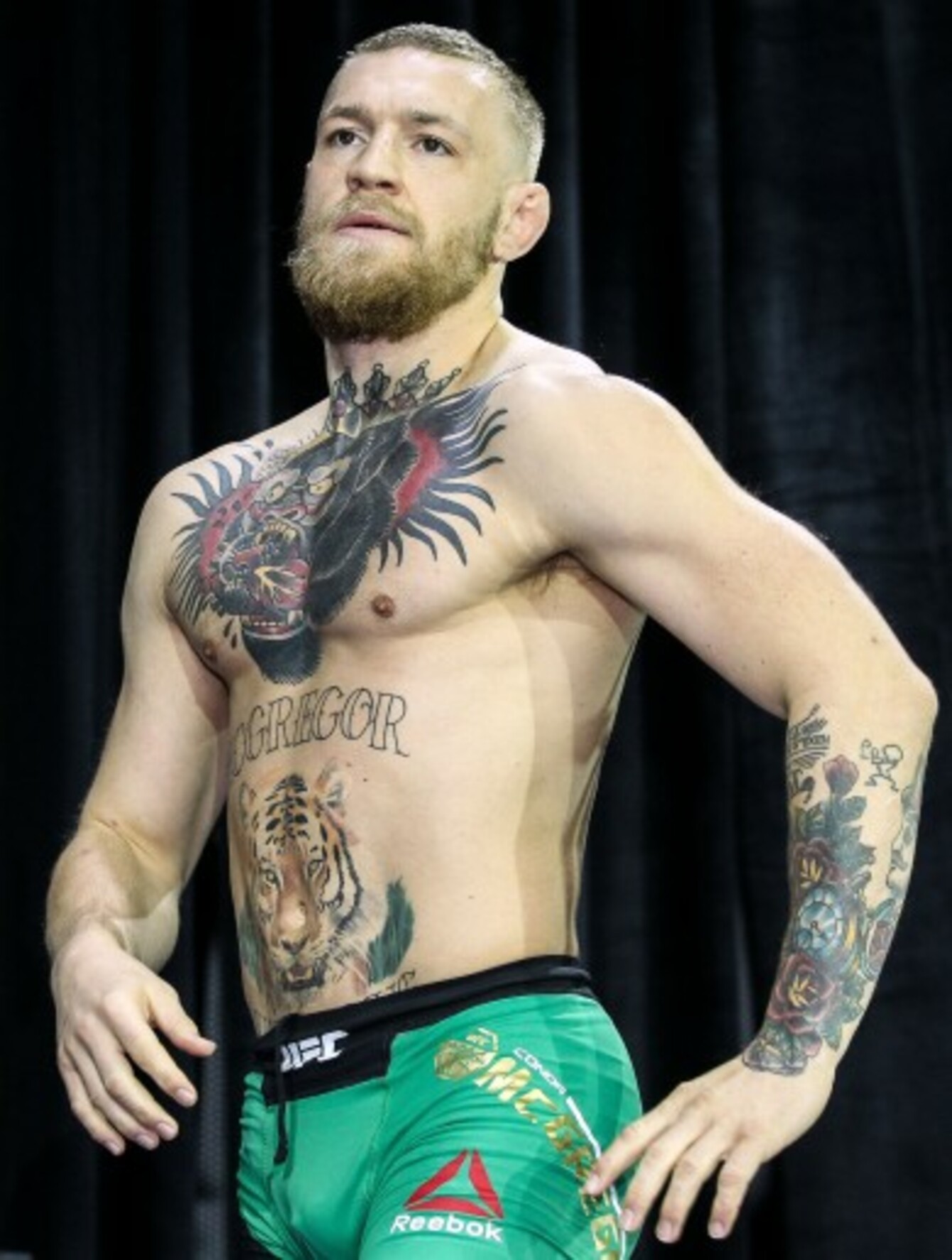 Conor McGregor at Wednesday's open workouts in Las Vegas.
Image: Raymond Spencer/INPHO
Conor McGregor at Wednesday's open workouts in Las Vegas.
Image: Raymond Spencer/INPHO
IT'S BEEN AN unusual fight week here in Las Vegas.
We've enjoyed it — as we always do — but the removal of one sizeable hurdle has made this past few days particularly pleasant.
In a few hours' time, Conor will step on the scales at the MGM Grand Garden Arena for the third time in the past eight months.
The routine usually involves waiting for the "145 pounds" proclamation from the Nevada State Athletic Commission official, and then we breathe a sigh of relief. Another one done. Then, we can finally look forward to the fun part — the fight.
For this bout, we've been looking forward to the fun part all week. With Conor fighting Nate Diaz tomorrow at 170 pounds, he's been eating, drinking and sleeping well in the build-up to UFC 196. Cutting weight is the one aspect of the fight game that nobody enjoys and Conor is no different.
Cutting weight isn't something I have to worry about any longer but Conor's obligation to drop those last few pounds is the only thing that causes me to be nervous in the latter stages of fight week. That hasn't been an issue on this occasion so we've had a very relaxed camp here. It's been weird, but in a very good way.
Instead of monitoring a number on a scales, I've been able to devote my time to looking at some footage and putting the final touches to our preparations.
Given the significant jump up in weight for this fight, many people have been asking me how Conor is going to pile on the pounds in such a short space of time — remember, he was preparing to compete at 155 pounds until just 10 days ago.
The answer is that he doesn't need to put on any extra weight because he's already around the 170-mark. He's not eating his way up to it, he's just eating healthily but substantially as a normal person would because his weight is already on point.
It's something former world boxing champion Steve Collins discussed when he visited us at Straight Blast Gym in Dublin recently. When he moved up eight pounds to fight Chris Eubank at super-middleweight in 1995, people kept asking him if he'd end up being weaker due to forcing himself to add the extra weight.
But that wasn't the case. Steve was already at that weight. He just didn't have to put himself through the misery of cutting those eight pounds, so if anything he was actually stronger when the time came to fight. The same is true for Conor.
The morning of the day before a bout is probably one of the lowest points of the game for Conor, as well as probably every other fighter. They're drained and dehydrated, tetchy and tired. Without the need to go through that process, the differences in Conor have been night and day. He's had a smile on his face all week, savouring every second of it.
The interesting thing about this fight being at 170 pounds is that neither Conor nor his opponent will need to cut weight and then have to contend with any potential implications of that. Therefore, we can expect to see them both at their best when they enter the octagon, which is exciting for the rest of us who'll be on the outside looking in.
Diaz is probably naturally 10 pounds heavier than Conor and a few inches taller too, but there are no huge differences. It's two guys of a similar size who haven't had to endure drastic weight-cuts, and they'll get to showcase their skills without any such drawbacks. It'll just come down to ability not size, and that's what martial arts should be about.
Perhaps it could even set a precedent for how fighters will approach the issue of weight-cutting in the future — who knows? Is a bigger Conor McGregor a better Conor McGregor? I suppose the proof will be in the pudding, but I can say for certain that he's an even sharper and freer version of himself right now.
Since Nate Diaz stepped in last week to replace the injured Rafael dos Anjos, I've been asked several times why Donald Cerrone didn't get the fight. Are we running from Cerrone? Well, the answer to that is simple.
When they fought a few years back, Diaz made Cerrone look quite ordinary. Conor wants the biggest tests available and I want them for him too. If both options were on the table, why would we take a fight against Cerrone over Diaz, choosing the guy who lost their 2011 bout instead of the guy who won it?
Either way, there would have been accusations of dodging one or the other. It's impossible to please everybody in a situation like that. You're damned if you do, damned if you don't.
It's been really satisfying yet again to see such fantastic support from the Irish fans out here. We absolutely appreciate the effort the fans put in and the expense they go to. Hopefully they won't always have to travel so far because I know that not everyone who'd like to be here can afford it.
Sometimes I wonder if the UFC truly realise how global this sport is. Not every event has to be focused on west coast time. I'd like to think we'll see some fights on the east coast in the near future. Conor has built up a big fanbase out here and it's obviously huge back home too, so places like Boston and New York would be a good halfway point for both.
This match-up was only put together last week, for reasons I've already mentioned, but so much has been said and done in the meantime that it seems like the build-up has gone on for much longer than that. It was particularly baffling for me to observe the accusations of performance-enhancing drug-use that Nate threw at Conor.
Considering that a couple of his own team-mates have been penalised for that very recently, his bizarre decision to go down that route left me scratching my head. In fairness, it seemed to be little more than an attempt to get under Conor's skin, as Nate has appeared a bit overwhelmed when they've traded words so far.
If Nate was hoping to wind Conor up, unfortunately for him he didn't succeed. I've always thought that clean fighters recognise each other. I believe Nate is one of them so, deep down, he knows there's no substance to what he was saying, regardless of how malicious it may have been.
As for tomorrow night's fight, every challenge poses different problems. Although he possesses a reach advantage, Nate is a pretty straightforward fighter to assess. He throws punches with volume but very little variety and it's a level of striking that Conor has grown up with.
Nate is a scrapper and you can't count him out. Looking at some of his fights over the years, he can take a tremendous amount of punishment. But I don't believe he'll ultimately be able to withstand what Conor will throw at him.
There are things Nate doesn't do that Conor can exploit. That will be evident tomorrow night.
The42 is on Snapchat! Tap the button below on your phone to add!