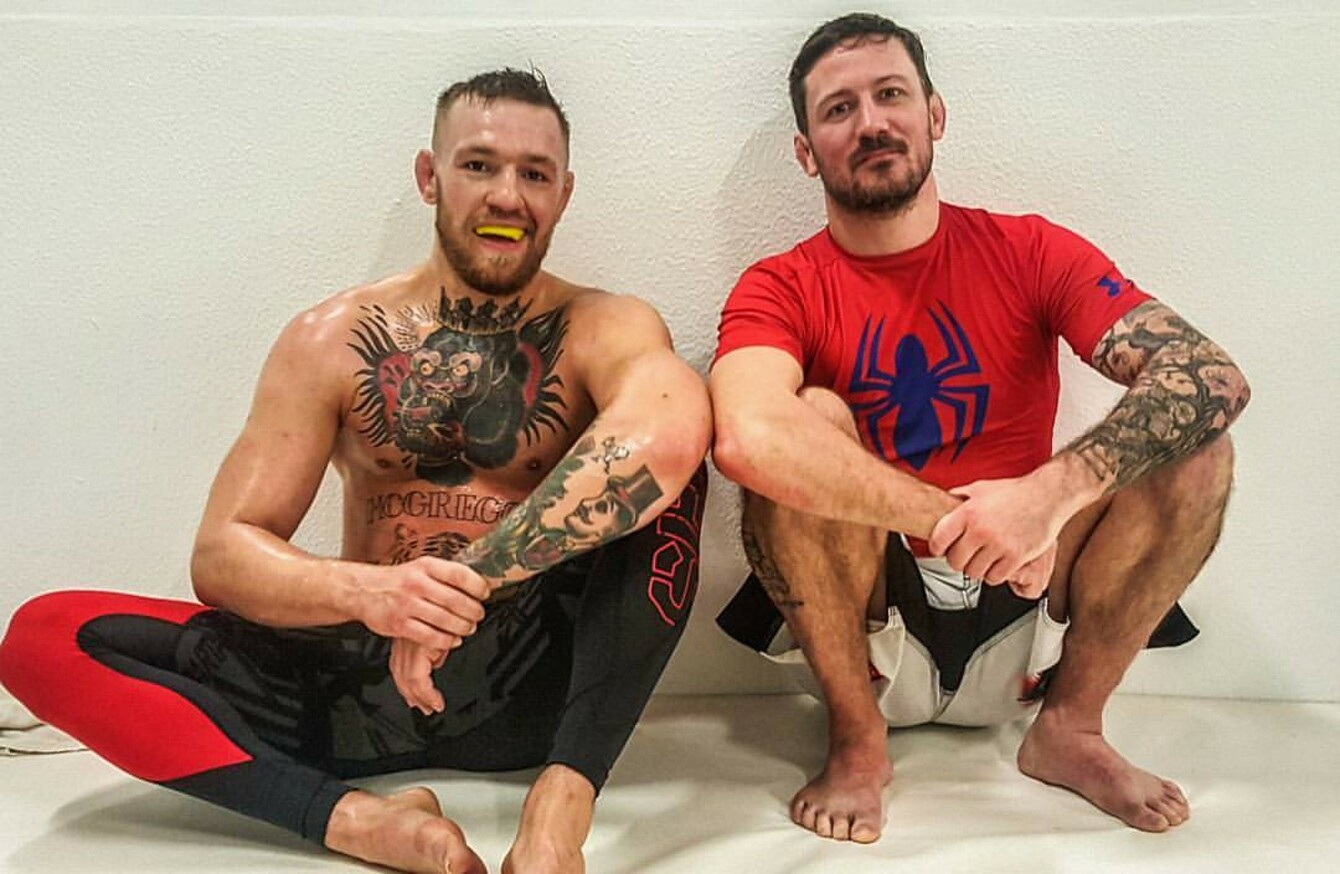 Conor McGregor and John Kavanagh during a recent training session in Portugal.
Image: Orlagh Hunter
Conor McGregor and John Kavanagh during a recent training session in Portugal.
Image: Orlagh Hunter
IT'S A STRANGE feeling to be training for a fight that you know is probably not going to happen.
Nevertheless, that's the situation we currently find ourselves in. Unless you've been living under a rock for the past week, you probably don't need me to tell you that Conor McGregor has been pulled from the main event of UFC 200 against Nate Diaz on 9 July in Las Vegas due to a dispute over media obligations.
Shortly after we arrived in Portugal a couple of weeks ago for some training, we learned that the UFC wanted Conor to be in Vegas this past Friday for a press conference. Having put a meticulous plan in place for Conor's preparations for the fight, this didn't suit us at all.
Negotiations to get Conor out of the press conference then began, because we had just started the first of three important cycles of training. Going over to Vegas would have completely destroyed that. Do you want to see Conor's best performances or hear his best soundbites?
Conor has saved a couple of big pay-per-view cards in the past by unconditionally accepting late-notice opponent changes, so we thought he had earned some leeway as a result. But apparently not.
There were 11 other fighters on the stage at Friday's press conference, but their situations are incomparable to Conor's. They showed up, but they didn't have to fly halfway across the world to do so. Nate Diaz could have driven there from his house. Conor lives in Dublin and is currently training in Iceland, which isn't quite as close to Las Vegas as Stockton is. At least it wasn't when I last checked.
For Conor, even one day of press stuff in Las Vegas means he loses several days of training. Then you're also dealing with readjusting to the time zones. It's not quite as simple as sitting on a stage and answering questions for half an hour. It messes you up and it becomes impossible to maintain any sort of routine.
In the last year, Conor has probably clocked up more airmiles than everyone else on that stage combined. He offered to do a press conference in New York instead, which would be halfway for both him and Diaz. It's a six-hour flight, you could do it in a weekend. But that was rejected by the UFC. It was all or nothing. Conor went with nothing.
We were planning to be in Vegas five weeks before the fight, so we thought Conor could do any important press or commercial stuff during that period. However, we felt that going to Vegas at this juncture would be detrimental to Conor's preparations and his chances of winning an extremely important fight. Therefore, declining to attend was a logical decision to make.
Nothing is more important than the contest. It's not the media obligations that are the problem. Conor was willing to make himself available via Skype or do a press conference in Dublin or Iceland, where we are now. But that idea also wasn't entertained.
I reached out to UFC president Dana White myself. He said Conor is his favourite type of fighter. He's a big fan of his. But rules are rules and they don't budge on them for anyone. I can kind of understand their position. If they did that then maybe they'll end up being put under a lot of pressure from other fighters.
However, no other fighter is generating as much money as Conor is. Therefore, they're not quite equal when it comes to the decision-making process. That's the same in any company. If one employee is bringing in the same amount of money as all the other employees combined, he's going to get a bigger office. That's life. The other reason it's not equal is the amount of travel that's involved for Diaz and Conor.
At the same time, there are no hard feelings here and you can see that from Dana's interviews. Like any contract negotiation between an employer and an employee, it's going be competitive. You're putting forward your value and they're whittling you down to what they think you're worth. There's nothing unusual about that. It's just how business works. It's not aggressive or confrontational. Emotions don't come into it.
What are they
really like?
Rare insights on sport's biggest names from the writers who know them best. Listen to Behind the Lines podcast.
Become a Member
Like everyone, I've just read the rumours of a so-called rift between Dana and Conor, but I personally don't know of that to be true. I got a message from Dana over the weekend telling us to enjoy some time off and we'll see you at the end of the summer.
The whole situation is a shame and I do feel bad for fans who have already paid money to go and see Conor fight in July. But it's not like he's pulled out with a week's notice, as some of his opponents have in the past. The tickets aren't even on sale yet. Hotels should be pretty easy to cancel and sometimes airlines can be reasonable when presented with these cases, so I hope that there aren't too may people who are negatively impacted by this.
I'm sad for anyone who genuinely loses out. But I believe Conor has built up enough good will at this stage by accepting many late-notice fights, when few others would have done the same. You have to take the fans into account, of course, but you also have to make smart decisions for yourself.
At this stage, I think the only way Conor will feature at UFC 200 is if he's a late replacement for someone else. We're still training twice a day, aiming for 9 July. Everything is on point to peak for UFC 200. The fight game is weird, you never know what could happen — there could be a pull-out with a couple of weeks to go — but realistically I think we're planning for UFC 201 or UFC 202 in August or September. We'll just tip along until then.
There's no such thing as bad publicity. The UFC will be loving the fact that this situation has generated so much hype. What's the build-up for the next one going to be like as a result? But if Conor is on another card, we've got to talk early about when and where press conferences are held.
We just believe it's unfair if he's fighting a west-coast guy on the west coast and all the press stuff happens on the west coast too. If they're then being told everyone is treated equally, that just doesn't make sense.