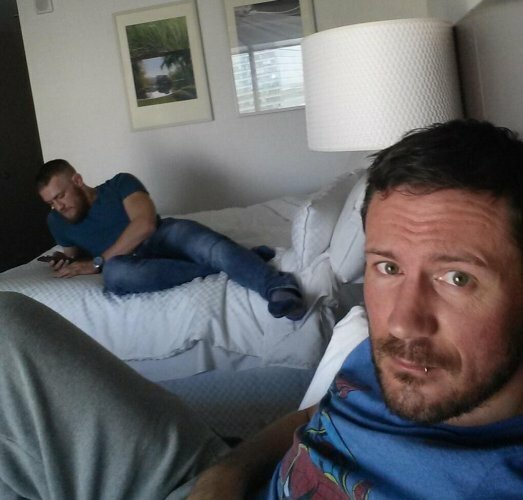 Kavanagh and McGregor chilling out in their Boston hotel room. Credit: Twitter/John_Kavanagh
CONOR MCGREGOR'S COACH John Kavanagh has some advice for Max Holloway: 'Don't bother watching hours of footage'.
It is fight week for the SBG Ireland founder and his latest big name, who are both in Boston preparing for Saturday's event – which pits McGregor (13-2) against Hawaii's Max Holloway (7-2).
Kavanagh has been fine-tuning McGregor's skill-set and paying little attention to his opponent as he doesn't believe there is much to be gained by forensically studying video clips.
"We don't put a whole lot of time into that because, for example, if you were to watch a whole load of tape on Conor from six months ago and prepare for that you're not going to be preparing for the right guy.
"The Conor that fought in April would lose to Conor on Saturday night – 100%. There is always a big jump in between each fights.
"Conor's mantra of there being no opponent is not to say that he doesn't have a look at the opponent. But it's not this thing that people are up all night searching YouTube trying to find every little clip and watching hours and hours of them.
"I would have looked a little bit at what he has done but not too much as I don't put a whole lot of stock into looking at someone's fights. If someone did that with one of my guys they would be in trouble."
After England's Andy Ogle pulled out with an injury, fellow featherweight Holloway accepted the challenge. Although he is confident that his protegee will emerge victorious, Kavanagh is not doubting that the 21-year-old's talents.
Everyone who has got to this level will pose a threat. We respect everyone in the UFC and will go in fully prepared. In all honesty, we don't know what's going to happen on Saturday night – which way he's going to push the fight or exactly how it was going to go down.
"The guy is a threat everywhere but we're prepared for every situation that could occur. Be ready for everything."
The pair are already set-up in Boston with four days to go to the big night and have been boosted by the arrival of former SBG team member and Irish UFC fighter Tom Egan.
When asked how McGregor prepared for his second date in the Octagon, Kavanagh reveals that it's all about constant improvement over pre-fight training camps.
"Prepare everyday," is his advice. "Do the best training we can every session. Repeat. Like all the SBG guys, Conor is ready all the time. We've been known for taking late fights all over the place.
That's the way we train it's not like we do six or eight week training camps and then disappear for months at a time. That's not how we operate. The training for this has been just like it was the last five years. Day in day out in the gym, figuring stuff out and problem solving and trying to improve ourselves.
"Here comes Saturday night and it's time to put on an exhibition."