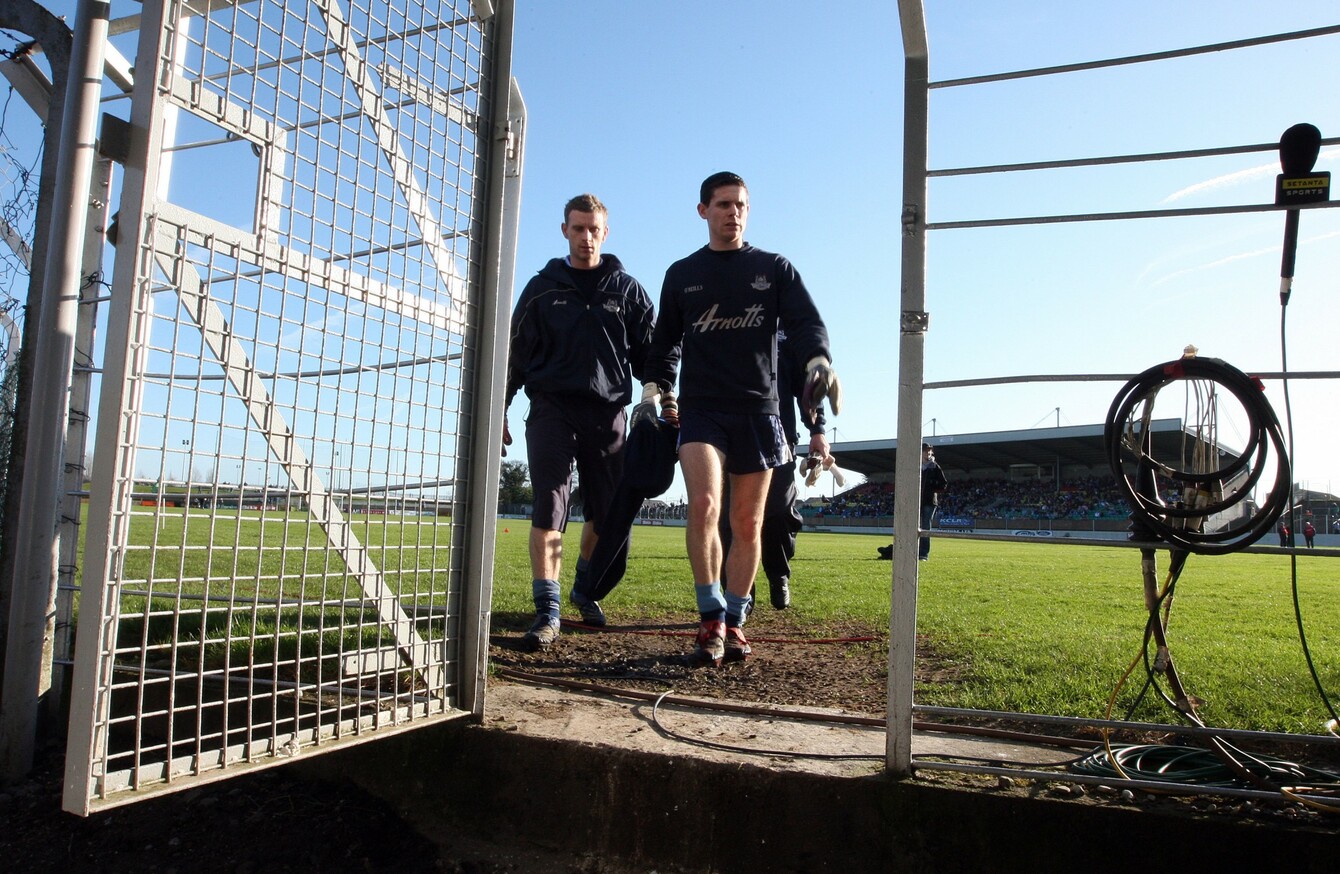 Cluxton and Leonard in 2008.
Image: Donall Farmer/INPHO
Cluxton and Leonard in 2008.
Image: Donall Farmer/INPHO
Updated at 08.00
I CAN SEE it now: two old men standing at a fence. One has his hand on his chin. They are wearing tweed caps and patched up green and grey pants.
They look out beyond at the local GAA team warming up before a league game. They talk about their prospects against their local rivals.
"Yerrah, sure we haven't a chance" says one, to the other. "Sure aren't the lotta dem on any bollix steroids"
There is a lot of coverage about doping in the GAA these days. There are whispers of it in the stands and scribbling all over the papers. Should the GAA as amateurs be made to take blood tests? Do GAA players need to show they are not taking the most advanced drugs in the world.
Evolution
Drugs are part of evolution. Sports, like every other industry, evolve or die. They assimilate and adapt and grow. Or they die. They reproduce and evolve or they die. Evolution is not an arbitrary idea. It is imperative to evolve. Or else you die.
Since they began televising games in the 60s and 70s, the game of Gaelic football has gone through an intense period of metamorphosis. Gone are the chunky, skinny-legged hard men. Now are the svelte, trim and hyper conditioned tough people. The game has sped up. It is a far cry from the slugging, thumping and hoofing that was the former world.
Diet has changed. Training has changed. Regimes have changed. There are psychologists, dieticians and statisticians now involved. There is video work, analysis and sports science dumped on top. There are defensive coaches, attacking coaches and goalkeeper coaches. The ante is upped every year. Slowly but surely the game becomes more and more professional.
Even in the last 10 years there have been changes. I remember when I was involved in Pillar Caffrey's tenure as Dublin manager. After training there was a meal, to be eaten in The Goblet or in Kealys. As the nightly team meeting ended, there would be a sprint from the gym to the cars. First out of the car park meant first in the queue for the carvery.
And it was carvery we ate more often than not. There would be spuds and veg of course. There would be a few crumbed chicken kievs which would be nabbed by the first in line. There would be pork or ham or some other chunk of meat on offer. For those looking to sleep soundly there were chips to be had. There would be a pasta type option available too. But it was never that popular.
This was less than 10 years ago: Carvery after most training sessions. It was good solid food and plenty of it too. There were scant murmurs of any issues with it at the time. We were told to load up on carbs a few hours before match time and away we went.
Fast forward to today and I doubt that any inter county team would eat like we did. Why not? Well, evolution of course. It is progress. It is the way forward. It is the way to win. Dieticians these days would have a field day with how we loaded up on stodgy food.
Character
Which brings me to the question I asked at the top of this: would I have doped to get the number 1 jersey as the Dublin goalkeeper? The very simple answer is no. Not a chance. There are multiple reasons for this. But let me give you some context for my decision.
I have smoked every drug known to man. I have popped every pill, tried every hallucinogen and snorted all the amphetamines and strains of coke available to me when I was younger. If I had been drug tested when I was U21 Dublin keeper, they would have found positive test results for cannabis, ecstasy and probably some amphetamines too.
So I am not a stranger to taking drugs. I know how they energise and alter the mind. I know their effect. I certainly know why people take drugs.
But taking them to perform better on the pitch is something I would never have considered. It never crossed my mind. Especially not when involved with the senior Dublin set up.
Had someone come up to me in the gym in DCU when I was on the senior squad and said: "Lenny, I see you training hard, but you are not quite getting there. I have this drink you can take after your sessions that will help you recover faster"
I would have thought two things:
Is it legal to take it and would the Dublin doc at the time, Dr. Gerry McAlveney have approved and
Are you fucking kidding me? You think this will seriously help?
How about making me a full time athlete instead? How about going in and working for 40 hours a week, giving me the cash and allow me to train properly. That would have helped me far more than any drug.
Come back to me then.
You see, I think it takes a certain character to play GAA: To sacrifice so much and to give your all for a jersey for pride and love. That is something which does not exist in most other high-performance sports codes. And even more so in the modern evolved game.
Not only are they leaner, faster more powerful and fitter, but from a younger age they are being programmed to tow the line. They are groomed to obey the manager and be part of a team ethic. They are taught good habits and are far more obedient and mentally conditioned then 10 or 20 years ago.
No right-minded GAA player would risk it. No up-and-coming star would put the shame of their community on their shoulders. Because that is who they are playing for… their community. And they do it for love, not money.
John Leonard's trials on and off the pitch are best chronicled in his book Dub Sub Confidential –Setanta Sports Book of the Year Winner. These days he writes, speaks, makes documentary films and is the founder of Sober Paddy, Five Point Five and Travel Kids Club.