INSPIRED BY THE tragic death of Australian batsman Philip Hughes four months ago, Ireland all-rounder John Mooney has designed a new cricket helmet that he hopes will provide more protection for players.
Hughes died in hospital two days after being hit on an unshielded area at the base of his skull by a short-pitched bouncer in a domestic Sheffield Shield game at the Sydney Cricket Ground.
The incident reopened the perpetual debate on player safety in a game which sees a five-and-a-half ounce ball fired down towards a batsman from 22 yards at speeds of 90 miles per hour.
Masuri, the manufacturer of the helmet worn by Hughes, said the batsman's injuries were sustained in an area of the head that is difficult to protect. But, Mooney, with the help of his father-in-law, is in the advanced stages of receiving safety certificates for the new piece of equipment which has a grille attached to the back as well as the front.
He may have only been in the middle for 14 minutes during Ireland's World Cup win against UAE on Wednesday but it was the first time such a helmet has been worn at the highest level.
"It's a pretty simple design," he said. "It's designed to attach onto pretty much any helmet there is on the market as there's grooves on either side to help it fit onto an Albion or a Mazuri which are the two main helmets out there at the minute."
Barry Chambers The new design provides protection at the front and back Barry Chambers
The circumstances of Hughes' death prompted Mooney to act after he had witnessed his cousin, Ireland international Eddie Richardson, being struck during a club match last season.
"The whole idea behind it is the unfortunate death of Phil Hughes before Christmas and I've seen numerous players been hit on the neck, not least my cousin.
"Myself and my father-in-law, who is an architect by trade, decided we were going to try and put something together.
"I was an electrician as well so being a tradesman you pick up skills. I thought straight away this was something I would be able to do.
"A local steel merchant put the prototypes together for us and now we're in the process of getting it tested and getting the required safety certs."
Earlier this month, Cricket Australia began the process of testing a prototype made of honeycomb plastic and foam which offers protection to the exposed back of the neck.
The International Cricket Council have emphasised the importance of raising standards to manufacturers of safety equipment with measures, such as increasing the grille area in front of the face and jaw, implemented.
Yet, Mooney is determined to provide an added level of security for batsman as more and more instances of players being struck on the head have occurred in recent years.
"The most important thing is that it doesn't make the target much bigger, it's not something clunky where if the ball hits it it will fly for four leg byes or anything like that."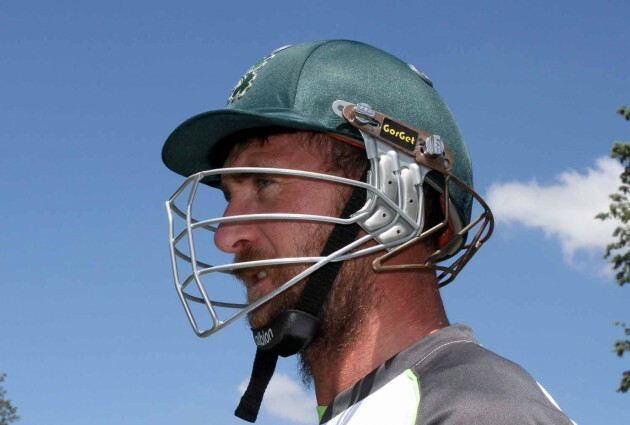 Barry Chambers Mooney insists the helmet doesn't impinge on a batsman's movement and is fully adjustable Barry Chambers
"I normally come out to bat in the last few overs and regularly have to face short bowling so it's so important for me," he continued.
"I can't afford dot balls so if a bowler bowls short at me I have to take it on. I've been hit on numerous occasions in the head and it is something that will happen to me again so I need that extra protection.
"I'm the only person that can wear it at the minute because obviously I won't be suing myself if something goes wrong but I can't see anything going wrong with it because it's a very steady device."
While is focus is firmly on the next few weeks and Ireland's World Cup campaign, Mooney hopes to get the new helmet, branded as the 'gorget' in reference to a medieval piece of armour that covered the throat, into shops within 3-6 months and onto the market in time for the new season in Ireland and England.
"My wife is currently setting up a website but it's something that can't be rushed, it just has to be done the right way. For now all I can do is keep wearing it and it'd be great if someone in the industry could come along and get involved."