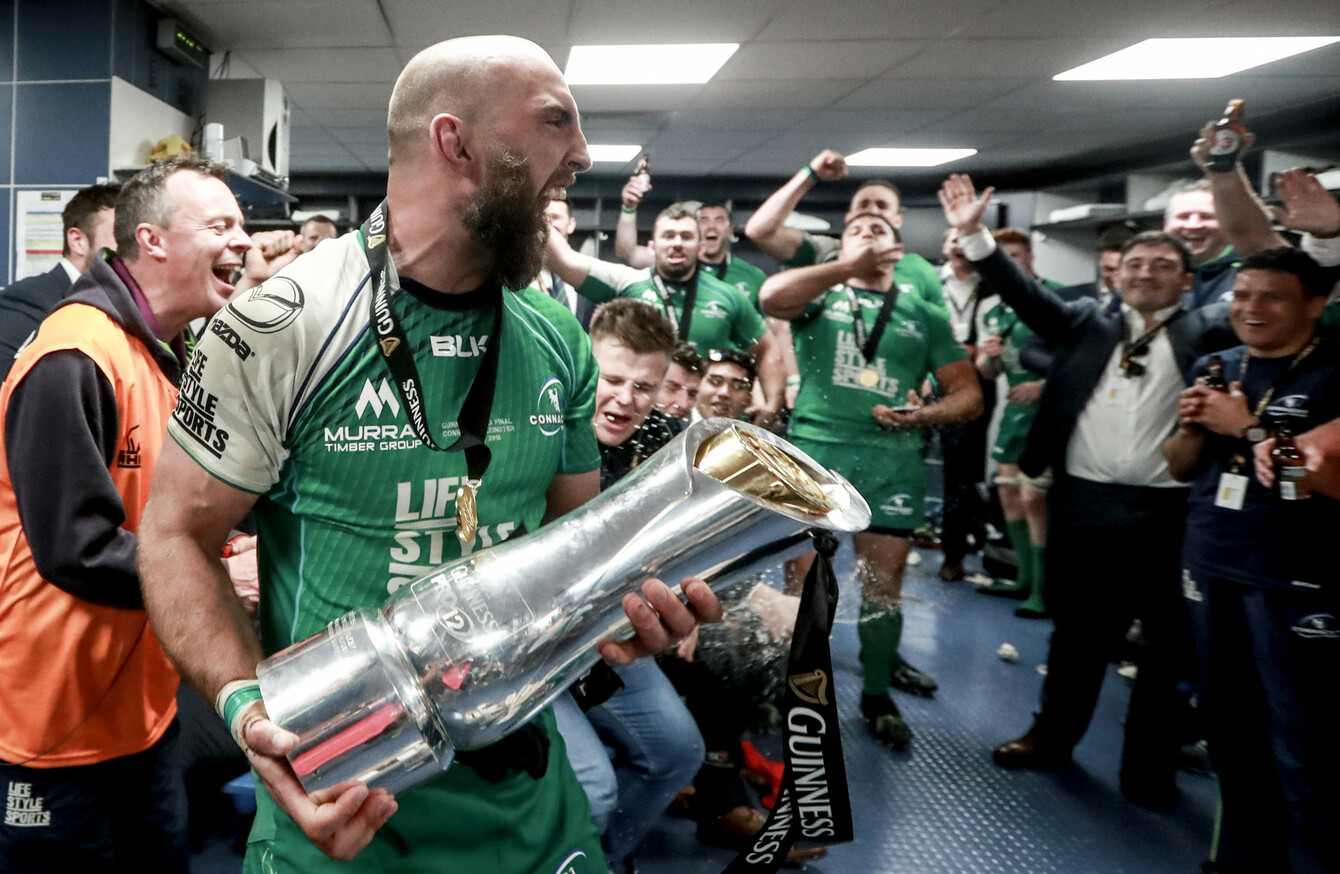 Image: James Crombie/INPHO
Image: James Crombie/INPHO
CONNACHT CAPTAIN JOHN Muldoon is desperate to finish his career with a highlight performance this Saturday as he prepares for life after the Sportsground.
Muldoon will put a cap on his Connacht career after Leinster come to Galway in the final round of the PRO14. It represents an opportunity for Connacht to beat all three Irish provincial rivals at home in one season for the first time in their history.
The 35-year-old Portumna native will depart for Ashton Gate ahead of next season where he will once again link up with Pat Lam at Bristol.
Lam was head coach at Connacht when Muldoon lifted the PRO12 title after a 20-10 win over Leinster in the Grand Final at Murrayfield in May 2016.
"I spoke to Kieran Keane in November. I told him I was retiring and I was looking to get a coaching role outside of Connacht. And KK said it would be a good option for me, to break the chord," said Muldoon.
Emotionally to get away from Connacht and experience something different, a new league, different people, it's a huge opportunity for me.
"The fact that I know Pat Lam already will help. I know Conor McPhillips as well. Going into a job where I know two people will make that transition easier.
"It's a huge couple of months and some big changes. It lessens the blow for me that I am walking out of professionalism and going into the next best thing to playing rugby."
Muldoon has played 326 games for the province in his 15-year career in Galway, and he will become defence coach for the English Premiership side. He didn't set out to become a legend of the west, but despite tempting lucrative contract offers along the way, here he is.
"I'm proudest of being a one-club man. Staying here when there were a lot of dark clouds. It would have killed me not to be a part of a team that lifted a trophy," said Muldoon.
"I had the opportunity to go (elsewhere) in Ireland, England and a couple of places in France. Maybe if I was a little bit older I might have took the French option. It was definitely more lucrative to go elsewhere.
"I am 35 years of age, I have probably got 30 years to go out and make some money. I have memories with friends and family. The pride of where I am from, which probably has affected my bank balance.
But life is for living. If I was stuck in an apartment down in the south of France I might have had huge regrets, if I wasn't a part of that day a couple of years ago.
"I can rest easy at night knowing that I have enjoyed myself the utmost in Connacht Rugby. It is hard to put it into words but it's something I will miss massively."