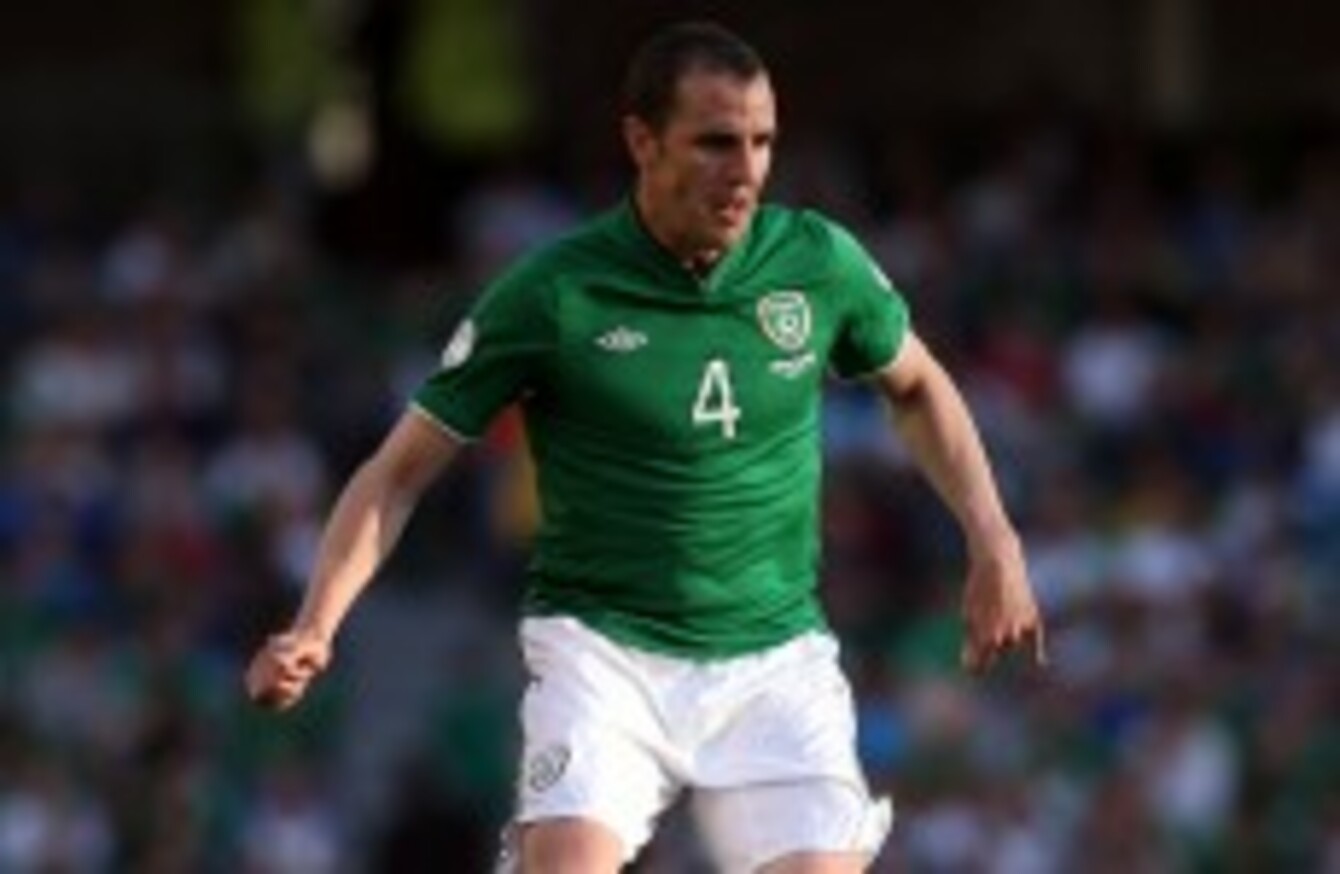 John O'Shea playing for Ireland.
Image: INPHO/Donall Farmer
John O'Shea playing for Ireland.
Image: INPHO/Donall Farmer
JOHN O'SHEA BELIEVES Ireland will need to pick up at least four points during a make-or-break month of World Cup qualifiers.
The national team are currently preparing for Wednesday's friendly with Wales in Cardiff before a massive double header against Sweden and Austria in September.
Having kicked off the campaign with an unconvincing late win away to Kazakhstan followed by the 6-1 defeat at the hands of Germany in Dublin, hopes of a fourth World Cup appearance were looking unlikely.
And athough O'Shea revealed that some of the younger players were "shell-shocked" after the Germany drubbing, the Sunderland defender believes Giovanni Trapattoni has brought the Boys on Green back on course in Group C.
"The ship was rocking quite a bit but we have managed to turn it around and that comes with the manager's belief," he said. "Those few days after the Germany game were obviously (tough). I was well used to it but some of the younger lads were fairly shell-shocked.
"Obviously we were playing the Faroe Islands (next) and had to win. We put in a good performance against a team like that but if ever there was a banana skin there for us, that was it.
"There is lots to look forward to but lots of hard work and preparation to be done. The manager has been trying to make a transition since he has been in charge and has always tried to get new lads involved as much as he could.
"When it came to qualification stages he always went with the more experienced ones and that got him to a Euros and almost to a World Cup. (Since then) he felt he had to do something and he has done it quite quickly."
Ireland, sitting level on 11 points with both Sweden and Austria after six games played, host the Swedes in Dublin on September 6 before playing in Vienna four days later.
Group leaders Germany are all but home and dry so if Ireland are to claim the runners-up spot, they must earn at least a win and a draw according to O'Shea.
The first two we're looking at four points. Ideally it would be two wins but the teams we're playing against will be the same as we're thinking. That they're both winnable matches. The (first) Austrian game we should have won whereas against Sweden we could have won or lost. Finger's crossed and we will need everybody fit as it does make a big difference."
O'Shea, now captain at Sunderland, is set to win his 90th cap this week but, despite seeing the likes of Robbie Keane and Shay Given reaching milestones over the past couple of years, says he isn't pushed about hitting a century.
"If it's meant to be it's meant to be," explains the 32-year-old Waterford native. "I'm not going out there thinking I have to get there. It's a case of 'if we get there, well and good, we'll enjoy it, if not…'. It's going to happen at some point, I'll always be available until that day comes.
"It would be an amazing honour, don't get me wrong. I'm not trying to take away from that, but if it happens it happens. It's one of those things in football – when things are finished, careers are over it's time to look back on stuff that's happened, stuff you've achieved. Otherwise you live for the moment, as they say."
Carlsberg wants to bring Irish Premier League fans closer to the action with 'Be There Next Weekend', a competition that will reward committed fans with amazing experiences that only Carlsberg can deliver as Official Beer of the Premier League. Throughout the season, fans can win ultimate Carlsberg experience including VIP trips to Premier League games, presenting Man of the match, and many more amazing prizes. For more check out www.facebook.com/carlsbergfootball.