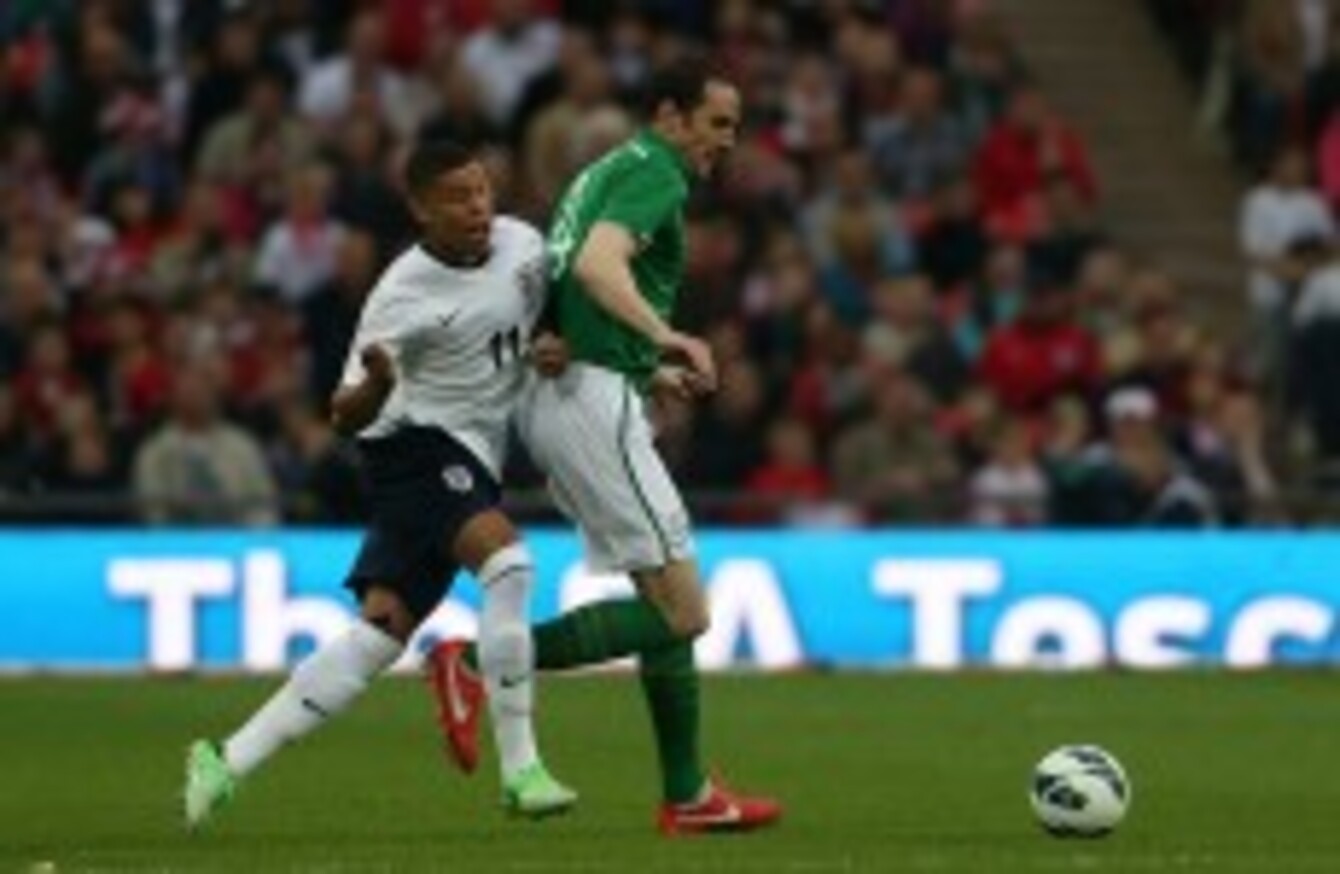 Image: John Walton/PA Archive/Press Association Images
Image: John Walton/PA Archive/Press Association Images
REPUBLIC OF IRELAND defender John O'Shea feels the nature of his team's upcoming glamour friendly with England at the Aviva Stadium next Sunday means that if any trouble does arise, it will be exaggerated and 'blown out of all proportion'.
Ever since the fixture was announced, many have been fearful that the behaviour of a minority of England fans could overshadow the game.
In recent fixtures against Italy and Scotland, a certain section of English support sang anti-IRA songs with the Football Association and England manager Roy Hodgson subsequently pleading with them to not do likewise in Dublin.
To compound matters, it's twenty years since the Lansdowne Road riots and British authorities have acted swiftly to ensure potential troublemakers don't make the trip, banning 1300 fans from travelling.
But speaking at the launch of the Beacon Hospital's new Sports Medicine Programme in association with First Ireland, Sunderland centre-back O'Shea feels that the game will pass peacefully. Still, he also acknowledges that any fan trouble, however minor, will garner plenty of headlines.
"I think the game will go great, like it did when we played them over in Wembley. Like any game, there might be the odd incident and because it's Ireland/England, it will get blown out of all proportion. The media coverage, the scrutiny is going to be huge and it will get exaggerated. So, you have to balance these things out."
"If we were playing Armenia and there was a fan kicked out or arrested…but if it's against England and the same thing happens, it's going to be huge. So, the players are well aware that there's passion involved, more so in a game against England. I'm sure it will go great. Everyone wants it to go as smooth as possible and keep the focus on Scotland."
Gordon Strachan's side come to town on 13th June for a crucial Euro 2016 qualifier but there's plenty of work for Martin O'Neill's side to do before that. Later this week, there's a behind-closed-doors friendly against in-form Northern Ireland and then the England game follows three days after.
Obviously, Scotland is the priority though O'Shea admits the derby feel means the friendlies will carry plenty of needle too.
Ultimately, Scotland is the be-all and end-all. But because it's a game against England, and we have Northern Ireland before that, they're games you want to play in. We know each other so well, we get on with each other so well and we both want to win. It's still going to be very competitive. I suppose the manager has to be a little bit careful."
"Generally, we might have had a game between ourselves and you don't get the same intensity because you're not going into tackles that strongly. But when you're playing against Northern Ireland and England, I think you'll have to look after yourself a bit. It's very important we're playing competitive games before you go into facing Scotland, even from a match sharpness perspective."
Having snatched a dramatic point in their last qualifier against Poland in March, the Irish are in fourth place in the Group D table after five games, two points behind Scotland.
But O'Shea is under no illusions – only a win will do against the Scots.
"When you have a high-profile friendly beforehand, it's brilliant for everyone involved to play in games like that, but six days later – that's the key battle, the key game. And to make the point against Poland a good point, we need three against Scotland."
O'Shea also revealed he's exchanged some back-and-forth with team-mate Steven Fletcher. He scored a hat-trick in Scotland's 6-1 demolition of Gibraltar in March and grabbed another goal in the Black Cats' final Premier League game of the campaign against Chelsea, finding some form at the tail-end of the campaign.
"He got himself back fit towards the end of the season and I was saying 'Take your time' but he got himself back in good shape and scored against Chelsea and could have got a few at the Emirates when we got the point to keep us in the league. He's been looking sharp in training but we'll wait and see what the Scottish team is and, more importantly, we'll be hoping to cause him more problems."
Though Fletcher may be getting into his stride, another striker, Ireland's Kevin Doyle has been struggling and was left out of O'Neill's squad for the flurry of upcoming fixtures.
The former Wolves attacker recently moved to Major League Soccer side Colorado Rapids and O'Shea feels his lack of match sharpness may be the reason O'Neill has decided to leave him out.
"Kevin has just moved (to Colorado) so maybe the manager is thinking he's not played enough games at the minute. Knowing Kevin, as I do, he'll totally understand. Going into these games, you'll have, ideally, have played as many games as possible…you need to be match-sharp."