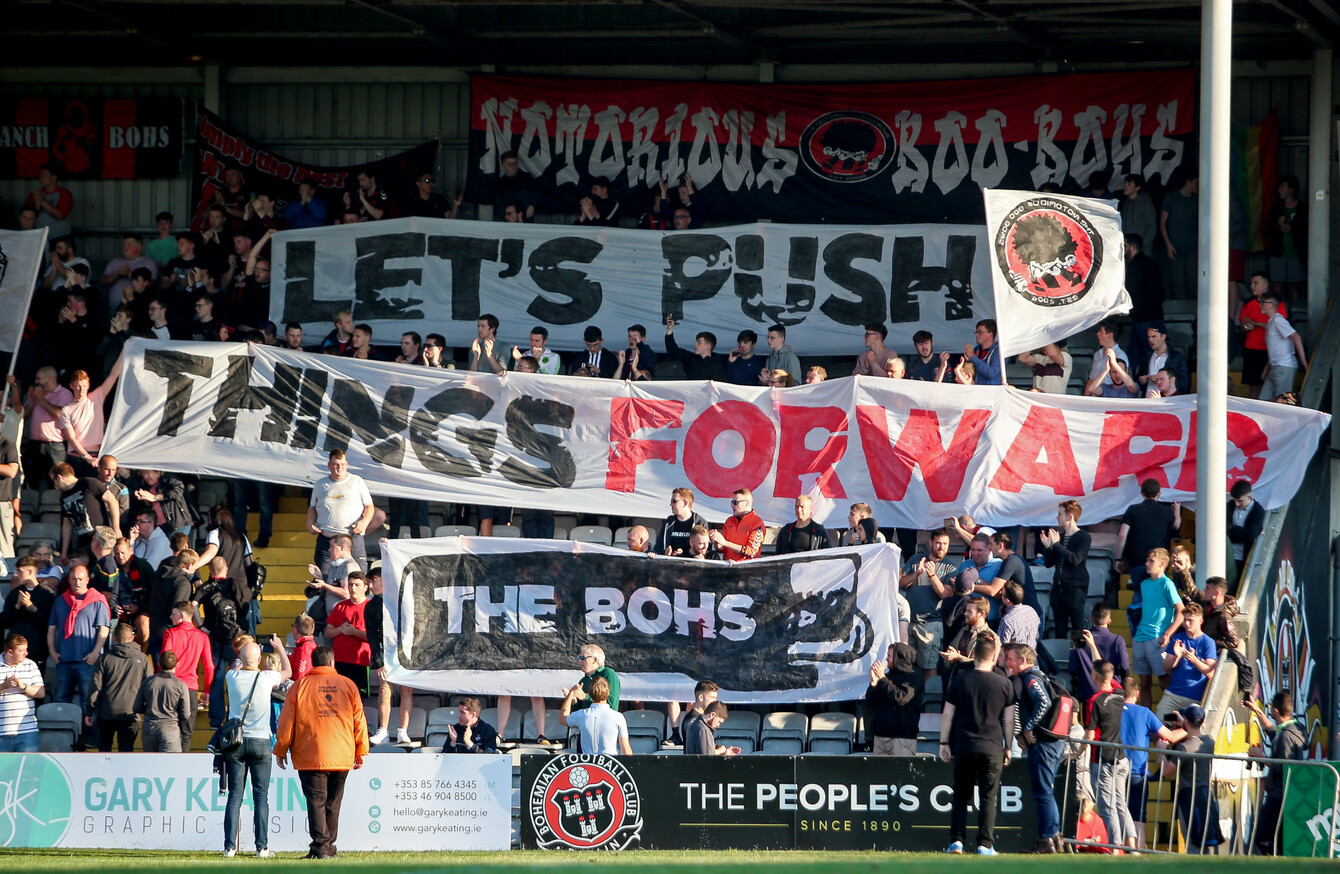 The FAI are doing lots already to help improve the league.
Image: Laszlo Geczo/INPHO
The FAI are doing lots already to help improve the league.
Image: Laszlo Geczo/INPHO
YOU'RE SITTING AT work and the conversation turns to what you'd do if you won the Euro millions.
I'll be honest, I'd love to own a League of Ireland team, but at the same time I'm not sure I'd consider an unconditional donation to a club, leaving others to potentially waste the money.
Think about it, if you could pump money directly into a club, without a say in how it's spent, would you?
I'm a Cork City supporter. I do give – and have always given – consistent small sums in terms of membership, merchandise and ticket sales, for which I get a return. For a while I gave a huge amount of time serving on the board of FORAS and Cork City FC.
But these small sacrifices weren't truly unconditional. I got a purchase, a receipt and an experience. The time I gave to FORAS was as much about the void that would have been left in my own life for Cork City's absence as it was for any noble reason.
There are individual owners who have given enormous sums to keep their club competitive – which is a vastly different statement to saying they 'keep their club going', a state achievable by switching to an amateur set-up. The more they give; the more expectations are raised. Fans react quickly when there is no more to give or when a plateau is reached and a significant increase in funding is needed for that mysterious 'kicking on' or 'next level' we all seek at some stage.
Money buys success in the League of Ireland – snap up the best players and put them together – then keep them together – in a single squad. Of course, a good manager is needed, one who can make an individual player step up to a better standard. Stephen Kenny has done this repeatedly in Dundalk, as has John Caulfield, like when rejuvenating Seani Maguire's career.
However, at the end of the season, the biggest spenders tend to finish highest in the table.
Since the exits of Irish teams from Europe this summer, raising the profile of the League and improving the quality of the game has been in focus. Pundits cry we need to get bigger, we need to get better, we need to move, though I'm not sure anyone is sure what we're all moving toward. Is it having the same two clubs getting close to the Europa League group stages year on year? Is it a league in which your weaker teams aren't in constant danger of disappearing?
When change is needed, the FAI get it in the neck, and there's a huge amount of deserved criticism. Usually, clubs don't come under equally deserved scrutiny. There's a lot of talk about how the FAI should invest more in the League of Ireland, which they should – but with a bit of planning.
What they should not do is listen to the recurring demand for more prize money! We need to stop focusing, at least in the short term, on prize money; the FAI should not increase funding into clubs in a way which leaves clubs decide how it should be spent.
The reason for this is, in the main, clubs only see one choice for their money and only one group will benefit. It would be spent on players, that's it. The LoI is incredibly predictable in that respect; the first decade of this century was proof enough as clubs offered money they didn't have to players. But even these days you can see that clubs will spend increased income on the playing staff – which has been referenced in a fine series of in-depth financial pieces by John O'Connor (@chippie1974) over recent months.
The temptation to splurge on players is understandable if you take a step back.
If a club invests €200k on infrastructure in their stadium, it might make surroundings more comfortable for those that would attend anyway, but results on the pitch will dictate the sway of crowd and income. You could end up with a beautiful but empty stadium – Athlone Town are a case in point. A comfortable stadium and stand which cost a lot of money with ample parking spaces for the dozen cars that might pull up there on match night. While Athlone have issues beyond the pitch, if they were winning week in, week out – people would be watching as was proven under Roddy Collins in 2013.
If a club invests that same €200k onto the wage bill, it could mean that results improve and that challenging for Europe attracts a crowd which covers the cost, whether the stadium is shit or not.
Sorry Dundalk fans, I'm going to throw shade at Oriel again. Peak 6 got criticised for not tackling the stadium straight away. But let's be fair, if they build a state of the art 7,000-seater stadium at the expense of the team, will fans continue to turn up? It's – amazingly – only five years since Dundalk were playing in front of three-figure attendances week in, week out.
This is the dilemma facing the FAI, when they become debt free in 2020 and have millions of euros to invest in football in the country again. Why would you give it directly to clubs who so often are their own worst enemies?
If the FAI have a primary responsibility it's to protect clubs from themselves and their own bad decisions. So, here's some suggestions on how the FAI can invest money in the league without letting clubs damage themselves.
First, make the underage leagues cost neutral for clubs through funding. The easiest way to get clubs to treat U13 through U19 leagues with the respect they need is to prevent them being a burden. Do a deal with bus companies to subsidise travel costs for teams and with hotels on routes to provide pre-match meals. Subsidise and support the coaching through funding, support of RDOs and the reduction of costs of the higher-level coaching badges. It's in the FAI's interest also, as more and more of our future international players will rely on this structure for progression.
Secondly, expand the 'more than a club' project running so well in Cork City and Bohs to all clubs in both divisions. Support clubs in getting into their communities which will create 20 communities that can do year-on-year what the festival of football can do for a county over a week. Getting into local clubs and schools creates a bigger interest in the LoI club, but also the game. It has a knock-on effect on ticket and merchandise sales and will increase participation numbers in the grassroots clubs in those areas.
Third and most importantly, create a proper league office with staff actually devoted to the league, the funding to provide this already comes from UEFA to the FAI but too often we see double jobbing and cross-charging as 'LoI staff' are dragged into running other aspects of the game which dilutes the attention. A centralised league office with a merchandising/finance department to support clubs and run online shops for them; a media/marketing department to help add a professional element to the individual club messages and brands is long overdue.
There's a massive amount that the FAI can do if the will is there.
Here's the thing, they're already doing a lot of this.