This post is part of The42′s Facing History series, supported by Cadbury Boost. To read more, click here.
THE HARDEST THING about leaving Ireland for the Plumtree family was their sons' love of Blackrock College.
Reece and Taine had made some great friends at the Dublin school over the course of 10 months on Irish soil and their father, John, says the quality of coaching they enjoyed there was as good as what New Zealand has to offer.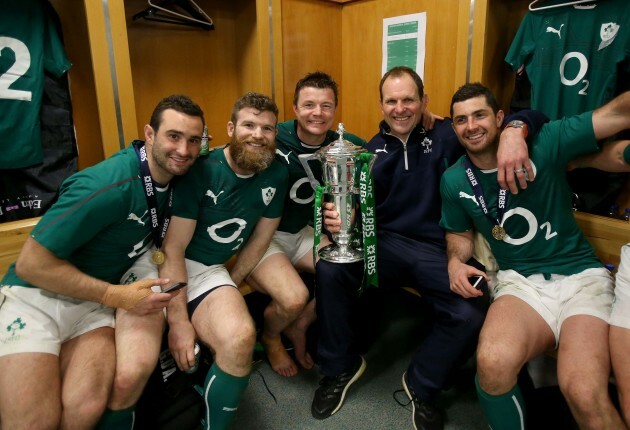 John Plumtree celebrates the 2014 Six Nations win with Ireland.
Plumtree had come on board as Joe Schmidt's forwards coach for Ireland when his fellow Kiwi took over in 2013, but he moved home to New Zealand less than a year later, following the successful tour of Argentina.
The former Sharks head coach had arrived with a fine reputation after six years in South Africa and made a major impression on Ireland's players, meaning that it was a blow when Plumtree headed back to New Zealand in 2014.
"I really enjoyed it," says Plumtree of his time with Ireland.
"All the Irish people know that it was a massive decision for me to come home, but if I look back on that 10 months, it was a breath of fresh air for my coaching because I got to work with Les Kiss and Joe Schmidt.
They've got another way of doing things and I saw that, and took a lot out of what they did and brought it to here. We benefited from that from the Hurricanes' point of view. I was really fortunate to pull into Ireland on the way back to New Zealand.
"It was meant to be a longer period, and we could have still been there, but I just saw my future being back in New Zealand rugby and wanting to spend more time with my family.
"As it turned out, thank God I did, because I'd been away a long time and a few weeks ago I lost my mother and I was able to spend two years with her that I wouldn't have been able had I stayed in Ireland.
"God pointed me in the right direction and it all turned out for the best."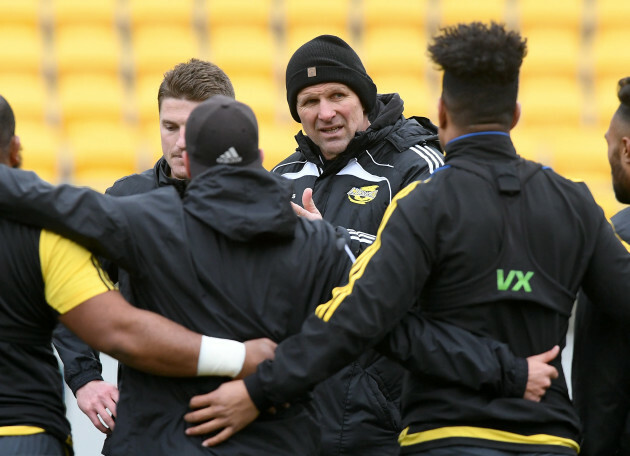 Photosport / Kerry Marshal/INPHO Plumtree has been a key cog in the Hurricanes machine. Photosport / Kerry Marshal/INPHO / Kerry Marshal/INPHO
Family is everything for Plumtree and he was happy to see that his boys embraced the return home to New Zealand, despite their initial disappointment at having to leave Blackrock.
Reece, a fullback, and Taine, a lock, this year helped Wellington College to win their first Wellington First XV title in three years, with Reece winning the man of the match in the final after kicking all of his side's 12 points.
The fullback was part of the wider New Zealand Secondary School squad last month, while Taine has another year of school ahead of him.
"Both my boys are doing really well with their rugby here in Wellington," says Plumtree.
They're on the radar for Hurricanes age grade teams so we'll see what happens in that space. Maybe I'll have a couple of sons playing for the Hurricanes in the near future, you never know!"
Plumtree's own reputation in the game has continued to grow in the last two years in his role as assistant coach to Chris Boyd at the Hurricanes.
The Wellington side were Super Rugby finalists in 2015, before getting over the line for their first title earlier this year. Plumtree's defence – which we'll return to – was absolutely pivotal in that success, while his expertise around the forwards is well-known.
Just as important, however, is Plumtree's influence on the players off the pitch. The 51-year-old, a native of the Taranaki town of Hawera, is a relaxed presence away from the training pitch, chatting freely with players and driving a friendly, open culture.
Schmidt's reputation is one of being perhaps a little more intense, of being a head coach who keeps the players on their toes at all times, even away from the training pitch.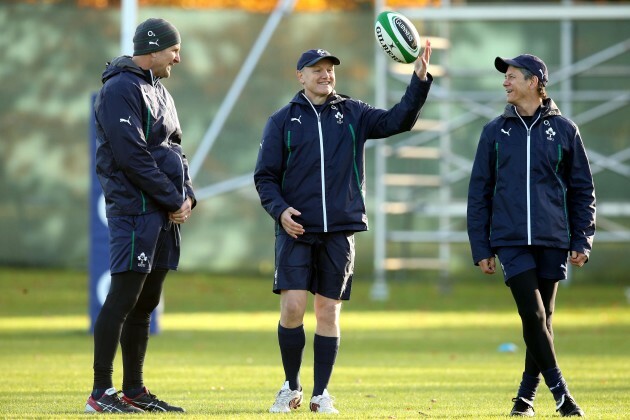 Billy Stickland / INPHO Plumtree with Schmidt and and Les Kiss. Billy Stickland / INPHO / INPHO
So, how did the dynamic work with Schmidt and Plumtree in the same coaching staff?
"The head coach and assistant coach's role are very different," says Plumtree. "Joe has got a massive responsibility there and my role was to support him. I would do anything I could to make the Irish forwards as good as I could and support Joe with my knowledge.
"Off the field with the players, I'm pretty relaxed around the environment. I always have been, wherever I've coached.
"I don't think the new generation wants to see a grumpy 50-year-old walking around the environment, and we've certainly got that attitude here in the Canes.
It's switch-on when we're on the field and we switch off and become normal people off it. You want to spend time with the people you work with, get to know your players and their families, what they do in their spare time.
"That's really important, that it's not just all about the game. It's important we're a family and do want to work hard for each other."
That focus has certainly brought positive results for the Canes, although their set-up is about more than just culture.
Former Munster centre Jason Holland has driven much of the attacking brilliance from the likes of Beauden Barrett, while Plumtree's defence was simply outstanding in 2016 – although not from the very start of the season.
The Wellington outfit conceded seven tries in a 52-10 defeat to the Brumbies in round one of Super Rugby, before giving up a further three tries in a loss to the Highlanders and a narrow win over the Blues.
Something needed to change, so Plumtree sat down with his defensive group - TJ Perenara, Brad Shields, Cory Jane.
Photosport / Grant Down/INPHO The Hurricanes defence was outstanding this year. Photosport / Grant Down/INPHO / Grant Down/INPHO
"The four of us decided we were going to do it and we had a slightly different defensive strategy based around dominating the gainline defensively and what training techniques we needed to put in place.
"We got the buy-in from Chris, he said to go for it and we started working really hard on it. By the end of the season, we had got really good at it.
"We had moments during the season where we were doubting ourselves a little bit, but we got the reward from having an aggressive defensive line. It gave us confidence and belief, and we carried on with it. It ended up being a big part of our success."
The Hurricanes went through their three post-season matches, including the final victory over the Lions, without conceding a try. That's in the region of 300 minutes of finals rugby without conceding a five-pointer.
Better than that, the Hurricanes' smothering, aggressive linespeed helped them to make their defence an attacking weapon, as they forced opposition teams into errors on which they pounced to score tries or win valuable territory.
Plumtree says the Canes' defensive structure "is based around a bit of risk and reward," with players sprinting up from the line and sometimes leaving holes if the attacking side can handle the pressure.
"What we needed to do was come up with something a little bit different that we were going to reap reward from," says Plumtree.
"We were prepared to take risks. Having everyone coming up hard, there can be major stuff-ups. What we did worked for us, but it's not the only way of doing things."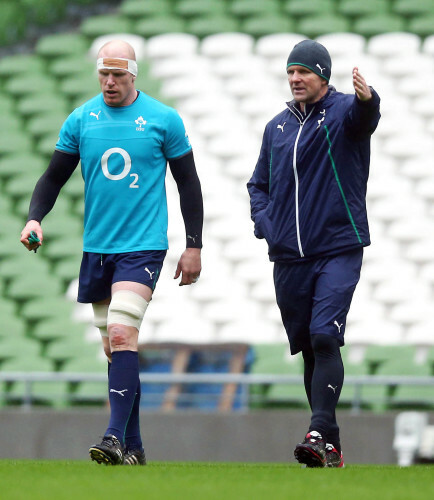 Donall Farmer / INPHO Plumtree says Paul O'Connell was one of the best players he's worked with. Donall Farmer / INPHO / INPHO
A shift in system for the Canes defensively also brought about tweaks in their tackle technique, as the blistering linespeed put defenders in slightly different positions from which to tackle.
"In a normal working week, you only get so much time to practice your technique," says Plumtree of solving that conundrum in-season.
"There's so much other work to do with lineout, scrum, attack, so on. The bits that we do get to work on our defence, we made sure we used that time well and were smart with what we did.
"The players put a lot of time into their tackle technique because there were slight changes in that, so we worked hard on that in our extras. Really, it was just a case of coming up with this monster defence but we had to work really hard to get there and the players had to spend their own individual time practicing it as well."
The trend of aggressive linespeed in defence is beginning to show across New Zealand, whereas their teams would traditionally have been known as operating with drift defences.
The All Blacks have appeared to ramp up their linespeed at times this year, although they are not quite bringing the levels the Canes do just yet.
Mention of the national team brings a regretful smile to Plumtree's face. He was only fresh into his Ireland job when the 2013 heartbreaker took place in Dublin.
"A painful one for me," says Plumtree. "We absolutely nailed our preparation that week for the All Blacks Test. I can remember we'd come off a bad loss to Australia and there was a fairly motivated Irish side to put in a big performance against the All Blacks.
Dan Sheridan / INPHO Plumtree during Ireland's tour of Argentina in 2014. Dan Sheridan / INPHO / INPHO
"In the first half we pretty much dominated, we had dominated the physical battle. Cian Healy that day was immense and Paul [O'Connell], and I remember Rob [Kearney] scoring a really cool intercept try that extended that gap just before half time.
"After half time we kept it going, even when the All Blacks came back at us. If Johnny [Sexton] had nailed a penalty the game would have been ours, but it's not his fault. We still should have won that match.
"The big difference was the All Black bench. Dane Coles came off the bench, Ryan Crotty came off the bench and they had a slightly bigger impact than what our boys did.
"When we missed that penalty shot at goal, they got that sniff. It still took a suspect decision from Nigel Owens that day – I think he probably would regret that decision!
"Anyway, you can't change that and they were good enough to get that last-minute try, which was a good try and it broke out hearts. It's a horrible memory."
Fortunately for Plumtree and his family, there are fond memories of Ireland too.
The Hurricanes coach looks like he will be making many more good ones in New Zealand rugby for years to come.
The42 is on Snapchat! Tap the button below on your phone to add!