Murray Kinsella reports from Wellington
A LAUGH AND a shake of the head from John Plumtree when the topic of his road trips with Joe Schmidt comes up.
The New Zealander, now an assistant coach at the Hurricanes, spent 10 months as Ireland's forwards coach in 2013 and 2014, when part of his job was to travel to watch the provinces play during non-Test match windows.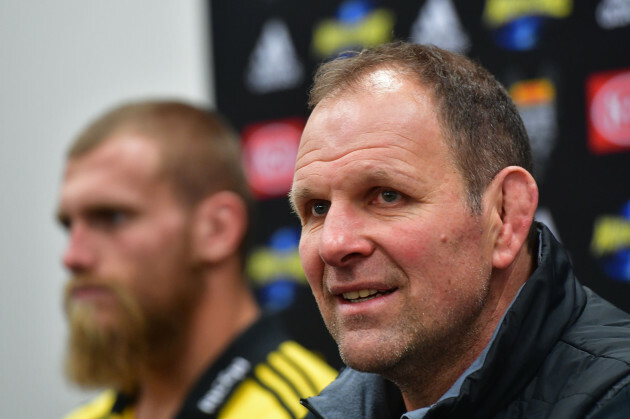 Photosport / Marty Melville/INPHO Plumtree and the Hurricanes face the Lions today. Photosport / Marty Melville/INPHO / Marty Melville/INPHO
And though Schmidt is famous for his attention to detail and ability to get things right more often than not, the Ireland boss was wayward on one of Plumtree's earliest trips with him.
"We had a lot of fun," says the man known as 'Plum' around Wellington. "The first one we went on we went up to Belfast and, of course, you know Joe chats away and I thought he knew how to get back down to Dublin but we missed the turn-off.
"We ended up going inland and it was late, it was half past 10, 11 because Ulster had just finished playing and, holy shit, Joe is going through these little towns and country roads and we're shitting ourselves.
"We only got home about 1 in the morning having gone the long route, of course he blamed me! I was supposed to be on the [sat-nav on the] phone. So, we still laugh about that!"
Plumtree is certain that he made the right decision to leave Ireland in 2014 and return home to New Zealand, but he does miss working with Schmidt.
"He's such a good bugger to talk to, it wasn't just all about rugby it was other things as well. I miss Joe, he's a good man.
"He's serious about his business, but he's got another side to him that's bloody witty and that's why he's so popular. He doesn't take it too seriously all the time, you know? When it's time for rugby, he does but the other side of it he's bloody good. He's funny."
Things have worked out perfectly for Plumtree back in Wellington, with his forwards and defence coaching having been a major part of their Super Rugby success last year.
Morgan Treacy / INPHO Plumtree misses his old friend Schmidt. Morgan Treacy / INPHO / INPHO
Such has been his impact that his name has been mentioned in the mix for the All Blacks defence coach gig, which becomes available when Wayne Smith leaves the national team set-up later this year.
But Plumtree says he is determined to succeed Chris Boyd as the head coach of the Hurricanes in the coming seasons, this being the home Super Rugby side of the Taranaki native.
His sons – Reece [18], Taine [17] and Troy [10] – are enjoying growing up in New Zealand, with the two eldest now involved in the Wellington academy, but they too have the odd pang for Ireland – having loved their time at Blackrock College.
"They've got fond memories of Blackrock, my kids," says Plumtree. "They loved it, they were pissed when I said to them they were leaving.
"That DART train, they just got on it and they were gone. I didn't even know where they were gone, they just got out of the house, jumped on the train and they were gone! It's not like getting on a bike and going, they were on a train. Bloody hell, it was loose. They could stop anywhere!"
And Plumtree laughs again when he recalls the emotional goodbye for Taine just before the family left Ireland.
"They miss it. My middle boy, when I left to go on the tour to Argentina and we were going back to New Zealand after that.
"When they were all going to say goodbye to their mates and that, about 20-odd girls came out to the house to support one and I didn't even know he had a girlfriend.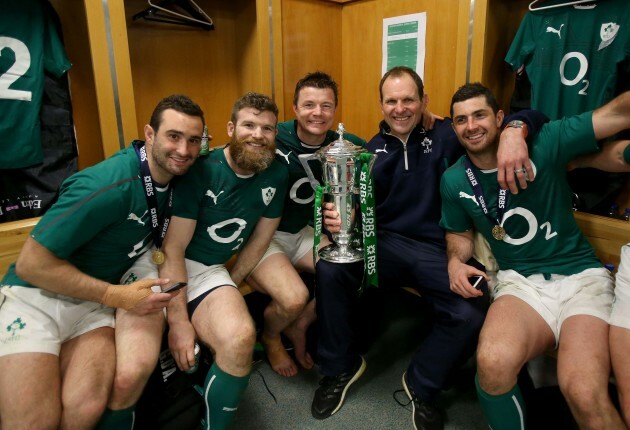 Plumtree was a popular figure in his time in Ireland.
"There was tears and all of this, the whole classroom of girls came out and Lara, my wife, was going, 'Holy hell, what's going on here?' I'd warned them, 'Don't get a bloody girlfriend because we're leaving', but one of them did and didn't tell us.
"That was emotional, so no wonder I wasn't number one in the family!"
From the sounds of things, the Plumtrees felt happily at home in Ireland but their stint was short-lived.
When Boyd and the Hurricanes came calling with the offer of an assistant coaching position, Plumtree jumped at it. Not only had he and his family been in Ireland for 10 months, but also in South Africa since 2007 – where Plumtree was head coach of the Sharks.
While the offer of a move to Ireland allowed Plumtree to escape from South Africa in 2013 after things turned sour at the Sharks, he was always thinking of his family first.
The Hurricanes' proposal meant Plumtree could shift the family back close to his Hawera home, and keep them all together at a crucial time in their lives – with Reece and Taine heading towards their university years.
"You've got to remember with coaches – some coaches put a big emphasis on their families and others think about their careers and stuff," says Plumtree.
"That can lead to different circumstances and opportunities in what you do. I've always wanted my family to be together at the same time, I wasn't prepared to sacrifice going away and leaving the kids.
"You see that happen a lot with coaches, but it never suited me. It's always good for me to go home to a whole lot of carnage and feel like I'm at work!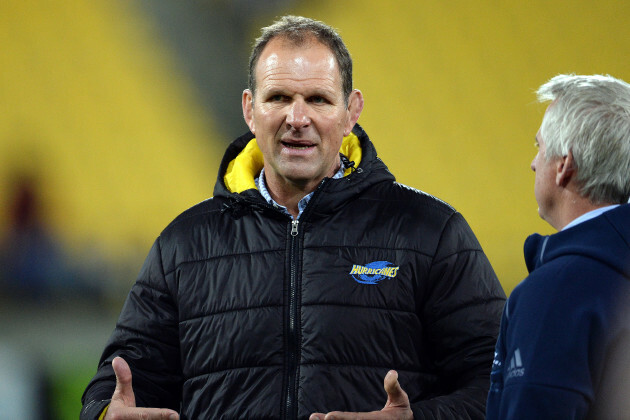 Photosport / Raghavan Venugopal/INPHO The Hurricanes' defence has been a major part of their success. Photosport / Raghavan Venugopal/INPHO / Raghavan Venugopal/INPHO
"But that's a big thing – we've all got kids floating around their teenage years, we're all in our late 40s, 50s and that and we've got a big role to play in their lives, eh?
"Coaches get too wrapped up in their coaching role with their rugby teams, they've got to be careful about that."
Plumtree feels he got his "timing right" in returning to what was already a good team in the Hurricanes, but his impact was undeniable and the manner in which he shook up their defence – adding huge linespeed and a turnover mentality – was particularly impressive.
He says his time in Ireland definitely "stimulated my thinking," however, and he is grateful for the opportunity Schmidt gave him.
Plumtree still watches Ireland's games closely – he's been excited to see the likes of Tadhg Furlong and Joey Carbery coming through – and he was an interested follower when Schmidt himself was linked with a return home earlier this year.
The lure will always be there for Kiwis abroad, and there is even some possibility that Schmidt and Plumtree could link up again in the future.
"I don't know what's happening with Joe, he had a big choice to make whether he was going to extend his contract out until the next World Cup, didn't he?
"There was a lot of talk that he was leaving and he's done that now, he's staying until the World Cup, and that'll come around very quickly and it will be what will happen next.
"Yeah, him and Warren Gatland, Vern Cotter – the Kiwi coaches overseas – they're all talked about coming back here and playing roles in New Zealand rugby again, I'm sure that'll happen.
"It's just whether Joe ever leaves Ireland. I don't know, maybe he's too Irish now. It will be interesting to see."
The42 is on Instagram! Tap the button below on your phone to follow us!