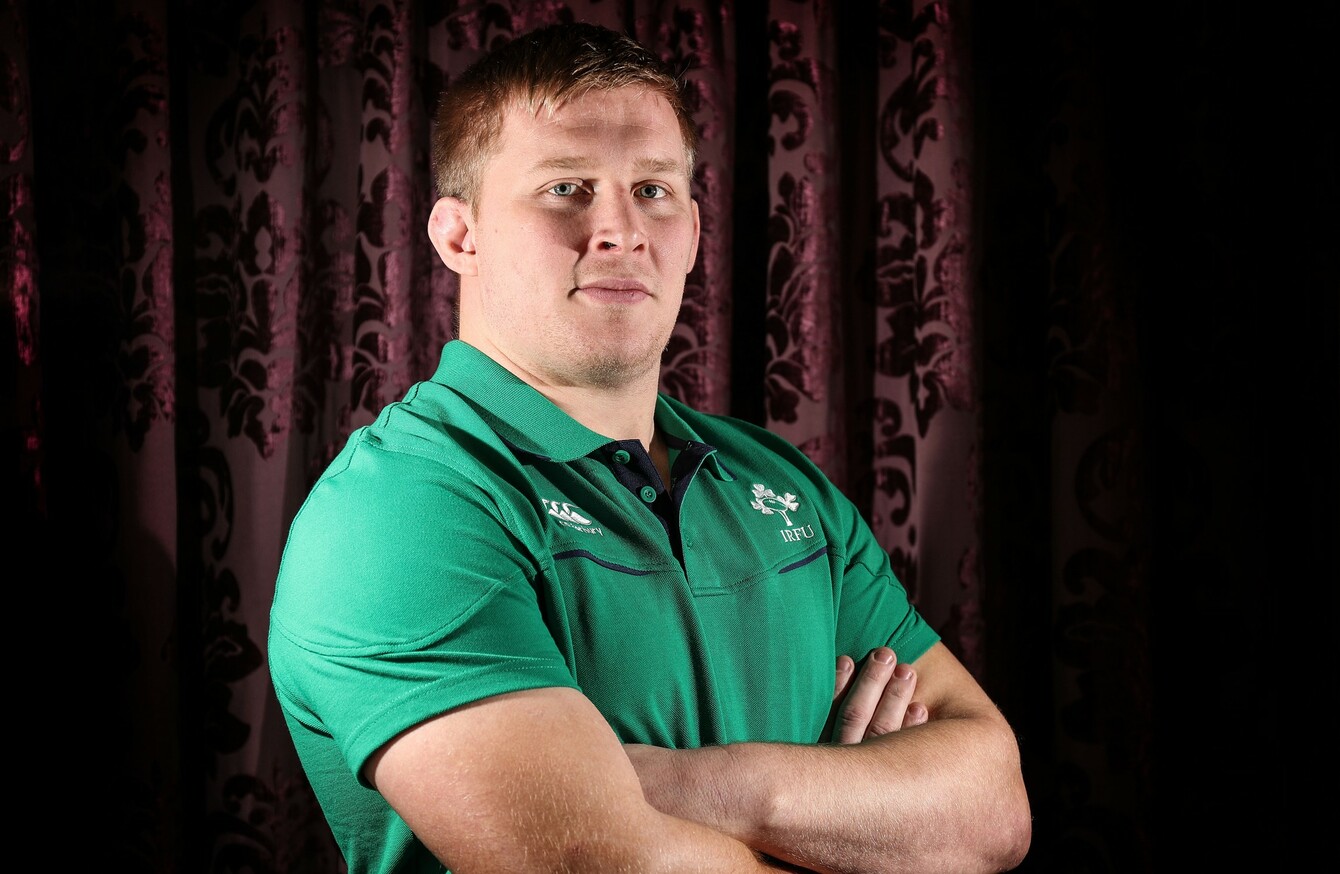 Image: Dan Sheridan/INPHO
Image: Dan Sheridan/INPHO
JOHN RYAN'S FACE bears the expression of a man determined to enjoy and soak up every moment of the experiences that go hand in hand with being an international.
The Munster man wears his IRFU polo shirt proudly, but uses his elbows to rest his hefty torso on his knees so that he is literally keeping the head down and getting on with the job – the current task being a sit-down with the media.
At 28, he was among the oldest of Ireland's raft of new November caps. Yet as a tighthead (though he is often asked to cover the number one shirt too) and a player with relatively few miles on the clock he has worked hard to ensure he has plenty of road left to run.
On top of the natural progression that experience brings a scrummaging prop, the big change that has helped the Corkman to reach his full potential was a timely medical solution.
Ryan spent a considerable portion of his career dealing with and managing the bowel condition ulcerative colitis. It's the same illness which threatened then Manchester United midfielder Darren Fletcher's career because of the rapid weight loss it inflicts. A sharp drop in bodyweight is cause for any athlete to be concerned, but for a prop, it's an imminent threat to safety.
"108 (kilos), so it is still not a small size – 17 stone – but  you should be around 19 stone to be fair. That is what I am playing with at the moment. I am 118 (kilos) now, that's 10 kilos up from then. I am pretty happy to stay at that," Ryan says with a proud nod of his head.
I think I was in a bit of denial back then. Luckily I came out the other end. I am okay, but the way I was thinking was: 'if I don't complain, it won't be a problem'. The weight was falling off me and I had to take nearly three weeks out and I came back in."
Two years ago Ryan was advised to test out gluten free and cut a lot of fruit and vegetables from his diet. Thankfully, his doctors have since found the right formula for him so that balance and normality have been restored.
"I was denying the fact that I could be in a trouble, I thought I could keep playing through the illness. But I couldn't. Those three weeks off really kind of helped me. I discovered new medication through my doctor and that just seemed to do the trick. Luckily I was one of the people with that condition who found the right mixture of medicine to get me through it, to live a normal life."
"I need medication, take it every day. I get an infusion every two months in the hospital and I was in there last week actually. So that is all under control now. Weight hasn't been an issue ever since 2014."
Ryan's second cap on Saturday, in part, came about because of a reported knee injury to Finlay Bealham. Competition for matchday squad berths will be back to full pelt this weekend, but the carrot of facing on Italy in Rome with all their scrum prowess has well and truly whetted Ryan's appetite – especially seeing as there wasn't a single scrum for Ryan to pack down for during his 12 minutes on the field in Murrayfield.
"They (Italy) can mix it up a lot. They do different things, and a lot of the time they mightn't even hook the ball. They might just look to shove over.
"One thing you notice about Italian scrums is that they can be 15 to 20 seconds long. That is one trait I noticed from playing against Zebre and Treviso, they are always long scrums so you need to have that scrum conditioning to make sure you keep your shape for that period of time and try and get yourself over that ball. And a lot of the times it can collapse and you can be left with a 50/50 call or else a reset. Look, there'll be plenty of scrums in this game, I can guarantee you."
It comes as some refreshment and a further boost in confidence that, these days, Ryan's homework need only focus on tighthead responsibilities having also stood in at loosehead for Munster right up until this season.
"At the start of the season when Rassie Erasmus came in, I said: I really wanted to focus on one position, tighthead.
"They said 'Absolutely John, tighthead it is.' Then the next week I'm training loosehead all the week because the two other lads got injured. The main reason I stayed was that there was only myself and Stephen Archer there at the start at the season, Brian Scott the Academy player as well – BJ Botha leaving obviously opened up a door as well.
"(I'm) Absolutely happier to be focused on on position. I'm delighted with that. It's just continuous playing in the one position and not trying to focus on another skill at loosehead."
It's paid off for Munster, with their scrum turned into a weapon to help them seal a home quarter-final in Europe after six starts for Ryan. The Corkman may be closer to 30 than 20, but his rate of progression can be read in his minutes on the field for Munster and Ireland and that translates to enthusiasm and energy to build on his two caps, though given what his body was going through in 2014, he's grateful to have just that many.
"I'd have bitten someone's arm off for that. It's something I didn't think would have happened so quickly.
"Especially getting a cap in November, that stood to me and I come into this camp with a little more confidence. I was comfortable within the system, I knew the plays and obviously there are new ones coming in every week and I got to know them as well.
"Without that cap in November, I probably wouldn't have got on to the bench last weekend. I was delighted, it was a dream come true.
"My goal now is just to stick in there, try to get on that bench again. It would be great to get a start but Tadhg played an outstanding game at the weekend and his scrums were brilliant. So it's sticking in there, keep hanging on to Tadhg's coat-tails for now and try, when I get on, make a bit of an impact.
"And try to get a scrum the next time as well!"
Subscribe to The42 Rugby Show podcast here: