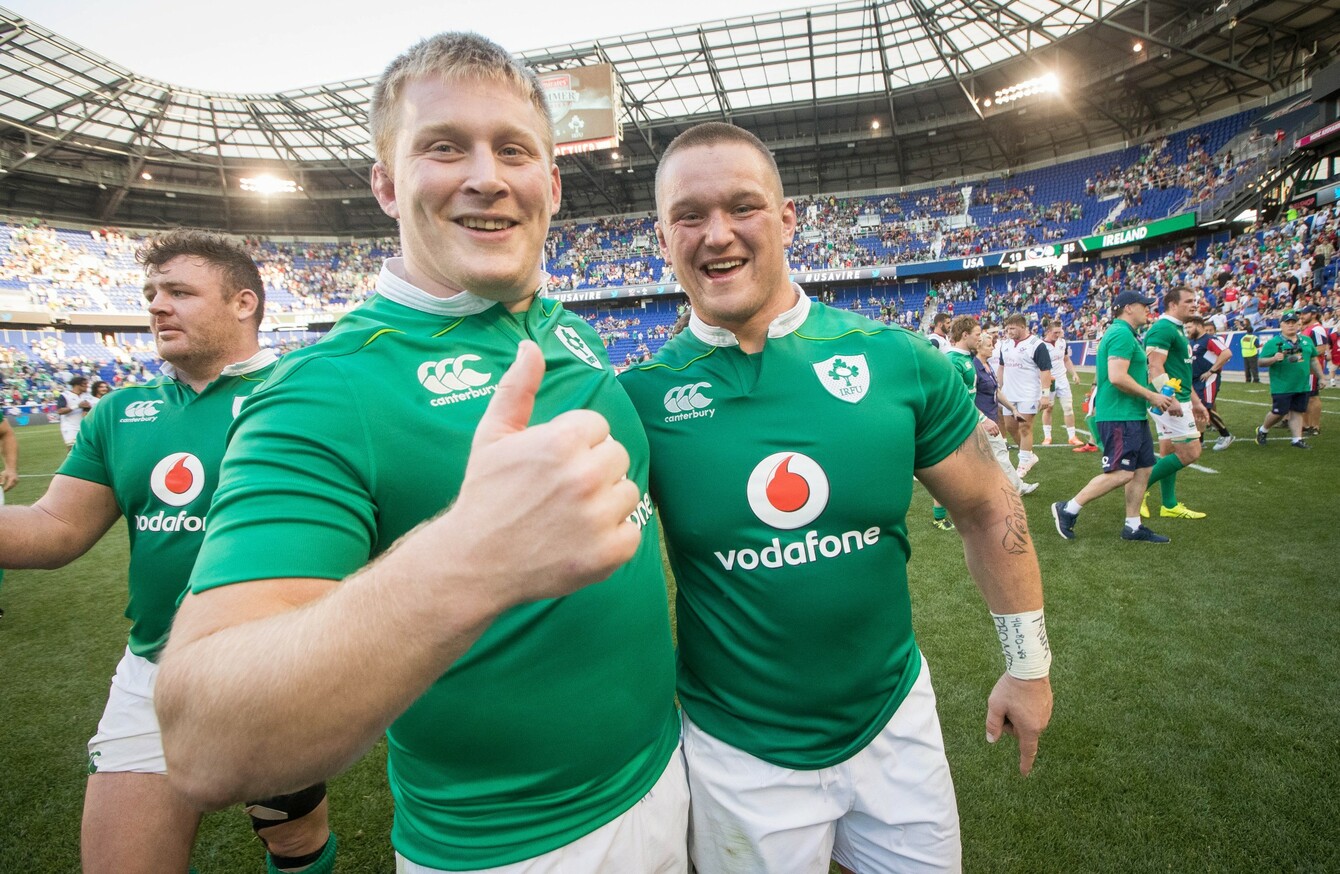 Ryan with Andrew Porter after Saturday's win over USA.
Image: Ryan Byrne/INPHO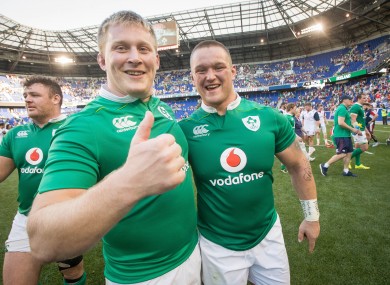 Ryan with Andrew Porter after Saturday's win over USA.
Image: Ryan Byrne/INPHO
JOHN RYAN MAY only have made his first start for Ireland on Saturday when he won his seventh cap, but as one of the oldest members of the squad on the summer tour at 28 years of age, it's inevitable he is being sought out for advice.
And having made the difficult transition from loosehead to tighthead prop, it shouldn't be any surprise that Andrew Porter is pumping him for information as he undergoes the same change.
Porter was one of five debutants on Saturday evening as Ireland dished out a 55-19 defeat to the USA at the Red Bull Arena.
Three of those debutants — James Ryan, Jacob Stockdale and Porter — have been fast-tracked from last year's U20 side, leaving the likes of Ryan with a lot of leadership duties even though he has just single figure caps.
"I have been chatting to Andrew a good bit," said Ryan. "He's a lovely fella. I made that switch as well so the two of us are having a lot of chats outside of training and during training.
"I was back and forth for years between loosehead and tighthead. I probably fully stuck to tighthead this year, I played a bit of loosehead last year as well. Hopefully now there will be no more to and fro, it'll be just tighthead for me.
"But that change is a tough one and I said that to Andrew. Hopefully he will make his decision. If he likes it he will stay there and he won't go back and forth because it is a tough transition."
The summer tour got off to a flying start in the scorching New Jersey heat but Ryan and everyone else in the party knows that there is a lot riding on the two matches against Japan.
"What we are trying to achieve is get the wins under our belt and get the development through with young lads there, we want to build up through the ranks and hopefully have a big squad for 2019.
"I am quite inexperienced as it goes but it's incredible. I am one of the older lads. But we are getting on very well, there is a lot of travelling and now it's Japan."
The Cork man is looking forward to pitting his worth against the Japanese, not least as the 2019 World Cup inches closer, but he knows they are going to face a much tougher test than that offered by the Americans.
"It's going to be incredible. The culture aspect of it, and the rugby, getting to know them as a side. I haven't played against them and I don't know how many lads have actually played against Japan.
"But it's going to be great to see what they are like. We are going into the game pretty psyched about it. We are looking forward to getting as much information as we can for two years down the line.
Meanwhile, Joe Schmidt said dealing with a squad with eleven away on Lions duty and several more injured created a lot of issues.
He brought eight uncapped players and while five of them got a run, John Cooney, Rory O'Loughlin and Kieran Treadwell will be hoping to make their bow in Japan.
"I think for the players at the start of the tour I said look this is a fantastic learning and working experience for you," the head coach said.
"The more you learn the more work we're going to give you cos the big work comes on the weekends. So work your way towards that and we'll try and support you in doing that. It's pretty much as simple as that.
"Five guys have got their first caps – there's three other guys who we think merit being with us. I'm not sure what we'll do – we'll see how guys pull up from the USA game.
"We won't train fully till next Thursday really. We'll have a light run on Tuesday and that's all the prep you get really going into next weekend.
"I felt we got a little bit disorganised when we made a fair few subs (against USA) so to get guys organised quickly is quite difficult, especially with – I don't know – 16-18 guys missing who would normally play for us.
"It's always easier to assimilate guys when you have other guys around them who know what they're doing. So we've got a few less of that this time, which makes it a little bit more awkward," added Schmidt.
The42 is on Instagram! Tap the button below on your phone to follow us!