ERLING HAALAND WAS the scorer and Kevin De Bruyne got the assist. Of course.
But John Stones was the architect of the goal which made absolutely sure Manchester City killed off Bayern Munich's Champions League dream.
It just wasn't how you would have expected the England international to influence this quarter-final tie.
His new role in Pep Guardiola's re-worked system is that of a hybrid centre-back/midfielder.
Some comparisons in recent weeks, as Stones thrived, was to the great Franz Beckenbauer.
Yet City fans of a certain vintage would say for two key moments in what turned out to be 43 glorious seconds in Munich, Stones was the embodiment of the club's late former captain Mike Doyle.
A man who for over 13 years in the 1960s and 70s represented City with a bite and tenacity that remains part of its lore.
This Manchester City – with Manchester United's historic Treble feat now well within their sights – are striving to keep writing their own.
Stones opened up a very old-school chapter two seconds into the 57th minute when, rather than hold his position or even retreat, he chose to chase down an overhit pass from Manuel Akanji and launch himself into a 50-50 tackle with Leon Goretzka.
He won it.
Stones smashed through the Germany international and the ball cannoned off him for a Bayern throw.
It roused a tie that had begun to drift towards a slumber.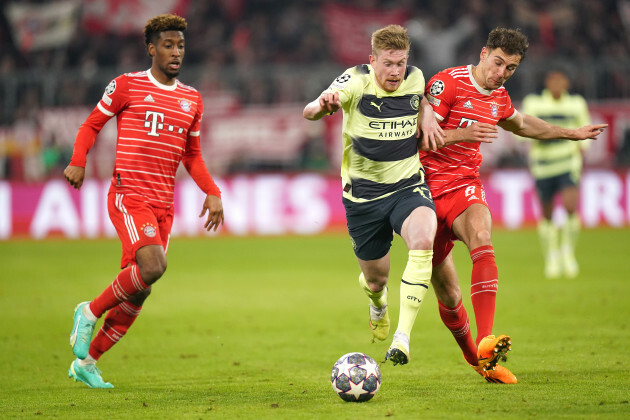 PA Kevin De Bruyne bursts forward. PA
Twenty seconds later the home side switched the play to the right where Kingsley Coman, a threat all night who was at the heart of so much good work in the opening 45 minutes when they really should have broke the deadlock.
Coman sold Jack Grealish a dummy and then eased by İlkay Gündoğan in the box. His driven cross into the six-yard box struck goalkeeper Ederson but scuttled to the back post.
Stones was there to collect.
This was not the time for some neat interplay to work their way up the pitch.
Stones looked up, saw Haaland size up Matthijs de Ligt and get in position.
This was Stones the defender, living by the principles of Doyle.
He launched the ball towards the centre circle where the City frontman deftly nodded down for the supporting De Bruyne.
This was when City's glorious guile matched their grit.
De Bruyne got the ball under control, looked over either shoulder sharply and carried the ball for another few seconds to allow Haaland the time to spin and get Dayot Upamecano on the back foot.
When the Bayern defender slipped on the edge of the box, Haaland took advantage in ruthless fashion.
He produced an instinctive scooped flick to create an angle and get the ball on his favoured left side.
With 56.45 on the clock, 43 seconds after Stones went through Goretzka for a shortcut, Haaland composed himself and side-footed an arrowed shot into the far top corner.
In that moment the outcome of this tie was well and truly secured.
No one would mention the penalty Haaland has blazed over the bar in the first-half.
There would be no chat about Guardiola overthinking his way out of this competition, a charge levelled against him on numerous occasions over the last decade.
There was no clean sheet, though, Bayern scoring a peno of their own to avoid defeat in the leg.
So not a perfect night for Stones, but one which illustrates so much of what makes him, and City, so impressive.