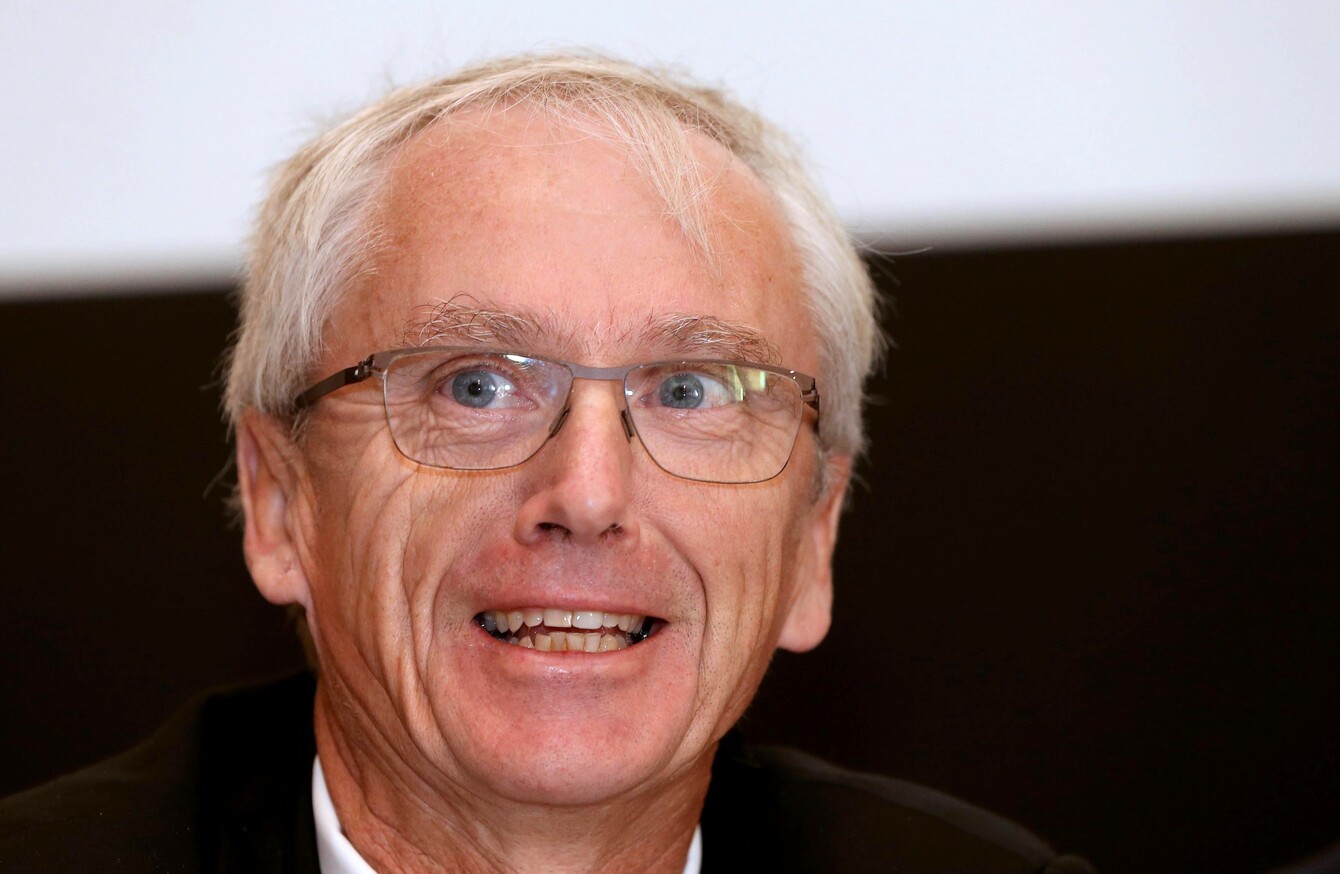 Treacy has held the role of Sport Ireland CEO for nearly two decades.
Image: Dan Sheridan/INPHO
Treacy has held the role of Sport Ireland CEO for nearly two decades.
Image: Dan Sheridan/INPHO
THE ISSUE OF sports administration and governance has never been as vehemently discussed as it has over the last twelve months.
Fifa, WADA, Russia and the Olympic Council of Ireland; 2016 has raised serious question marks over those in power and how they're running sport.
For all the sporting storylines and highlights — Leicester City, Usain Bolt, Connacht, the O'Donovan brothers, Annalise Murphy, Simone Biles, Ireland's Paralympians, Michael Phelps, Chicago — controversy wasn't far behind. It was a year of remarkable, and unprecedented, achievement but also one of alarming governance and turmoil.
"A challenging year," John Treacy, CEO of Sport Ireland, admits and certainly these are challenging times for sport.
The way the British Cycling and Dave Brailsford saga has played out before a committee of MPs in recent weeks has not come as much surprise. Embarrassing, depressing and farcical for everyone involved and those of us who want the sanctity of sport restored.
Closer to home, our athlete's performances in Rio were largely overshadowed by developments away from the sporting arena and the fallout is likely to continue into 2017.
Similarly, the Michael O'Reilly doping scandal on the eve of the Olympics placed the spotlight on the Irish Amateur Boxing Association and management at the top level. Things were, as we all now know, only set to get worse.
All this while the Games progressed under a cloud of suspicion as Russian athletes were allowed to compete despite the unmistakable stench of doping and cheating.
"I think we'll be all glad to see the back of 2016," Treacy continues. "This anti-doping stuff going on with Russia. If you look at the bigger picture, it totally undermines sport itself. The decision the International Olympic Committee made about Russian athletes was a big disappointment.
"Now we have more evidence, through forensics. It's so fundamentally corrupt. Sport and the leaders within sport need to stamp this out once and for all. I don't care how big a country like Russia is, if they don't play by the rules they shouldn't be allowed in. It's a simple as that. Sports leaders need to be making that stand."
Treacy, as one of the most influential figures in Irish sport, has a big role to play. In his current guise as administrator, often and regularly only seen suited at press conferences and launches, it's easy to forget he is one of this country's most-decorated athletes.
A four-time Olympian himself and a silver medallist in the men's marathon in Los Angeles in 1984, the Waterford native made the transition into the boardroom and has held his current position for nearly two decades.
2016 was, however, the hardest year of his reign.
"I'd look at it in two ways," he says, looking back on the last 12 months. "From a sporting perspective it was successful. The achievements around performances are the very, very important pieces and whether it be the soccer team, rugby team, our Olympic athletes it was superb.
"We had two medals but the number of top eights, or top tens or top twenties was unprecedented. Some outstanding performances from smaller National Governing Bodies [NGBs] to get athletes into finals and that's a sign the system is working.
"We were always trying to get to the stage when we're not depending on one or two sports delivering for us. The one sport we thought would deliver, didn't.
"That was disappointing in terms of the boxing and all that went around Rio. Having attended those fights in Rio myself, the judging was certainly off and they were not fair. Certainly Michael Conlan's performance merited a medal and it left a bad taste in all of our mouths. We were left saying 'why would you invest in the sport if that's the sort of carry on that goes on?'
"I know the IABA are very much aware of these issues and we would have articulated those issues as well. The boxing programme was very disappointing but we've done our reviews with all the federations and we'll be publishing all those in early January.
"Performance wise I think we were happy. Boxing was a huge disappointment and all the pieces that went on around the Olympics were disappointing and unfortunately that's what everyone was talking about in the end."
From a purely sporting perspective, Rio will go down as a job well done for the High Performance Unit and Sport Ireland.
The history books will show two medals but the performances of modern pentathletes Natalya Coyle and Arthur Lanigan O'Keefe, for example, as well as Thomas Barr and Scott Evans, are all testament to the structures in place.
Treacy has overseen the evolution of the Irish Sports Council, now Sport Ireland, to what it is today but the development of the National Sports Campus into a world-class facility is a source of great pride for him.
Over the last decade, the Abbotstown campus has become a beacon for Irish sport with the opening of the National Indoor Arena next month another important part of the jigsaw.
The €34 million building will house the National Indoor Athletics and Gymnastics Training Centres and joins other facilities for GAA, soccer, swimming, diving, modern pentathlon, cross-country running and cricket on the campus.
"The landscape has changed dramatically," he adds.
"There has been huge support from Government and Ministers. In those days when I started we were the poor relation, we're no longer the poor relation. There has been very substantial investment around the country and the current and past Governments need to be applauded for that."
Money and funding is a big part of Treacy's job, particularly at this time of the year. The Minister, Patrick O'Donovan, and the Department for Sport provides the resources and it's Sport Ireland's task to distribute those to the relevant governing bodies and athletes.
It's a thankless job, especially when you consider the level of performance in Rio from so many athletes from smaller NGBs.
"We need more funding and that's critical going forward," Treacy insists.
"Sport and sporting organisations have taken a hit in recent times and now it's probably time to look at where we are and because we've taken a hit we need to rebuild the sporting organisations. They are the kind of messages we bring to the Government.
"We look at ourselves as supporters, facilitators, enablers. We're here to help governing bodies and their performance plans. We fund the athletes but the governing bodies are responsible for the success. It's very much a partnership.
"I also think people now see the worth and value of sport. We obviously don't get everything we want but Sport Ireland and sport always tends to deliver. Not only at elite level but grassroots level. That's another side of the job, encouraging and facilitating participation around the country."
As a former athlete, Treacy admits that is the part of his job that gives him the most satisfaction but at the end of the day the buck stops with him and what happens at the top is ultimately his biggest responsibility.
In a world of corruption, cheating and back-stabbing, the 59-year-old is seen as an influential figure for all the right reasons, and not a controversial one. He tends to blend into the background, carrying out his various roles in an effective, but low-key, fashion.
His stature as an Olympic medallist and a respected athlete gives him that leverage; he's much more than an administrator in a suit.
"I finished my last race, a celebration race, down in Waterford in 1996 and Bernard Allen who was Minister for the Sport at the time was there," he explains, when asked how he came to the role.
"I saw him during the celebrations and he asked me to come and meet him. He asked me to chair a group who were developing policy around sport and it went from there.
"1984 was huge in terms of my own life and then I went on to the States to have a career for another 10 years after that but when all that ended, in my own mind I probably left it behind and moved on to the next stage of my career which is this.
"That then takes over your life and it does. You're focused on it and want to do the best you can. You want the best people around you who can guide you and help you and support you.
"You want to make sure your team is enthusiastic and passionate as yourself and we have that here. You're trying to build a strong organisation. It takes all my focus, all my passion and I still love it. I absolutely love what I do and I've forgotten about my own career and after this chapter I'm sure there will be something else."
For now, Treacy's focus is on 2017 and what is around the corner for Sport Ireland. While he admits this is definitely his last Olympic cycle at the helm, there is no lack of determination to leave the job and organisation in the best condition he can.
For him, that would be the ultimate legacy.
"It's great for Ireland as a small country to produce what we produce," he adds. "We have all these sports people at the highest level and it's fantastic that there's government support for them and the governing bodies can produce the calibre of athletes we produce.
"But we never want to stand still. The developments out here [National Sports Campus] have been phenomenal and I want to kick on with the next phase now. I want over the next four years to finish the various pieces of the master plan for the Campus. That would be phase two, probably accommodation for athletes and the addition of a Velodrome.
"I think when it comes to High Performance it's us going off to an Olympic Games with hopes of medalling in four or five sports and that would be real progress. That's what I want to see; the High Performance system producing top eights and medals in Tokyo.
"But at a rudimentary level, I want to change culture around participation and sport. It has to become part of more people's lives. Everyone in Government is working together to give people the easy choice in life whether it's walking or cycle ways.
"It may take a culture shift over 10-15 years but I'd like to see it. Everyone in Ireland realises they need to go out and exercise and realise we can do it together and it can be fin. That's important and if we can get to that stage it would be some achievement.
The42 is on Instagram! Tap the button below on your phone to follow us!