THE RUGBY CHAMPIONSHIP made for interesting viewing this summer in the Sexton household, now back in Dublin rather than the suburbs of Paris.
Ireland are ranked as the second best international team by World Rugby now, but the Southern Hemisphere sides demonstrated that anyone from up north hoping to claim a World Cup in October will have to be very, very good.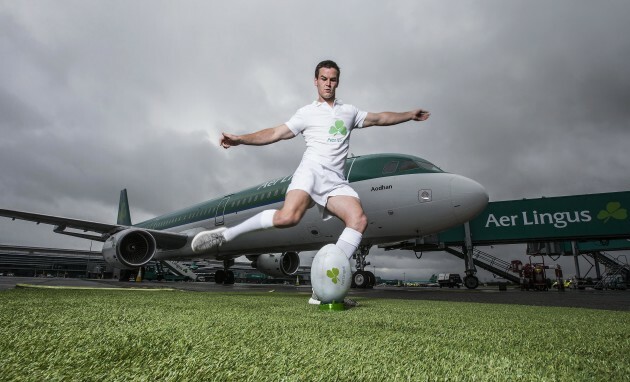 Billy Stickland / INPHO Johnny Sexton is an Aer Lingus ambassador. Billy Stickland / INPHO / INPHO
The sheer speed of the clashes between Australia, South Africa and New Zealand was breathtaking at times, and though Sexton always wants to play against the best in the world he jokes that he might not be quite ready for that style of game just yet.
"Maybe when I'm up to the speed of things! Yeah, it's been a frantic pace," said Sexton at Dublin Airport yesterday.
"That's a speed we're going to have to live with come the World Cup and that's what we're trying to prepare for in training and these warm-up games. It's hard to replicate, because we're all playing our first games and trying to find a way to do it."
One senses that Northern Hemisphere weather and tactics might slow the pace of World Cup games, but beating at least one of that trio looks like being a necessity if Joe Schmidt's team are to create history.
Sexton refuses to even contemplate a meeting with those teams in the semi-final or final, however, instead pointing out that a France squad with three months of collective training behind them – rather than two sessions before the Six Nations – will pose a massive danger in Pool D.
As ever, the focus of Sexton and Schmidt and Ireland is on improving themselves. The score will take care of itself.
"We've got to two in the world, but have we hit our best? I don't think we have, I think there's a lot of improvement in certain areas that we can do," said Sexton. "I think if we can make those improvements, we'd be confident in our ability.
"Where that gets us I don't know. We've got to play France and they're going to be at their best come World Cup time, they always are.
Billy Stickland / INPHO Schmidt and Sexton both see room for improvement in Ireland. Billy Stickland / INPHO / INPHO
"We've got our work cut out to win our pool and if we can do that – it's a big 'if' – we can start talking about quarter-finals and beyond."
With back-to-back Six Nations titles and a clean sweep of the November Tests in 2014 behind them, Schmidt's side are certainly a high performance one.
The only mutterings around their displays have been in the area of attack, though the four-try 40-10 win over Scotland on a thrilling final day of this year's Six Nations showed that Ireland can cut loose.
Sexton sees something in that particular performance that he hopes Schmidt's side can take forward as a strength.
"We showed in patches how good we can be in attack, and we need to take some of the bits where we were forced to go against Scotland," said Sexton. "Even just the attitude we had in that game, try and take little bits of that and bring it into the games going forward.
We have great ideas in our attack, but there's a lot that needs to happen for those ideas to come to fruition in matches."
What changed for that Scotland match? Was there a shift in mindset? Was it Schmidt or the players themselves behind the slight alterations in attack?
"It's a collective attitude," said Sexton. "We knew we had to go out and score points. We didn't go for tries every single time. We took points, especially in the first half. We took, I think, three shots at goal when we could have gone for the corners.
"But in terms of just the attitude of the players, to give the halfbacks options, to be communicating in. All those small things are really important in attack. Guys just knew that they had to get that 100% right on the day, and our shape was quite good.
Exclusive Six
Nations Analysis
Get Murray Kinsella's exclusive analysis of Ireland's Six Nations campaign this spring
Become a Member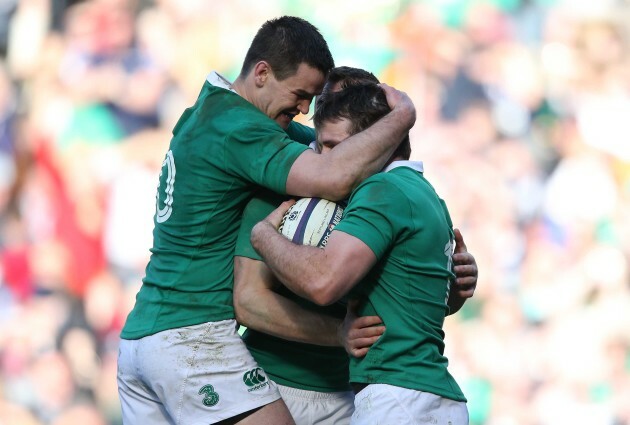 Dan Sheridan / INPHO Sexton and Ireland were brilliant on the last day of the Six Nations. Dan Sheridan / INPHO / INPHO
"This is not something we've talked about as a team, but I just found that when we scored a try or scored a penalty, the mindset was 'right, let's go again and get other scores.'
"Sometimes the temptation in Test matches is to shut up shop when you have that lead, to play the percentages. And that's the right thing to do a lot of the time. But it would be great to have that attitude from one to 15 going forward."
That said, Sexton is keen to point out that perceptions of Ireland and their attacking game plan hinge on minute details.
There was much woe after the defeat to Wales during the Six Nations, with many critics pointing suggesting Ireland were being held back by a blunt attack. However, Ireland were extremely close to clicking on that occasion, as they had been before in the same championship.
I think perceptions can be different at times," said Sexton. "We went back and looked at that Wales game from the Six Nations, and we were so close to getting three or four moves that we worked on right.
"There was just one little bit of them that didn't go exactly to plan. If that had (gone to plan), we could have picked up a couple of scores and then, suddenly, the whole perception around the team changes.
"We left scores out there in a couple of matches, tries. I don't think we kicked the ball any more than a team like New Zealand, but they seem to score a few more tries and then the perception can be a lot different.
"We'll keep doing what we're doing, and then hopefully that fluidity, the togetherness, will be there from the time we have together."
Johnny Sexton was at Dublin Airport to encourage Irish fans to make the smart choice and fly with Aer Lingus as they travel to support Ireland. Aer Lingus is the official airline of the Irish rugby team. Supporters can find out more at www.aerlingus.com.