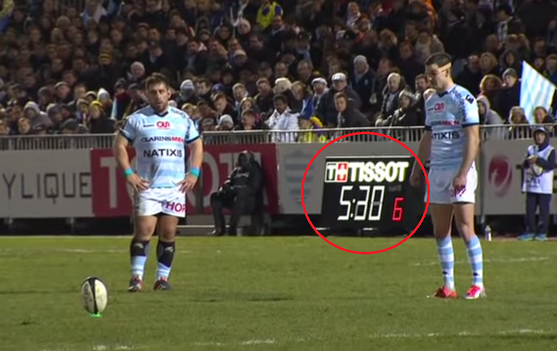 IRISH FANS WAITED with bated breath for news from Paris on Saturday as Johnny Sexton lined out for Racing Metro against Clermont Auvergne.
The good news is that the Ireland out-half came back in one piece ahead of the potential Six Nations decider against England.
Sexton kicked two penalties and a conversion in the 13-13 draw at the Stade Yves du Manoir.
He also set up Racing's try, scored by Marc Andreu, although the bounce of the ball was every bit as important as his kick in behind the Clermont defence.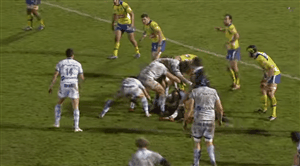 His work done, Sexton was subbed off on 66 minutes, drawing a line under an evening that had started in slightly bizarre circumstances when he was pinged for taking too long over a penalty.
Kickers are allowed 60 seconds to take a penalty, and 90 for a conversion, and Top 14 stadia even have a countdown clock to make sure the rule is enforced.
As you can see below Sexton dawdled and had not even started his run up when the clock ran out.
He explained afterwards that the clock had started before the Clermont players retreated the necessary distance, depriving him of valuable seconds.
Not that it mattered in the end, with his shot coming back off the post.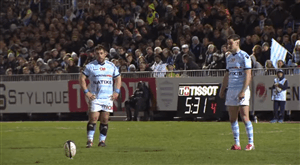 You can watch the highlights in full here:
BowserX4 / YouTube