Murray Kinsella reports from Wellington
JOHNNY SEXTON IS in fine form ahead of taking over as the Lions' main man for the second Test against the All Blacks.
Named in the 10 shirt – with Owen Farrell moving to inside centre at Ben Te'o's expense – Sexton has even been cracking jokes about the Kiwis.
Billy Stickland / INPHO Sexton and Farrell team up tomorrow. Billy Stickland / INPHO / INPHO
Asked if the Lions need to mimic the manner in which the All Blacks rebounded from their Chicago defeat against Ireland to brutally hammer into Joe Schmidt's side two weeks later in Dublin, Sexton fired back a tongue-in-cheek answer.
"I don't think so because if we did that we'd get a couple of red cards!"
Joking aside, the Lions will need to bring far better discipline after giving up 12 penalties in the opening Test and Sexton knows that he needs to control himself as much as anyone in Warren Gatland's side.
The out-half is often quick to get in referee's ears with complaints and he was at it again after coming off the bench in the first Test, querying Jaco Peyper's decision-making and suggesting the South African was favouring the All Blacks.
"It's part of my game or personality that I need to work on," says Sexton. "I've been working on it for the last 10 years so it's been going really well!
"Things happen in the heat of battle where you wave your arms. What I said to him after the game was that it's an instinctive thing to wave your arms and what I said to the ref wasn't out of order or anything like that.
"When you pass and someone slaps a ball down, the whole team will do it. I just explained to him at the end that he gave out to me for waving my arms, but it's an instinctive thing.
"But everything has got to go through Sam [Warburton] this week. Sam seems to have a really good relationship with the refs, especially when he plays for Wales."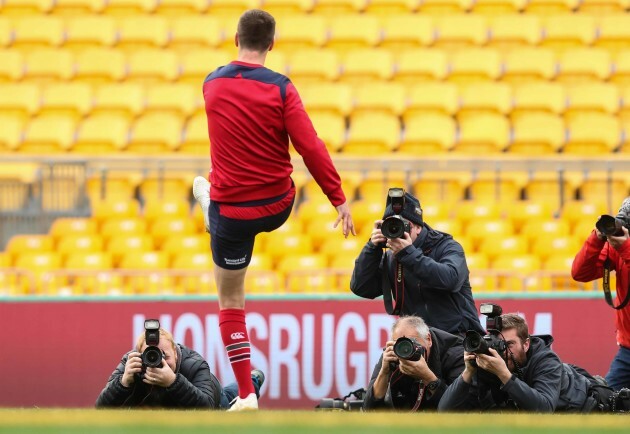 Billy Stickland / INPHO Sexton at the Cake Tin on Friday. Billy Stickland / INPHO / INPHO
Discipline is just one area in which the tourists need to find major improvement – Jerome Garces referees – but Sexton's introduction should help with a few of the others.
With the weather set to be wet and windy, kicking will be key and Sexton's sharp territorial eye will be useful for the Lions.
His leadership and experience are also important elements and despite missing out on starting the first Test, he is feeling confident heading into the second.
Sexton had a poor beginning to this tour, underperforming against the Provincial Barbarians, but he was excellent again off the bench last weekend.
"I was pretty happy with how I had been playing through the year when I was fit given the injuries I've had," says the out-half. "I had a couple of bad games but there are reasons for those bad games.
"There's no point in coming out with excuses, you just have to cop it on the chin. I was happy with the way I responded against the Crusaders and also against the Maori.
"I don't lose confidence when I have a bad game because as a number 10 there are so many factors that go into playing well. Often, you're not far away from having a good game when you have a bad game."
Easing the playmaking burden on Sexton will be the aforementioned Farrell, who probably feels he has a point to prove having failed to grab hold of the first Test.
The Lions' 10 and 12 toured together in Australia four years ago and have remained good mates since.
Billy Stickland / INPHO Sexton and Farrell with attack coach Rob Howley. Billy Stickland / INPHO / INPHO
"I'm really excited about playing with him," says Sexton. "I've always admired him. We've got on great and stayed in contact since the last tour. We've got a good relationship – apart from trying to kill each other at the Aviva last time! We get on great.
"I was asked whether it was the biggest challenge of my career to try to get ahead of Owen and because of the respect I have for him I said yes. He's a world-class out-half. But I back myself and hopefully I can bring something to the team this week that will get us over the line.
"I've a big respect for him and we have a good relationship so hopefully we can click and make the team play better on Saturday and level the series."
Farrell was the Lions' place-kicker last weekend and despite his missed conversion after the stunning Sean O'Brien try, Sexton expects the Englishman to retain those duties.
"I presume it will be Owen because he is the man in possession at the moment. I should probably ask that question! We were kicking together and you've got to prepare as if you are going to be kicking anyway.
"If something happens to Owen then I've got to step up and take them so I will keep practising them."
It feels a little more comforting for the Lions to have Sexton's experience in the 10 shirt this weekend ahead of what is one of the biggest Tests in the tourists' history.
Billy Stickland / INPHO It's showtime for Johnny. Billy Stickland / INPHO / INPHO
A win in the rain at Westpac Stadium will earn them the respect of New Zealand, although Sexton says it's not about that for himself and the Lions.
"Does respect matter to players? You probably want more the respect from your team-mates, so if you can go in looking for the respect of each other, the guys either side of me for example to finish the game and think 'Jeez, I loved playing the game with him.'
"That matters more than the New Zealand people wanting to respect you."
The42 is on Instagram! Tap the button below on your phone to follow us!