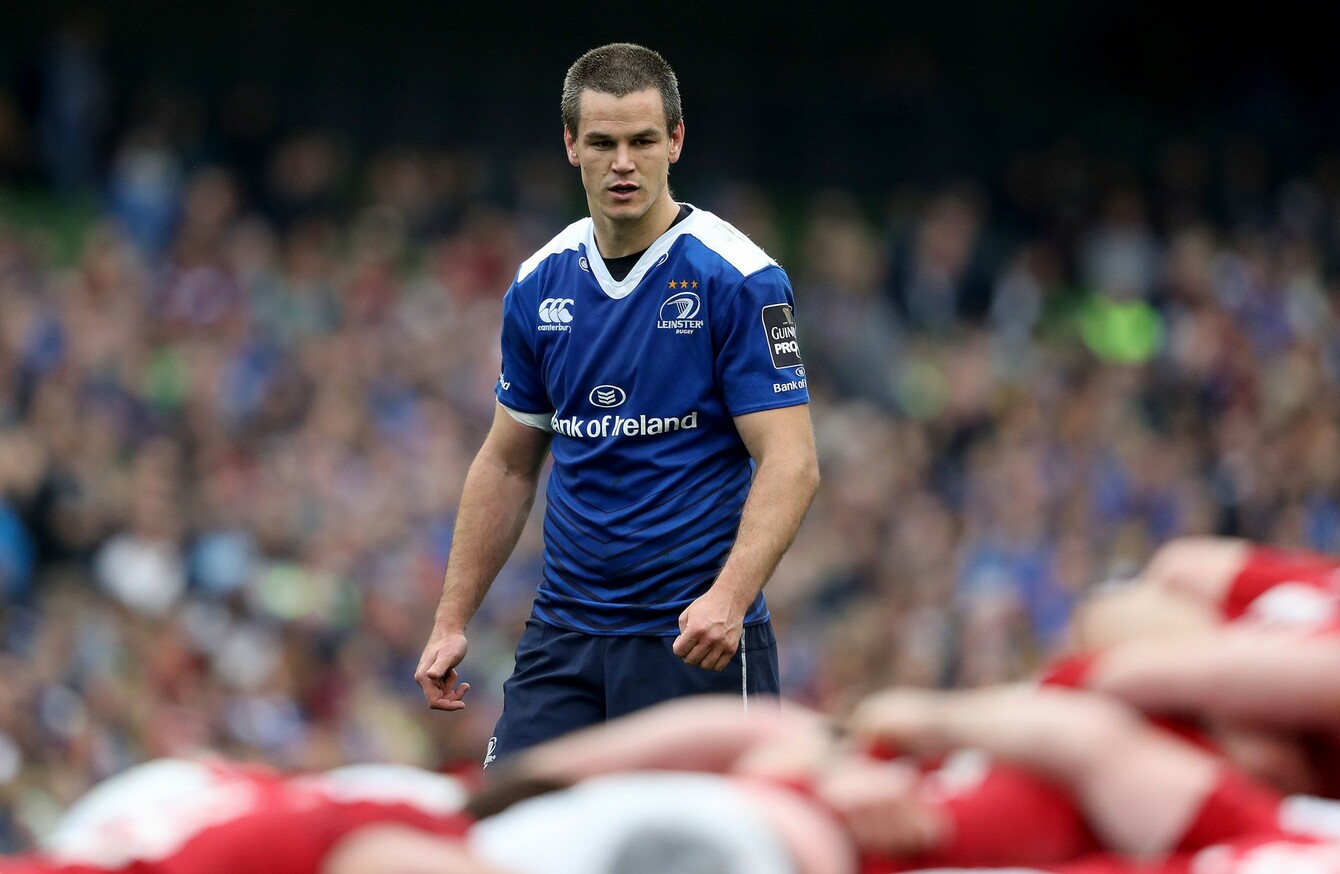 Image: Dan Sheridan/INPHO
Image: Dan Sheridan/INPHO
LEINSTER BACKS COACH Girvan Dempsey says it's well worth having a discussion around whether Jonathan Sexton needs a prolonged rest given his recent injury record.
The star out-half missed Ireland's hard-fought win over Australia on Saturday with a right hamstring strain following a six-week period when his fitness was continually a talking point.
Injury ahead of the opening Champions Cup fixture at home to Castres in October allowed Joey Carbery make his European debut. A week later, the Athy tyro replaced Sexton at half-time in the defeat to Montpellier. And the pattern continued at international level in November as the 31-year-old was called ashore early in both encounters against New Zealand.
At Leinster's UCD base this afternoon, Dempsey admitted that the province would certainly consider laying the 10 off for a prolonged spell to offer him the best chance of strengthening the hamstrings and making a full recovery. But only after they review all the data available to them.
"I think it's certainly something to discuss. No matter who it is, Johnny or any player in your care, you want to make sure they're well looked after. And if that's the best thing, then that's the best thing.
"Ultimately, we feel he's very diligent in terms of working through his rehab programme – he goes through that this week – he's pretty good at getting back on the field. But we'll look at all the stats, all the data, look at his GPS, his workload, look at everything and make the call. But at this moment in time we're hoping he'll be back for Northampton."
Dempsey's comment comes after Ireland head coach Joe Schmidt raised the prospect of resting Sexton after Paddy Jackson played 80 minutes at out-half in win over the Wallabies.
"I got asked last week does he need a window of time to really make sure that he can be more robust," Schmidt said, "that's probably one of the things that comes up for discussion now that this window is over."
There will be at least three weeks of a window for Sexton to recover, as Dempsey adds: "He's definitely out of action this week, unfortunately, but we'll see how his rehab programme goes…
At this moment in time, we'd be hopeful (that Sexton will face Northampton). It depends on how he goes during the week. There's a certain list of criteria he has to do in terms of making sure his hamstring is strong enough: his running volume, low intensity up to high speed metres, change of direction, decent kicking and stuff like that.
"Once he ticks all those boxes, he's back on the field, starts running around and then he's available for selection."
With front-line internationals able to enjoy a few hard-earned days rest until Thursday, Leinster will get information this afternoon about the players who will and won't be available to filter in to the squad for Saturday's home meeting with the Dragons.
That group is unlikely to feature Sean O'Brien, Rob Kearney or Robbie Henshaw. The province were unable to provide a definitive update on O'Brien and Kearney until they return to the squad, but there is positive news on Henshaw after he departed Ireland camp last week due to the first-half knock-out in the loss to New Zealand.
"Robbie's been back in, he's following his return to play protocols after his concussion knock. He seems to be pretty good and hitting his markers and stuff. I think they're hopeful that he might start running around today or tomorrow back on the field."
Outside of the international frame, Dominic Ryan picked up a calf strain in the loss to Scarlets. Veteran prop Mike Ross has undergone a re-scan on a serious hamstring injury picked up early this month and will be further monitored before a time-frame is put on his return.