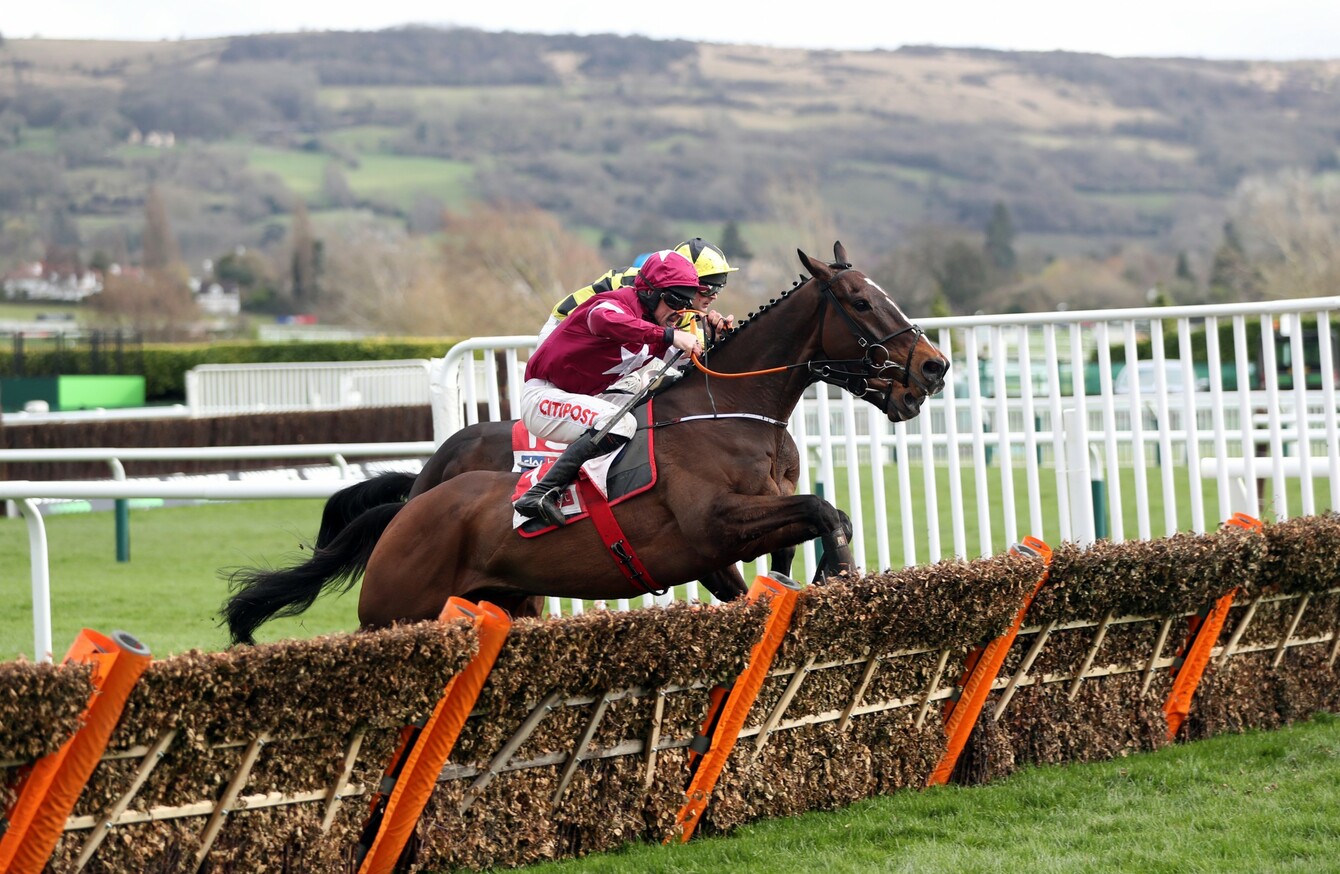 Could Abacadabras, near side, be a value bet for the Champion Hurdle?
Image: Simon Cooper
Could Abacadabras, near side, be a value bet for the Champion Hurdle?
Image: Simon Cooper
AROUND THIS TIME last year, Daniel McDonnell and I were settling in to eir Sport's League of Ireland podcast, LOI Weekly, having evolved into a TV show.
With Irish field sports halting, our flirt with the format was but a wink across the room. Those care-free times seem like at least two years ago; to summon recollection requires effort. 
Did it even happen? There was a life before the Year Zero of Cheltenham 2020 and what became an ongoing year-long infringement on liberties and normal life that will change the way we behave as a species, many of which we are not yet aware.
I would have been staggered if, as we boarded the plane to Birmingham 12 months ago, we were told that no racegoers would be allowed 12 months on. The anger directed towards those Irish who had travelled to the Cotswolds was something else, though I do not recall being confronted face-to-face. The onslaught was mainly limited to social media. 
How could it be any other way? We left Cheltenham to a different world and have effectively been barred from leaving the country for 12 months since, with no definite end in sight. To shake hands, that of time immemorial, is still deemed irresponsible and offensive. Face-to-face is a zoom call and increasingly unreliable broadband.
One of the alarming consequences of lockdown is people are spending dangerously high percentages of their waking hours on the internet. I suspect many are unable to watch sport on TV without constant consultation with their phone. Even during a race now, which tends to be a minute to a few minutes long, it is habitual to get or impart in-running comments to a Whatsapp group.
Normal adults not known to have addictive personalities are addicted to their phones and addicted to social media, where they can share their addiction with fellow addicts without being judged by other addicts. Parents have needed a break from their children, who couldn't go to school. And if something happened that wasn't Covid-related to stoke the embers, faux outrage would gladly follow. 
Could people really have been that worked up about people going to Cheltenham last year, when hardly anyone was giving out about it the days leading up to it? Perhaps they were, perhaps they were not. Who knows? And was the Gordon Elliott fiasco worthy of all the air time from Claire Byrne to CNN?
Claire's namesake, Louise, held a short interview on Prime Time with Davy Russell. She treated him as though bereaved, unable or unwilling to take his frazzled analysis to task. Russell was trying to blame the proliferation of smart phones for what had befallen Elliott, but he has since admitted in his Star Sports blog he should not have gone on TV in the first place.
"The reality was that my head was shot to pieces and I wasn't in a good place having witnessed heartbreaking scenes in the yard only hours earlier. I don't think I've ever been more nervous in all my life and I just couldn't get the words out," he wrote.
Were people really that angry, some of them seemingly reduced to tears over Elliott but thinking little about the lives of the animals bred only to produce meat for us to eat? Even Off The Ball's Joe Molloy conceded that his attitude had changed quite dramatically in the space of a few days, and I wasn't sure what I thought any more.
Over the 13 or so hours since this website's story, "Irish amateur jockey James to face hearing over dead horse video", went live, not even 3,500 views have been registered. People are moving on. Humans want another distraction.
On Tuesday evening, 725,000 of them tuned into RTE for another triviality, Oprah Winfrey's interview with Meghan Markle and Prince Harry. Incredibly, Ireland and Britain had pretty much the exact same audience share, a whopping 54%.  
Perhaps people under effective house arrest are just crying out for any sort of escapism going. Perhaps the hysteria about Elliott will all die down and quickly be forgotten. Perhaps, when Cheltenham comes next week, racing will be able to present itself well. 
The Racing Post's Lee Mottershead went as far as to suggest Envoi Allen should not be running at the Festival, thereby denying racing fans the chance to see arguably as beautiful a horse in looks and performance as we'll ever witness. Think about that: Envoi Allen would be denied his shot at Cheltenham glory because a bloke sat on a dead animal over two years ago.
Mottershead reckoned Elliott should not run the horses he trained up until Denise 'Sneezy' Foster took over the license this week. This would have done further damage to our showpiece Festival, which is already nothing like what it was because nobody is there. And many probably agree with him.
It would mean the Michael O'Leary-owned Abacadabras would not be able to run in Tuesday's Champion Hurdle. This horse is far from a personal favourite but the more I look at the Champion Hurdle, the more I think he's fine each-way value on the drying ground at 12/1.
Everything seems is in his favour. He nearly beat Shishkin last year here and William Hill goes a top price 12/1. And those who think he is too soft to get up the hill may scoff at the idea, though you could tell them that Sneezy Foster will have more Cheltenham winners than Gordon Elliott this week, and that Morgan is now one of his best-known horses.
Previously advised recommendations (scale 1-5):
French Aseel to win Triumph Hurdle, 2pts 6/1 
Defi Du Seuil to win Champion Chase, 1pt each-way 20/1
Be part
of the team
Access exclusive podcasts, interviews and analysis with a monthly or annual membership.
Become a Member
Wide Receiver to win any race at Cheltenham, 1pt 6/1
Ballyadam to win Supreme Novices' Hurdle, 1pt each-way 8/1
Allmankind to win Arkle, 1pt each-way 8/1
Tritonic to win Triumph Hurdle, 2pts each-way 12/1
Zoffanien to win Fred Winter, 1pt each-way 14/1 
Abacadabras to win Champion Hurdle, 1pt each-way 12/1
The42 is on Instagram! Tap the button below on your phone to follow us!