THIS WEEK MARKS 20 years since Ireland faced Wales in a rarely-revisited friendly at the old Cardiff Arms Park.
Having started the 1998 World Cup qualifying campaign with seven points from their first three matches, Mick McCarthy's side played out a scoreless draw with few talking points to take from the 90 minutes of football.
It was a significant night for Jon Goodman, however, as the then Wimbledon striker made his international debut along with goalkeeper Keith Branagan.
"I remember that game really well because it did not stop raining all day," recalls Goodman. "Vinnie Jones and Gary Speed were playing for Wales and it was like a Premier League game.
"Gary played at centre-back that day. I had marked him for Wimbledon before when he was playing wide left and I was out on the right. I remember thinking 'Jesus, this boy can run'. He was fit and I just remember chasing after him in that game.
"I think I played well that night and had a few chances. I probably should have scored one but the keeper Mark Crossley made some good saves. It's amazing how vivid that is 20 years on."
Goodman's path to international football was "quite a complicated one". Born and raised in London by English parents, the possibility of donning the green jersey wouldn't arise until he was in his mid-20s.
"My dad had an Irish heritage that he was aware of, but he had been adopted at a young age," he explains. "He didn't really pursue it while his adopted mother was alive.
"When she passed away, he did a little bit more research and found family in Galway. He began to take a keen interest in his Irish history and off the back of that, moved to Wexford to build his relationships back with them and seek a different way of life.
"Then he got an Irish passport and I realised I could qualify for Ireland. I knew Mick (McCarthy) and Ian (Evans) and I asked them 'what do you think I should do?'. They said if I could get a passport then they would have a look at me."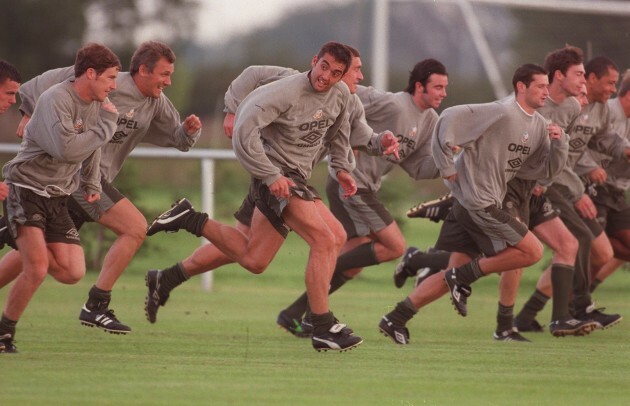 © Lorraine O'SullivanINPHO Goodman (centre) training with the Ireland squad. © Lorraine O'SullivanINPHO
It wouldn't take Goodman long to settle in and he was made feel right at home by the group as soon as he met up for that first training session in Dublin.
"I didn't have an Irish accent or the Irish heritage that the boys had, but I've got to say that they were very welcoming and supportive of me," he remembers.
After the highs of Italia '90 and USA '94, the Irish squad was going through a transitional period with several players who had been first team regulars for so long coming to the end of their careers.
The Boys in Green were expected to make light work of Macedonia when they travelled to Skopje that April but it would turn out to be one of the most embarrassing results in Irish history.
Goodman played from start to finish but couldn't prevent an infamous 3-2 defeat.
"I played okay but I wasn't playing regularly for Wimbledon and it was hard for Mick because it was a poor result and compromised qualification for the World Cup.
So it wasn't all roses. It was difficult for Mick trying to evolve the squad and he was fighting a few fires there."
The striker was then named as a substitute in Ireland's next two qualifiers — coming on in the defeat to Romania and in a comfortable 5-0 win at home to minnows Liechtenstein.
Sadly, his fourth senior cap would also be his last as Goodman never fully recovered from a bad knee injury picked up later that year.
"We finished against Liechtenstein, then there was the summer break and pre-season with Wimbledon and I had a chance to sign for Reading. Literally that day, I busted my knee and rang Mick to tell him I was out for six months.
"He wished me good luck and said keep in touch but I never came back. The regret would be not scoring, but it was a real pleasure to represent Ireland."
Forced to retire when most players are coming into their prime at the age of 28, some would say Goodman was desperately unlucky but he begs to differ.
As a youngster, he wasn't picked up by the academy of a professional club and played Sunday football before joining non-league side Leyton Windgate.
Jon's mother had always pushed to make sure he obtained the best education he could despite coming from a working class family with no history of attending third level and she was pleased when he earned a place studying computer science at university.
In spite of the fact that he was a late developer physically, Goodman broke into Windgate's first team at 17 as a midfielder converted to striker and balanced his football commitments with studies.
When the manager joined South London outfit Bromley Town, he and many of the players followed suit, but the stint there would be short-lived. After impressing in a pre-season friendly against Millwall, he got a call the following day to say they were interested in signing the raw teenager.
"Bob Pearson was the chief scout at Millwall and he sat me down and discussed a contract," Goodman says. "I was desperate to be a footballer so it wasn't a complicated contract to negotiate.
"He was very insightful and said he thought I would be in the Millwall team by Christmas. I was full of self-doubt coming from non-league and with Millwall just relegated from the First Division or the Premier League, as it is now.
"I was just keen to sign and as luck would have it they didn't have many strikers."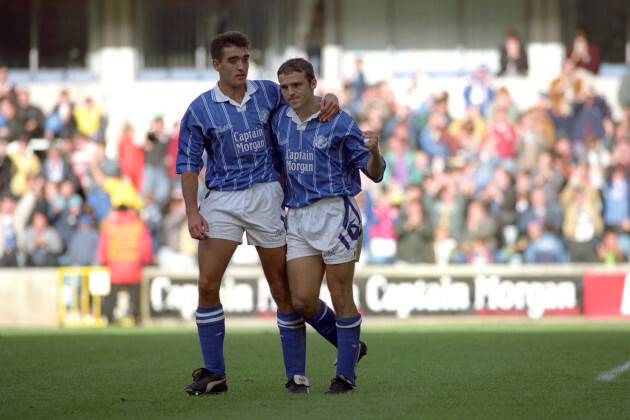 PA Archive / PA Images Jon with team-mate Alex Rae during his Millwall days. PA Archive / PA Images / PA Images
The college course was put on hold and Goodman made his Lions debut on St Stephen's Day of 1990. He enjoyed a bright first season under manager Bruce Rioch, playing up front with a young Teddy Sheringham at times, and Millwall got to the play-offs but missed out on promotion.
Sheringham was sold to Nottingham Forest, but Goodman found himself further down the pecking order as Chris Armstong, Mark Falco and John Calqhoun all came in. It was a step backwards but he learned a lot from them and developed himself as a player during that period.
Mick McCarthy succeeded Rioch in March 1992 as he was handed the role of player/manager and the young forward was re-installed to the starting line-up.
"Mick put me back in the team and probably gave me my confidence back. He was a good man-manager straight away. He understood players and was brutally honest but fair as well. He created a good, young side.
"It was a pleasure to play in (that team). Mick had us playing a good style of football and we got close. We reached the play-offs a few times but just didn't quite get over the line into the Premier League."
Goodman enjoyed his time at Millwall but it was a club of limited financial resources and interest from Wimbledon signalled another move — although he wasn't sold on the idea initially.
"I had scored a few goals and there was an agent that looked after most of the players who met me for a coffee and said Wimbledon are going to make a bid so would I be interested in going?
"I thought 'well of course I would, it's a Premier League club'. I didn't really give it too much more thought and he said there might be a double deal with another player coming as well. Millwall needed as much money as possible.
"I got a phone call after training on the Monday from Mick who said they'd agreed a fee with Wimbledon so myself and Kenny (Cunningham) went to (owner) Sam Hammam's house in St John's Wood.
"We were sitting in his loft and they were having discussions about the terms of the contract and whatever else. To be honest with you, neither myself nor Kenny were mad on the move. We didn't really want to go.
"We didn't agree anything that evening and went back into training the next day, where Mick was a bit surprised to see us.
"Funnily enough, I went out and trained but then twisted my ankle. So I come in mid-training and I'm sitting on the treatment bed when Mick arrives in and says 'what are you doing? Are you trying to pull a fast one?'. 'No Mick, seriously I've just wobbled my ankle,' I told him.
So he took me into the office and said 'listen Jon, the club is skint and you and Kenny have got to go'.
"Sure, it was a step up to a Premier League club. It was a different style of football and the money wasn't a significant change to what we were earning at Millwall so there wasn't a financial motivation to move and from a football perspective there wasn't one either because I was really enjoying my time there.
"But I probably did need to make the step to test myself. In the end, me and Kenny duly went and signed for Wimbledon before making our debuts together against Newcastle two weeks later."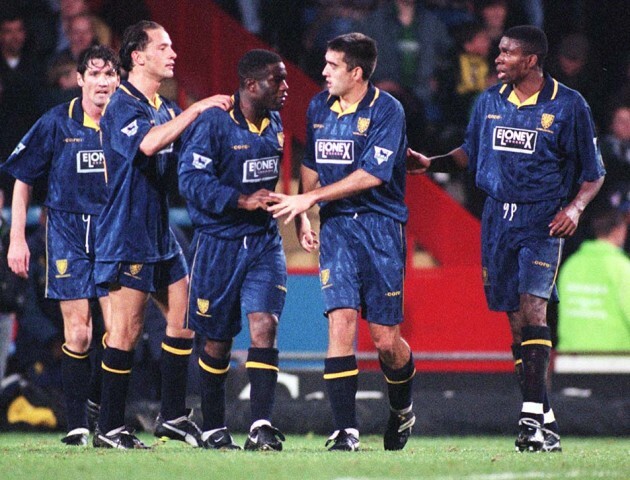 PA Archive / PA Images Celebrating a Wimbledon goal with Robbie Earle, Mick Harford, Dean Holdsworth and Efan Ekoku. PA Archive / PA Images / PA Images
Goodman remembers Lebanese businessman Hammam taking him to Selhurst Park, a stadium he describes as "bare" and "disjointed" for the first time to meet manager Joe Kinnear and his new team-mates ahead of an evening kick-off against Aston Villa.
The Dons still had the 'Crazy Gang' image at that time, and the result epitomised what they were all about.
"They went 3-1 down to Aston Villa but somehow turned it around to win 4-3," he says. "Ron Atkinson (the Villa boss) gets sacked the following day and it was just a typical Wimbledon performance on a horrible night. They were amazingly difficult to play against and very resilient.
"In the first few days training there I felt the players weren't as good as we had at Millwall in terms of the style of play, the build-up and the quality of the movement. But as time went on, you realise that everyone knew their job really well.
"Robbie Earle knows he's got to make runs into the box and get on the end of crosses. The wide players know they've got to cross it for Robbie to head in. Dean Holdsworth knows he's got to get onto the flicks. Throughout the team, everyone knew their job.
"Set pieces were really well-drilled. It improved me and I became a better finisher. I was told to forget all the pretty stuff and that when that ball lands in the box I've got to be there sticking it in the net. That was my job. Forget linking up play and nice touches on the ball. The brutal reality is we create, we score and we stop goals.
"It was pretty harsh off the field. The lads were tough-talking but great fun as well. They had a great spirit and there was a tremendous togetherness from Sam Hammam down to Joe, (assistant manager) Terry Burton, Ernie the youth team coach and everybody there."
Goodman made 59 Premier League appearances in his first three seasons with the Dons — scoring ten goals — before sustaining the injury that would ultimately call a halt to his playing days.
There were a couple of attempted comebacks, but they all ended in vain.
"I made it onto the bench a couple of times but my knee was killing me and I was thinking 'why am I doing this? This is ridiculous. I'm trying to play football at a high level, but I don't want the ball, I can't run and I don't feel confident'. It was horrendous.
I had to keep going back for surgery and the more operations I had the more distant the chance of coming back was getting as it was creating further complications. I was 28, I had a two-year crack at trying to get back to full fitness, but it wasn't right.
"It wasn't a hasty decision and it was a relief really that I could start the next stage of my life."
Rather than dwell on the uncertainty that retirement might bring, Jon took motivation and a sense of optimism from a number of opportunities that had arisen.
During his rehab, he began an accountancy course with the idea of helping footballers manage their finances, but switched to a sports science degree being run by the PFA after he was informed of it by the Wimbledon physio.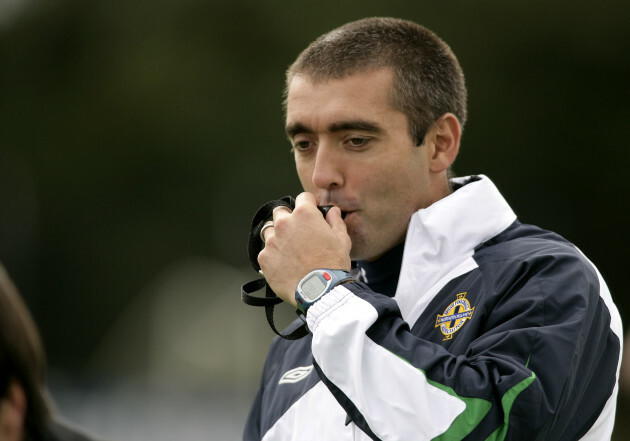 DARREN KIDD Jon spent some time on the backroom staff at Northern Ireland. DARREN KIDD
That whole area captured his imagination and he attended classes two days-a-week with Terry Burton, who then became the Dons manager and offered him a role once it was completed.
He enjoyed three years back there as a sports scientist but it was a difficult period as a result of administration, the move to Milton Keynes and fans boycotting the club.
Thanks to his decent networks in the game, similar positions at Crystal Palace, Watford, Reading, Leeds and Northern Ireland would follow.
I worked at Reading with Shane Long, Kevin Doyle and Stephen Hunt. I loved those three lads," he says of his time under Steve Coppell with the Royals.
At one stage, Goodman also "got a little bit restless and bored" and spent a couple of years developing a business and doing some consultancy work.
And it was through a friend that he first heard about the Nike Academy. One of the world's biggest sports brands was looking to set up a football training camp on a part-time basis for youngsters who had been released from Premier League clubs, and asked him to help get it off the ground.
Current Brentford manager Dean Smith was brought in as a coach and the course quickly evolved from part-time to full-time due to the success.
"We trained them well and in that first year a lad signed professionally for Stockport County and we thought 'wow, we can get players into the professional game'.
"I was only a consultant at that time but I was a reflection of the type of football they were looking for — a lad that has been missed by the system like myself, possibly coming from non-league, who is willing to work and learn."
Goodman came on board as head coach with former Wolves goalkeeper Matt Murray his assistant, and it has grown from strength-to-strength. There's also a performance analyst, physio, strength and conditioning coach and sports scientist currently working full-time.
The programme is now based out of the home of English football — St George's Park — and caters for a squad of 24 boys between the ages of 16-20 from an array of different countries who eat, sleep, live, train and play together.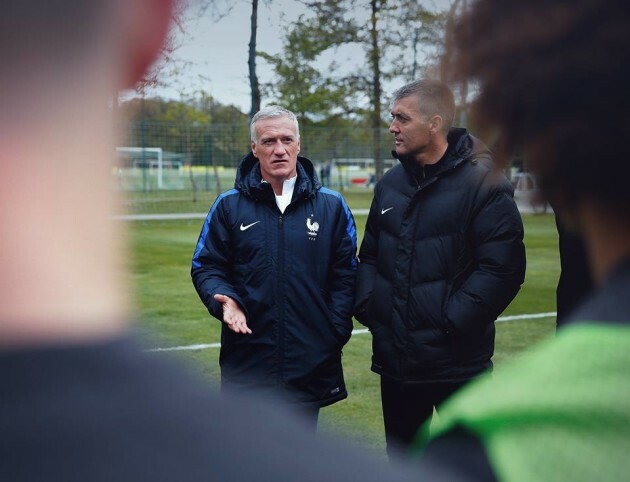 Facebook / NikeAcademy Jon with France boss Didier Deschamps. Facebook / NikeAcademy / NikeAcademy
The hopefuls are picked from an international competition called Most Wanted, which is held by Nike every six months in several cities around the world. Ireland does not host the trials, however.
"We've got a lovely programme that is really well-run, well-supported and funded by Nike," says Goodman. "There have been some amazing experiences as well and it's very pure football coaching. It suits my needs to develop as a coach.
"The challenge is that we lose our best players along the way but it gives us an opportunity for the next ones to come in. You develop them up and hopefully they move onto clubs."
Last season, 12 of their players went on to sign for professional clubs and this year the number is already up to six. The academy's most famous graduate to-date is current Celtic and Australia attacking midfielder Tom Rogic.
https://www.facebook.com/NikeAcademy/videos/1584328878261135/
While there's a weekly commute from London to Burton-upon-Trent involved for Jon and it means he often has to be away from his wife and 17-year-old twins from Monday to Friday, he is thriving in the role and hopes to stick with it for the foreseeable future.
"This is probably the longest I've worked in a football environment since Wimbledon," he adds. "I feel very comfortable within the set-up. Nike is a great organisation to work for and we've got a lot of stability. They are forever pushing us to improve the programme and achieve greater things.
"While that is going on, I would like to spend more time doing it and it has enabled me to develop as a coach and a manager.
I've seen so many friends in and out of work. I'm not saying I wouldn't want to experience that again but it's an emotional rollercoaster working in football.
"The manager is different because they are paid relatively well and get compensation when they move on but say if I'm support staff like an assistant coach, you put your family through a lot chasing the job you enjoy doing.
"This one is great and I do enjoy it. I'd like to continue for a long time but as much as it's my decision it's Nike's as well."
The42 is on Instagram! Tap the button below on your phone to follow us!