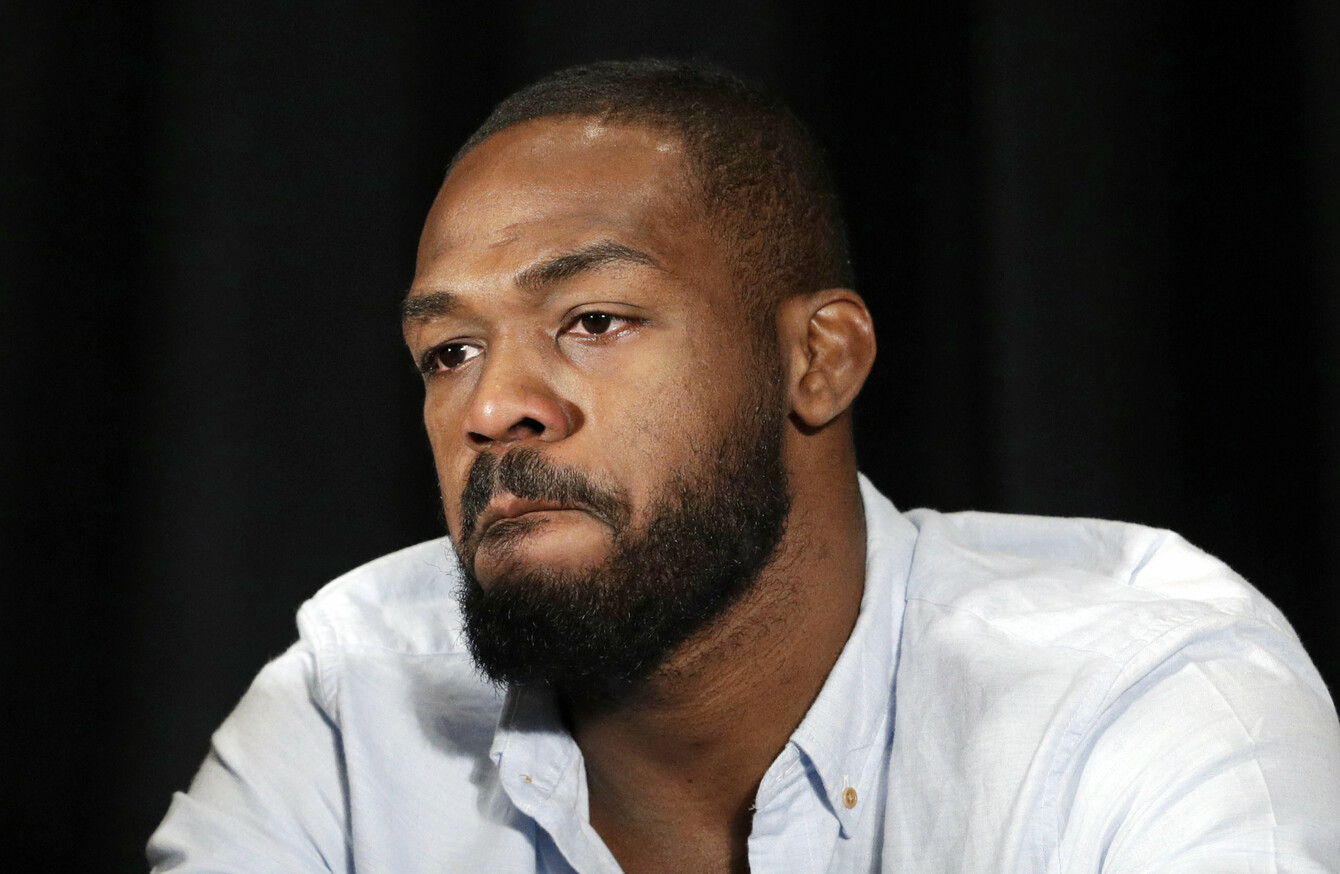 Jones: eligible to return at the end of October.
Image: John Locher
Jones: eligible to return at the end of October.
Image: John Locher
FORMER UFC LIGHT-HEAVYWEIGHT champion Jon Jones is eligible to return next month after being handed a 15-month backdated ban for his doping violation.
Jones, 31, tested positive for a prohibited substance before his bout at UFC 214, where he originally beat Daniel Cormier for the title in July last year.
However, the American was later stripped of the title when the California State Athletic Commission announced that he had tested positive for turinabol.
Following a hearing on Saturday, the United States Anti-Doping Agency (Usada) said an independent arbitrator had handed Jones a 15-month sanction for this, his second violation of the UFC Anti-Doping Policy.
CSAC previously fined Jones $205,000 and revoked his licence until the conclusion of the USADA process. 
"The independent arbitrator found that Jon Jones was not intentionally cheating in this case, and while we thought 18 months was the appropriate sanction given the other circumstances of the case, we respect the arbitrator's decision and believe that justice was served," Usada CEO Travis Tygart said.
"This case is another strong reminder that athletes need to be extremely cautious about the products and supplements they use to ensure they are free of prohibited substances."
Jones's ban began on 28 July 2017 – the day before UFC 214 – making him eligible for a return on 28 October this year.
The timing opens the possibility for Jones to return as soon as 3 November when the UFC hosts one of its biggest shows of the year at Madison Square Garden in New York.
UFC 230 does not currently have a main event but Dana White said last night that it was "not true" that Jones will make his return on the card.
"The arbitrator found that Jones never intentionally or knowingly took steroids and the result of the positive test was the result of a contaminated substance," White told ESPN's Brett Okamoto.
"The science completely supports that finding. The science doesn't lie so I look forward to getting him back early next year."
Jones himself tweeted that "comeback season begins now".
"It's difficult to express myself at this moment but I can definitely say my heart is filled with gratitude and appreciation. I want to thank all of you who have stood by me during the toughest stretch of my life.
"It has meant the world to me and always will. But now is the time to shift the focus front and center to the road ahead. Greatness is what I'm chasing and the path to reclaiming my throne is now officially open. Comeback Season begins now."
The42 is on Instagram! Tap the button below on your phone to follow us!