JONATHAN SEXTON UNDERLINED some of the personal decisions that brought him to re-sign with the IRFU and leave France at the end of this season.
The Ireland number 10 made it clear that his young family were a major factor when the contract was officially announced yesterday.
And, after Racing Metro owner Jackie Lorenzetti said farewell to Sexton by saying 'Laura and Luca were a stronger force than Racing', Sexton added weight to that sentiment in an interview with Off The Ball this evening.
"I could have stayed in France for family reasons as well," the 29-year-old says, running over an old argument in his head.
"I could have taken another four-year contract here and financially it would have been better to stay here, that would have been a family reason to stay.
"But there's family reasons to go back: I'd like my son to see me play for Leinster, I'd like him to come to the RDS every week. They're small things that came into my mind and I suppose there was a couple of moments last year watching the lads play for Leinster where I missed it.
"I remember Richardt Strauss coming back after his  heart operation and the reception he got in the RDS, and I thought it would be pretty cool to experience something like that. The prospect of that makes me excited."
Sexton noted that it was 'difficult to speak very honestly' about his reasons for committing to a move back to Ireland as he still has a full season to play in the Top14. However, the prospect of giving himself the best chance of being fresh  for the international window also played a big part,
"It can suit guys down to the ground, but for me I didn't feel in the best shape possible, especially playing in the November tests last year.
"I had a decent Six Nations, but I wasn't firing on all cylinders. I just feel for my international career especially, and there's reasons I want to come back to Leinster as well."
He added: "I'm very conscious of speaking like this because things can be twisted. Racing are obviously a fantastic club on the rise as well, but it's just this is a decision that suits me at this moment of my career."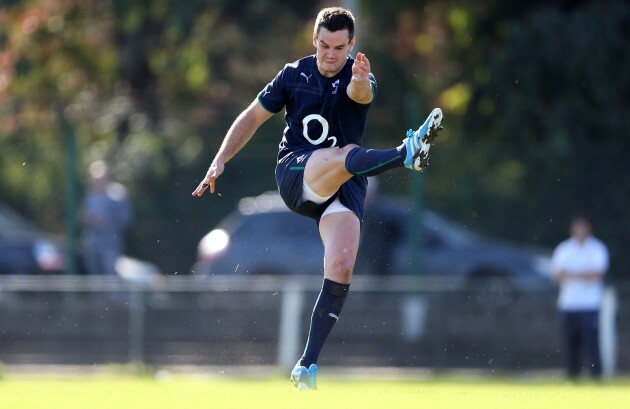 Dan Sheridan / INPHO Dan Sheridan / INPHO / INPHO
Ironically enough, Sexton probably will come into the November Tests in fresh condition, but only because a broken jaw will keep him out of the firing line in the Top14 for over a month. That's a rare positive to come from a broken bone, but Sexton is most grateful that the injury does not require surgery.
"It's not too bad. There's different degrees of breaking your jaw: I've got a fracture in the lower part of my jaw.
"It's not displaced and I haven't had to have it wired up like it was last time. It's obviously sore, but it's a hell of a lot sorer when you come out of the operation for a few days after. It's not too comfortable with wires in it, so I'm delighted I didn't have to have the operation and I'm looking at four-six weeks rest period. No eating for three [weeks] I think will be the toughest part.
"Look, it's not the worst injury and I'll be fresher for it - I'm not allowed do anything for a week just to let it settle down, then as I don't need the operation it's just a case of waiting it to heal. So after a week's rest and two more weeks of no chewing we'll see how we go from there."
The road home.