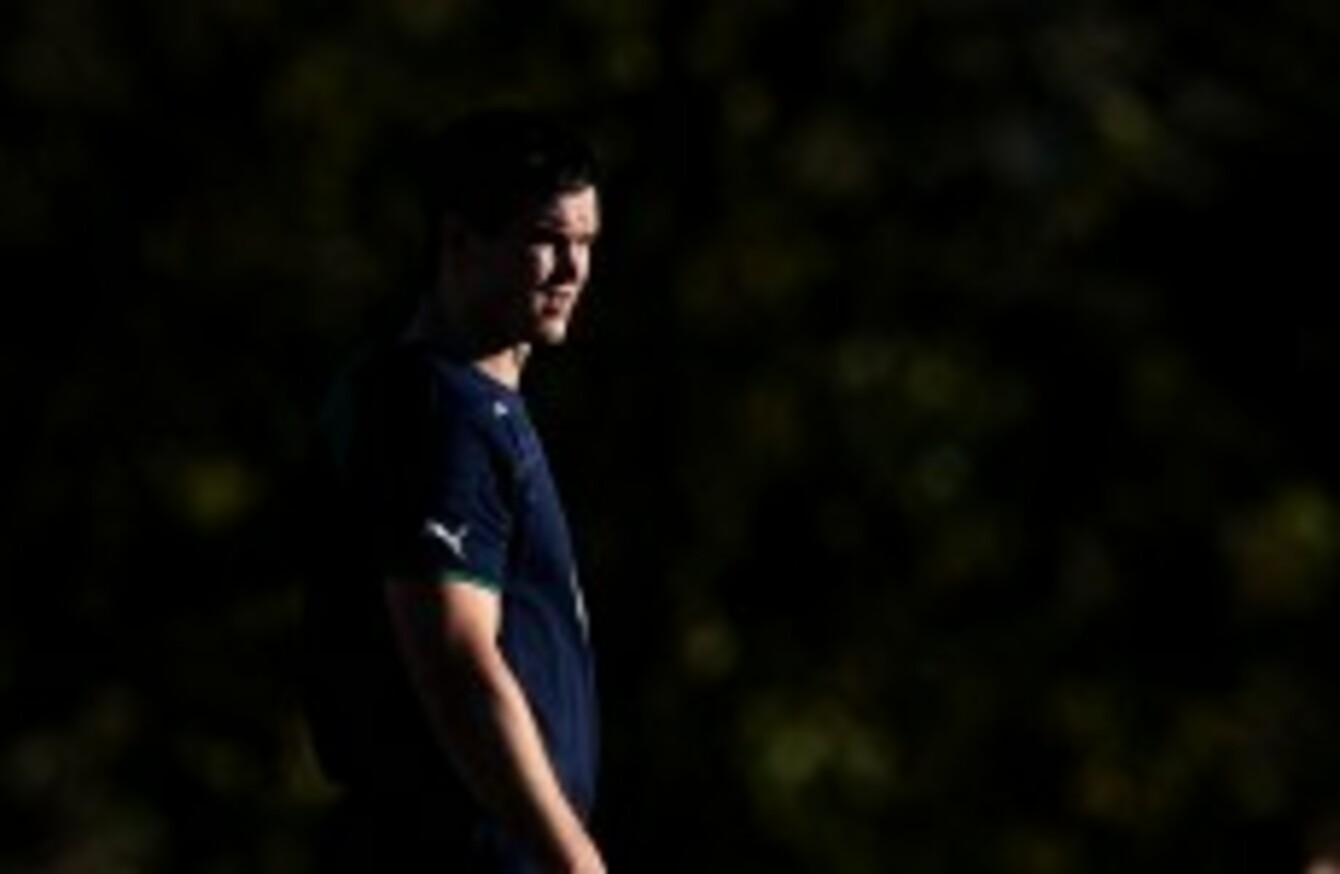 Image: Dan Sheridan/INPHO
Image: Dan Sheridan/INPHO
JONNY SEXTON HOPES to have his contract situation sorted out in the next few weeks amid growing speculation that he may remain with Racing Metro 92 in France for at least a third season.
The 29-year old began his second campaign with the big-spending Paris club in splendid fashion last weekend, landing a late match-winning penalty away to Montpellier minutes after tying up the match in another flawless four from four kicking display to win 19-16.
The out half confirmed during Ireland's two-match tour to Argentina in June that he had the option of a third season with Racing Metro.
He and his wife Laura remained in Paris during the summer where their first child, Luca, was born.
Irish coach Joe Schmidt, who has made no secret of his desire to get Sexton back to Ireland, met him at the recent Women's World Cup in France. Sexton said he hopes to have his future wrapped up in the next few weeks, without indicating whether he will remain in Paris or return to Dublin.
"I'm just sort of taking my time. Obviously I just have a baby boy that's taking up a lot of time, that's taking up all of my time to be honest, I can barely fit in training at the moment. That brings challenges with living abroad, you do what Laura and I are doing living by ourselves.
"We'll see what happens in the next couple of weeks. I think it will obviously be sorted out sooner rather later.
"I think everyone knows where I stood after, with the interviews that I gave when I left so I will see what happens," he said.
Racing Metro will be extremely anxious to hold on to the Lion not least as most games in the Top 14 are now decided by the quality of the kickers. At the weekend Francois Trinh Duc missed three from five and Benoit Paillaugue also fluffed one as Montpellier landed just four from eight in contrast to Sexton's 100% return.
Racing Metro president Jacky Lorenzetti greeted all his players personally in the tunnel after the game as they returned to the changing room and the affection he clearly had for his match-winner was plain for all to see.
Sexton himself is more relaxed going into this season having enjoyed a good close season —  as much as a new father can — and he is fired up for the new season.
"I wouldn't say fresh, I wouldn't say I will ever get used to these mid-August games. Normally I would be halfway through my pre-season at home so, look I had a small break. Obviously my wife gave birth during that break, I stayed in Paris for those four weeks and ended up doing a little bit of training to keep sane.
"So it wasn't a holiday as such but it was a good break, better than last year. I had four weeks' physical preparation and probably could have done with a couple more considering the season I had last year, but you take what you get. Johan Goosen has come in this year, so I'm sure I won't be playing as much," he added.
It is only now that he realises how manic things were a year ago when a busy season with Leinster and Ireland was followed by the Lions tour, getting married, moving to Paris and straight into a hectic season after a two-week break when injuries forced him to play 14 matches in a row.
"Last year was always going to be difficult in hindsight. Obviously we didn't say that at the time but we had 14 new players, all staff was new, half those new players didn't speak any French so it was always going to take time.
"You're walking on egg shells with guys you don't know, guys you're trying to build a relationship with. It was a bit of a disaster to be honest, the start of last season I played 14 games in a row straight after a Lions tour so it wasn't ideal for me either. Look, it's obviously started a little bit better now but we'll see. We've got to go forward, we got some big wins away from home and we haven't backed them up so that's obviously the next step for this team," added Sexton.