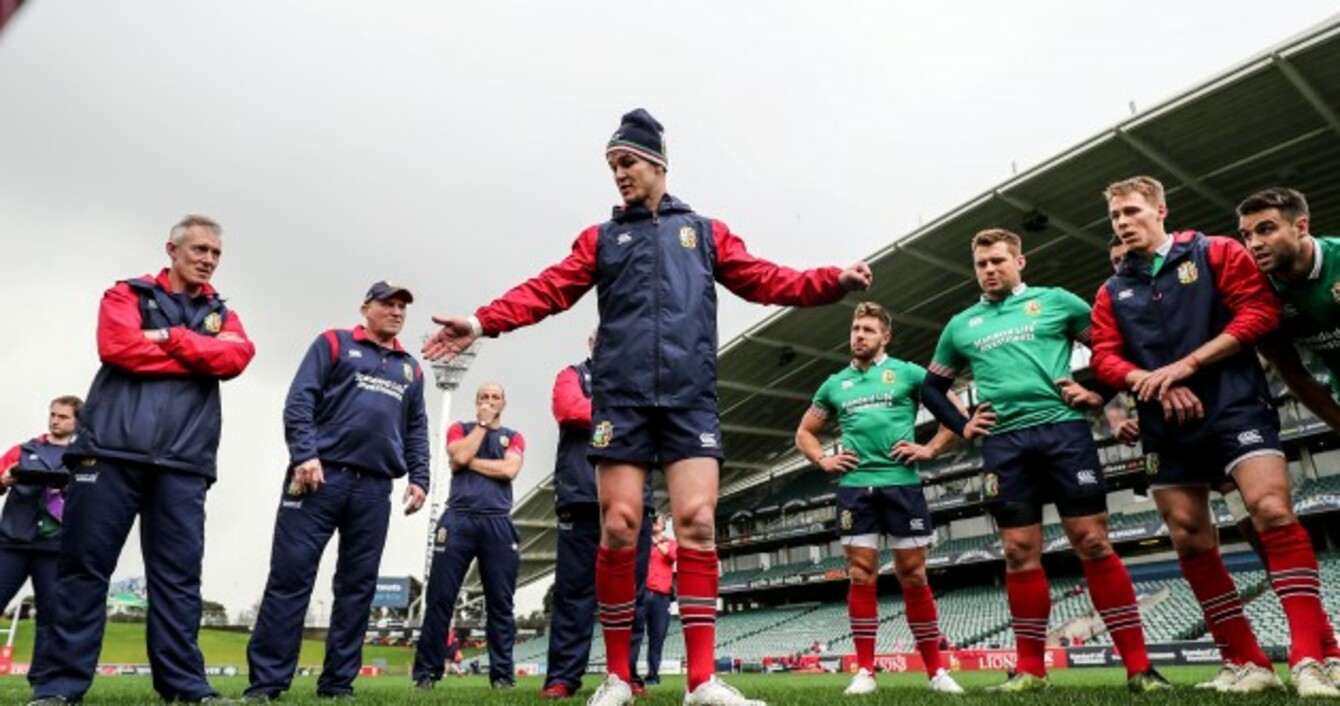 Jonathan Sexton talks to the squad at the QBE Stadium, Auckland.
Image: Dan Sheridan/INPHO
Jonathan Sexton talks to the squad at the QBE Stadium, Auckland.
Image: Dan Sheridan/INPHO
AFTER FOUR YEARS of build up and an epic tour over the past month and a half, the Lions' adventure comes down to one game this Saturday.
"It is great that we have come here with something to play for," admitted Jonny Sexton this morning. "To get picked for another Test is great and now it is all about gearing up in order to bring our best performance of the tour so far – we feel that's what we will need to get the win.
"There was an improvement in some areas from Test one to Test two. We need the same again for this one, we know they are going to be better, we played against 14 men for the majority of the last game but now we need to focus on our own performance. We know if we are sitting here on Monday having won it we won't have played badly. We need to go in with the mindset of producing our best performance and see where that gets us."
Sexton, of course, was part of an Irish squad that recorded a famous win over the All Blacks in Chicago last November. Does that play into the psychology of the week?
"Maybe yeah, I haven't spoken to the guys," he says. "There are a lot of English guys who beat them a few years ago, and now everyone has. It's the exact same 23. It'll give us a bit of confidence but you take confidence out of your preparation and we've prepared pretty well yesterday and today. We had some down days at the start of the week. It's not normally ideal preparation but it works on a Lions tour. Hopefully the preparation can stand us in good stead on Saturday."
The pressure seems to have been lifted on the touring camp with that unlikely victory last weekend. But Warren Gatland's side aren't getting carried away, despite being within reach of a famous series triumph.
"Both Tests were won on very small margins," insists the Leinster out half. "We aren't getting ahead of ourselves, we know we won against 14 men, we made things tough for ourselves at the start of the second half so we need to look at that period and why we made it tough for ourselves.
"The best teams learn their lessons in victory as well as defeat so we need to take lessons from that second Test as well as the first and put it all together on Saturday."
As well as this tie bringing the curtain down on a long season for the players, it will mark the end of the road for thousands of travelling supporters too, of course. And Sexton says the impressive travelling fans will be crucial in one of rugby's most intimidating fortresses.
"The support we have had out here has been incredible. It shows how good Lions tours are and how much it means to people in the professional game," he says.
"The good thing about Eden Park is that we have played there twice already. We have to won in those two games but we are used to those surroundings. We are used to the ground. They have a great record there but there are guys playing on the weekend who played in an Ireland team that had never beaten the All Blacks and we turned them over.
"We know how much pressure is on them. We have to cherish the atmosphere, it does not come around too often. You have got to try to enjoy it. I struggle sometimes with the nerves but it is once in a lifetime stuff so you have to treasure it."
Source: The42.ie/YouTube
Originally published: 10.30