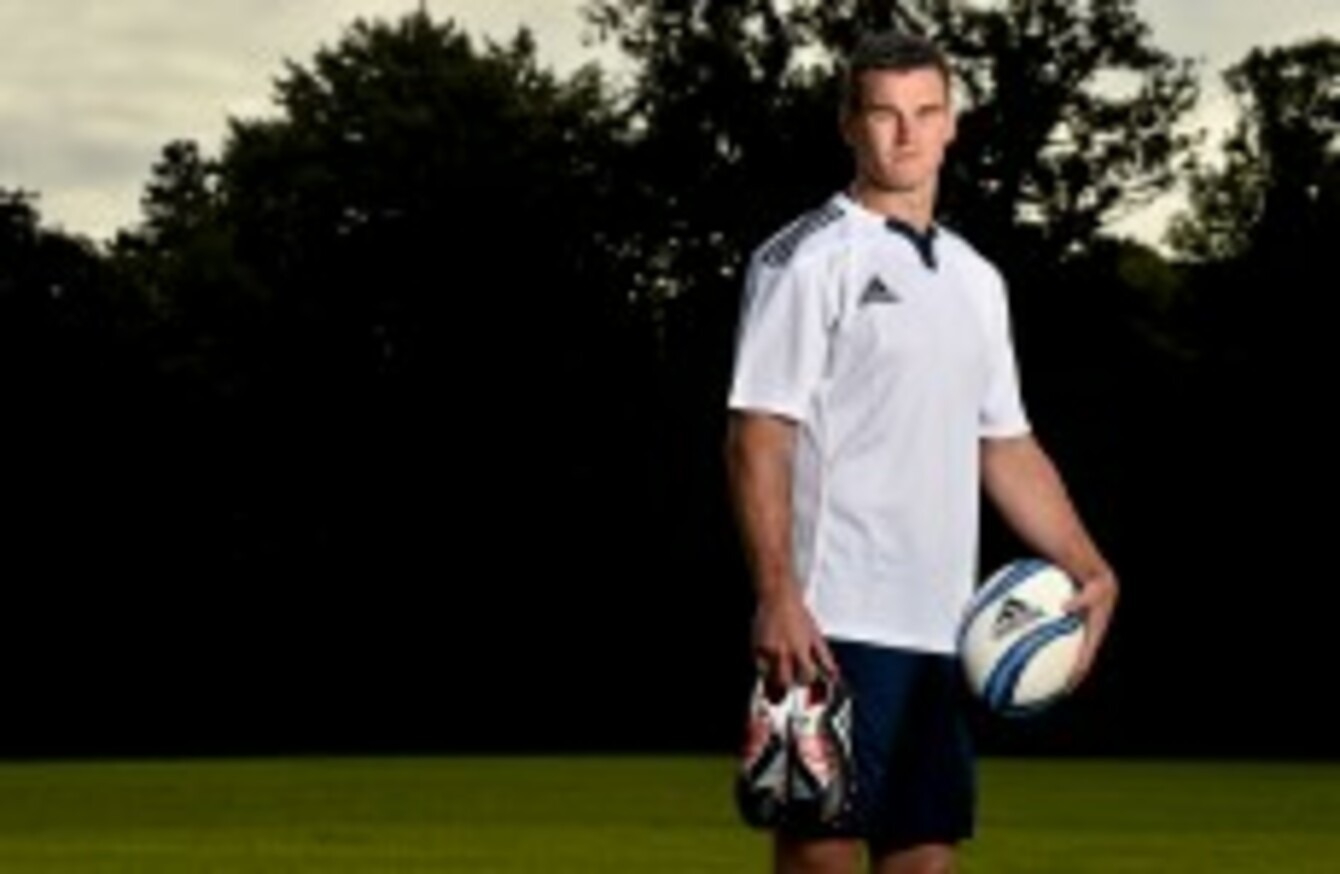 Sexton: Leinster coach Matt O'Connor hopes to coax the out-half back to his home province next year.
Image: Pat Murphy/Sportsfile
Sexton: Leinster coach Matt O'Connor hopes to coax the out-half back to his home province next year.
Image: Pat Murphy/Sportsfile
JONNY SEXTON REMAINED tight-lipped on his French future yesterday as Leinster again tried to tempt him into a return to Ireland.
Sexton's two-year deal at Racing Métro is up at the end of this season but the out-half is weighing up an option to extend his contract with the Top 14 giants into a third year.
Speaking at an adidas Predator event in Dublin, he was reluctant to discuss the negotiations but admitted that he has "pretty much" decided where he will play next year.
"Hopefully in the next few weeks it will be all wrapped up," he said.
Meanwhile Leinster head coach Matt O'Connor fuelled speculation about a return and said: "It's common knowledge that we would be interested in having that conversation with Jonny in the next few weeks."
Speaking about life in Paris where he lives with wife Laura and their seven-week old son Luca, Sexton admitted that there have been plenty of highs and lows but that after a year, he is a lot more comfortable.
"I've said it quite a lot — there's your life and there's the rugby side of things. At different stages one has been brilliant and the other has been tough and then vice versa.
There are lots of challenges that go with living abroad especially for a homebird like myself and Laura as well.
"There are two sides of it and there are ups and downs along the way but I suppose I'll appreciate it in years to come. I'll have another language and I've done it.
"I think I will appreciate it more down the line. When everything is about rugby, it can be tougher to enjoy the life side of things and the lifestyle. It's hard to know."
While many of his international team-mates are still working their way through pre-season Sexton kicked off the new Top 14 campaign on Saturday with 11 points, including a last-minute penalty, as Racing beat Montpellier 19-16.
It launched what is bound to be a hectic year — one which he hopes will culminate with a successful Rugby World Cup next summer.
Away from the management of the IRFU and central contracts, there are fears about the heavy workload which Sexton might face in France.
Ireland coach Joe Schmidt met with Racing Metro's coaches earlier this month to discuss the best way to manage that pressure to the benefit of both parties.
Racing's signing of talented Springbok out-half Johann Goosen could help shift some of the burden off Sexton's shoulders.
After finding himself thrown in at the deep end last season, and then breaking down with an injury ahead of the November internationals, he knows that he has a part to play himself.
Flash Sale
50% OFF
Use promo code: FLASH50 at checkout to access exclusive analysis, insight and debate for only €21.
Become a Member
"You have to look after yourself a bit better over there. You have to do everything you can recovery-wise to make sure you are fit.
"I played so many games week-in, week-out at the start of last season, which I hadn't done before, that you need to develop ways to look after your body and stay fit.
I probably picked up things along the way, like I did from Brad Thorn during his time at Leinster and Brian towards the end of his career. You have to do all those things to manage yourself.
On the pitch, he feels that Racing are primed to hit the ground running after a difficult start last season.
"We thought at the time that it was going to be easy enough because of the players that we had signed, all really top-quality players.
"We had the language barrier, new coaches and new staff. Everyone was kind of working around each other and it was a bit of a recipe for disaster.
"They even say it themselves: that they did too much too soon. Hopefully we will see the benefits of it this year."
Despite those early struggles and teething problems, Sexton acknowledges that he's emotionally invested in the Racing project now as the team sets out on its second year together.
"You become friends with the guys you're playing with and you want to achieve something with them.
"Of course you feel like part of something going forward. 100%, we want to win something this year.
"We felt at one stage last year that finishing in the top six would be a good achievement for us and then we did that, but then we wanted more and picked up a good quarter-final result against Toulouse and fell a bit short against Toulon in the semi-final.
That highlighted the improvements we need to make and we've taken them on at the start of this season and now we want to achieve something together.
"There's a big emphasis on a project that started last year and this is the second year of it."
Jonny Sexton was at the adidas Predator® Incurza Kicking Masterclass in Dublin yesterday. The boot is designed with two precision kicking zones giving rugby players greater control and accuracy.