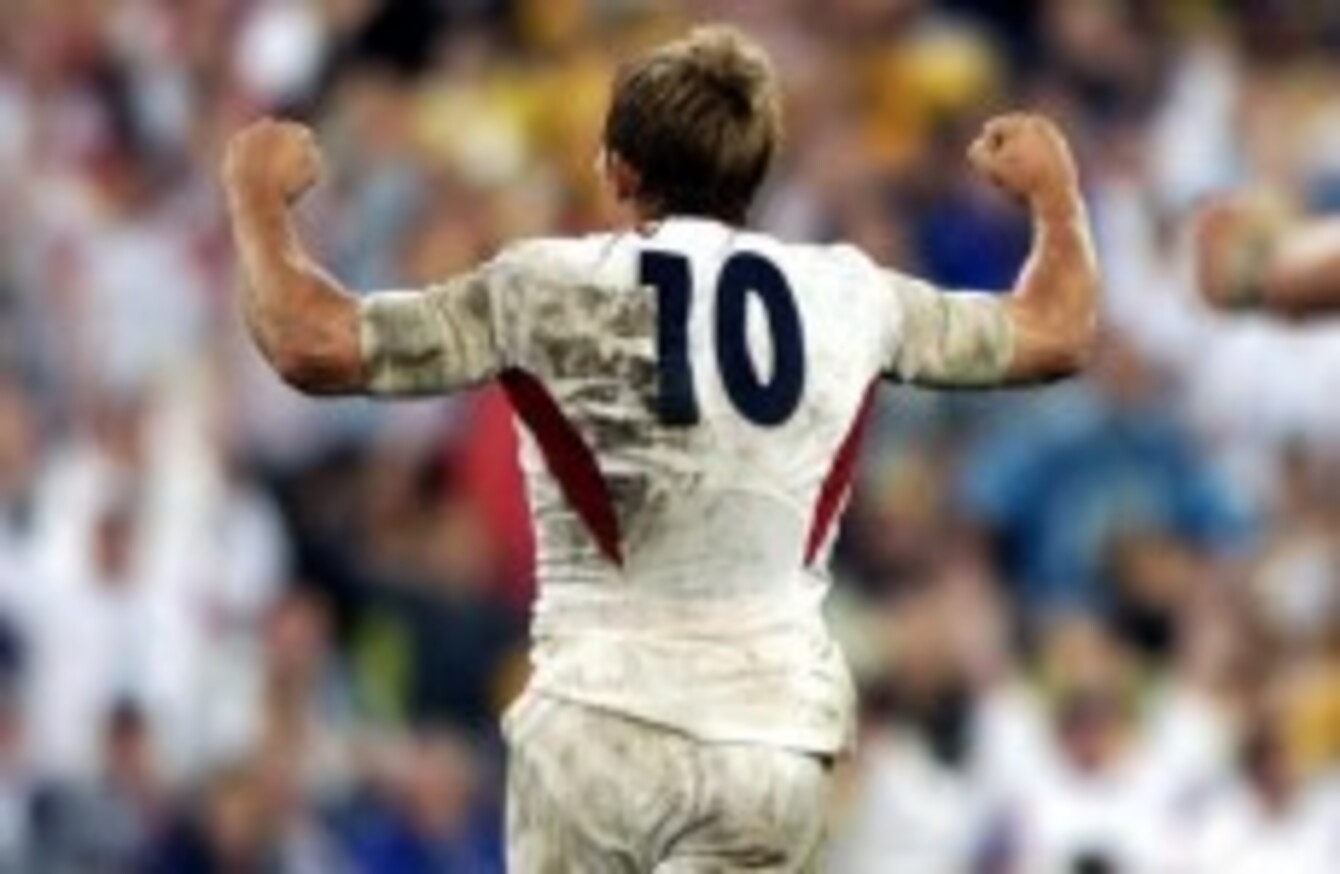 All the attention thrust on Wilkinson after that famous drop goal didn't sit well with him.
Image: EMPICS Sports Photo Agency
All the attention thrust on Wilkinson after that famous drop goal didn't sit well with him.
Image: EMPICS Sports Photo Agency
ASKING JONNY WILKINSON for an example to highlight how obsessive he was on the training pitch is like asking Roy Keane to remember a time when he got angry.
"There are so many," Wilkinson says with a laugh.
He settles on one, and it is like something out of a rugby version of A Beautiful Mind. After the 2003 World Cup Wilkinson had an operation on his neck. It was a very serious injury that would ultimately cost him the season.
After the procedure he was told by doctors to stay in bed for ten days straight. No training, no moving – just stay in your bed.
Jonny Wilkinson doesn't do staying in bed.
"I have an obsessive side that allows me to switch off any desires I might have and focus on training," Wilkinson told The42.
"After my neck operation I was told to stay in bed for ten days and not to move. The day after the operation I was on an exercise bike in a neck brace working out. Over the next 7-8 months I was working on my recovery 9-5 every day and that's probably why I broke down."
The reason Wilkinson was so determined at regaining fitness is because he felt burdened by the adulation that was heaped on him from every English citizen in the aftermath of winning the World Cup.
Source: EllliotJack1/YouTube
Clive Woodward's England were an unstoppable freight train in 2003 but there is no question Wilkinson was the conductor who kept it hurtling forward at an overwhelming pace.
The then 24-year-old was the man who placed the finishing touch on his country's second greatest sporting achievement and unlike someone saying 'good game' after a strong performance, the prospect of becoming a rugby deity for life was something that didn't sit well with Wilkinson.
The fact that he was in a neck brace on a treadmill while it was happening only made him despair even more.
"I'm probably the archetypal example of somebody who struggles with compliments," Wilkinson said.
"I don't mind it after a game because it is short and you can move on and focus on the next challenge. But it was tough to take right after winning the World Cup because there was so much praise and I was out injured. I felt like a complete fraud. I couldn't train and I felt like I was being left behind. I struggled with it at the time."
Since most young rugby players go to bed dreaming of winning the World Cup for their country, Wilkinson's reaction seems a strange one. But to advocate for the devil for a moment – no band wants to be remembered for JUST their greatest hit.
Wilkinson still had another ten years of his career to go but was wary of people just fixating on one moment, albeit a sensational one.
He briefly wished that the winning of the World Cup had come from a pushover try by the forwards instead but now that he's retired he looks back on the achievement more fondly.
"In the odd millisecond of my darkest moment I might have considered it [wanting someone else to have gotten the winning score]," Wilkinson said.
"But now that I'm finished playing I can look back on it – at the time you are still competing and you don't want to rest on your laurels. I've taken over 1,000,000 kicks with my right and left foot so it is nice to know that one could be remembered."
Wilkinson needn't have worried about people defining him by just that one drop goal because the way he ended his career ensured that his cabinet has plenty more trophies to use as conversation starters.
Many thought he would never recapture the majesty of his youth but his final two seasons at Toulon saw him steer one of the most dominant ever club sides to two European Cups and a French title.
Source: La TeamRCT/YouTube
But his late career renaissance in the south of France begged the question – why did he spend some of the best years of his career toiling in mid-table with the Newcastle Falcons?
Wilkinson doesn't see it that way – rather, he thinks the intensive preparation he did at Newcastle made him the player he was at England. In a way, he sacrificed club glory for international success.
"It's an interesting question because I had options to leave before I eventually did when contracts would come up," Wilkinson said.
"But I didn't look at it like, 'Who can do what for me?'. I looked at it like, 'what can I do for Newcastle?'. We weren't winning as much as we would like but Steve Black [Wilkinson's personal fitness guru] was there and I felt the training I was doing was developing me as a player. It really helped me do well with England."
At one stage in his career it looked like Wilkinson had done a deal with the devil in order to kick that winning drop goal because every time he would begin to resemble the man that helped capture the ultimate prize, his body would break down again in a spectacularly painful way.
Neck, knee and shoulder injuries meant he waited 1,169 days to represent England after winning the World Cup.
But surprisingly he says that it was during the deluge of silverware at Toulon when the injuries impacted him the most.
"People always ask me how I turned things around in Toulon, if there was something in the water," Wilkinson said.
"It was a daily struggle to push things along and sometimes I would sit down on the couch and wouldn't want to get up. There was a build-up of injuries that weren't serious enough to be operated on but I couldn't take the time off to let them fully heal."
Now he has all the time off he desires as he enjoys his first year outside of rugby. One sign that the days of neckbraces on bikes are truly gone is that he did this interview from a beach in Thailand.
He probably doesn't spend 2-3 hours a day on his kicking anymore but when he sees his old club side swashbuckling around the pitch, his sleeping obsessiveness begins to wake.
"There are certain parts that I miss but I don't miss the stuff that goes on around the game," Wilkinson said.
"Like all the travelling and thinking about rugby. I think my heart detached from it over the last year or two but when I'm watching Toulon now part of me would still like to be out there."
Wilkinson features in the Guinness 'Made of More' campaign as an icon of rugby whose humility, dedication on the training field, and determination to bounce back from injuries led him to be widely respected throughout the world. To view Guinness' 'Made of More' rugby campaign, celebrating the integrity and character of heroes from the game, visit www.youtube.com/GUINNESSEurope.