JONO CARROLL JOKED that he'd beaten Conor McGregor in the race to fight at a football stadium last weekend, and he's now aiming to jump to world-title level as soon as possible.
Meath-based Finglas super-featherweight Carroll extended his undefeated record to 9-0 last Saturday, claiming a comfortable points win over Miguel Gonzalez of Honduras in a support bout to Tyson Fury's big win over Wladimir Klitschko at the 55,000-capacity Esprit Arena in Dusseldorf.
Carroll has picked up some great momentum since arriving back in Ireland from his travels in Australia, with the 23-year-old based out of Paschal Collins' Celtic Warrior Gym in Dublin's Corduff.
UFC star McGregor has previously trained at the gym and Carroll joked that he had won a race to fight at a football ground.
"It's crazy, 55,000 people, it's madness," said Carroll. "Who would have thought it was possible this early in my career? Even McGregor is calling out for a football stadium!"
Carroll won two pro bouts while based in Australia, but he has earned a reputation as a prospect to watch after a series of impressive wins since returning home.
He defeated fellow Dubliner Declan Geraghty via disqualification in a cracking four-round contest in November of last year before winning Sky Sports' Prizefighter competition a month later to earn a promotional deal with Eddie Hearn's Matchroom.
"I'm over the moon… It's been brilliant since I got home," said Carroll. "In Australia I had two fights in two years, I was training really hard but nothing was happening for me over there.
Since I came home, I've got the right team behind me, I've got the right help, I've got pushed in the right direction and I've got really good spars as well… I'm working my ass off and working as hard as I ever have in my life and it's going great.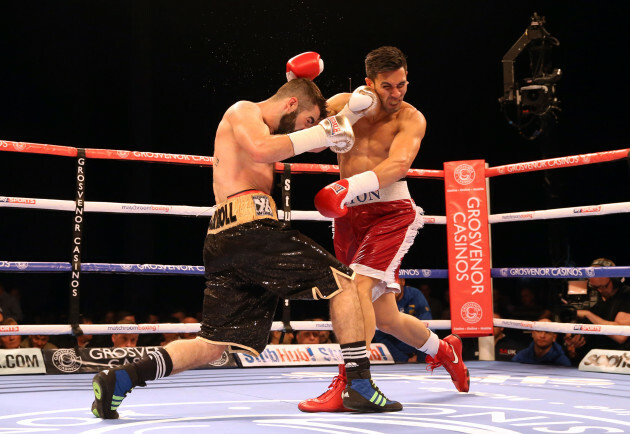 Simon Cooper Carroll (left, in action against Carlos Perez last April) is now 9-0 as a pro Simon Cooper
The 23-year-old looked comfortable throughout his victory last weekend. The soft ring canvas that caused so much fuss in the main-event fight build-up did cause Carroll some trouble as he picked up blisters on his feet, but he was in control as he went 10 rounds for the first time in his career.
Irish title fights are usually fought over the same distance, but Carroll claimed he wasn't using the bout as a primer for a domestic title shot as he has bigger plans in mind.
"If someone offers me an Irish title fight I'll take it, but I'm looking to the European and world titles," said Carroll. "I'm not just looking to be an Irish champion, I'm aiming for the sky.
Who would have thought I'd even make it as a professional? I remember my teacher pulling me out of class and saying 'you're not going to box all your life, you need to look around, bla, bla bla'.
"She didn't think I was going to be a professional and a lot of people didn't when I'd say it to them as a kid. I'm a professional now so I'm living my dream."