DAVID BECKHAM USED to hang a tyre from the crossbar to practice his free-kicks.
Sometimes, to go that extra inch, you just need to improvise.
A basketball-obsessed kid growing up on Cork's north-side, there was no state-of-the-art Spalding net and backboard for Jordan Blount. But he made it work regardless.
"Every single day we practiced out in the back garden," he says.
"A curtain pole and a hoop in the corner. It was just me and my Dad. He was my personal coach, basically. He taught me everything."
Gary Blount – a referee, a coach, just a genuine fanatic – passed his lifelong passion for the sport onto his son. It was just part of the family's DNA. Brothers, sisters, uncles and aunts. Everyone played. It was just what they did. Basketball was their thing.
"My Dad was reffing out in Midleton one day – some senior men's game, local Division 2 or something," Jordan recalls.
I couldn't reach the rim at the time but one of his mates came over, hands me a ball and pointed at the bin and told me to start throwing it in. And that's where it started. The next week I was playing club basketball. That's when I was six or seven."
Almost immediately, he was thrown into older age-groups. When he was eight, it wasn't unusual for him to tog out for Neptune's Under-12s. His ability was never in doubt. And facing bigger players quickly became the norm. It made him tougher and stronger. From an early age, he was a standout.
"I was always around people like Roy Downey and Ger Noonan, who'd help me and teach me so much," he says.
"Playing with older guys helped me so much. I was beyond my years from a young age."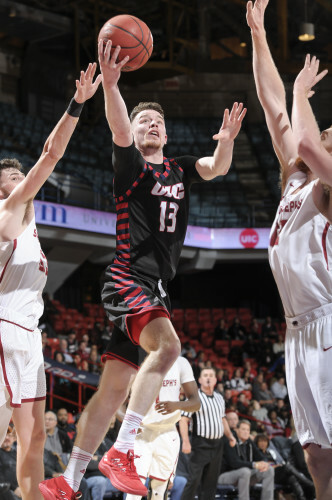 UIC Athletics UIC Athletics
Around the same time, there was another seismic moment in his basketball education. And Blount made his mind up soon after that there was no turning back.
"A family friend went to the States and brought me back a Boston Celtics uniform," he says.
"And that was the first NBA jersey I had and I wore it to every practice and my Mam would kill me because I'd never wash it.
Then, when I was 12 or 13, somebody – and I can't remember exactly who it was - left Cork to go and play in the US. I said to my Dad, 'That's something I want to do. I want to leave and go to the States, go somewhere.' He said, 'Right, but you have to mature. You have to grow up, both on the court and off it'. So even at that age I was set on leaving. I had an opportunity to move at 14 but I ended up staying for another year. Since I was very young it's been much more than a hobby."
The first move was to the UK and Plymouth. It was a test of sorts. If Blount excelled, handled the transition well and showed a tolerance, patience and understanding for the hard work involved, then maybe the possibility of a US switch wasn't so outlandish.
"I was with the Plymouth Raiders, who play in the British Basketball League," he says.
"I was 15 but playing with their Under-19s and getting to train with their professional team everyday. The big thing about that move was seeing whether I was ready to go farther away. I knew the basketball would take care of itself but at that age it was more about the emotional and social aspects. Being so close to home, if anything went wrong it was only a short flight. Seeing how I developed as a teenager was the biggest step at that stage."
His performances in the UK instantly attracted interest from elsewhere. He seemed set to transfer to a high school in California but then two professional teams in Europe – Estudiantes and Real Madrid – brought Blount in for trials. Still, that route didn't appeal to him. Already, in his mid-teens, he was thinking of college basketball in the US and the opportunities that could potentially lead to.
Blount's two-year spell with CBA in Spain proved a vital experience.
He was aware that the Canarias Basketball Academy (CBA) in Las Palmas had a reputation as a tough but rewarding centre of excellence. It had close ties with the collegiate system in America and Blount felt it was a better fit.
It was a two-year commitment and he blossomed.
"All that me and my Dad spoke about was basketball," he says.
"My Mam was the one who worried about the other stuff – schooling and being away from home – so I just tried not to talk to her too much!
Being that young and having to make those decisions was a blessing in disguise. You're so emotionally unaware of what you're doing. All you're set on is the basketball side of things. So from that perspective I always ended up making the right decisions. I have people around me who advised me and cared enough for me that I didn't have to think about the other stuff. I was surrounded by good people who only wanted the best for me and that made it a lot easier.
"From a life experience and basketball experience, my time in Spain changed me so much. It made me grow up a lot. People who know about CBA are aware of how strenuous it is. It's no joke. The amount of people who leave after the first month is ridiculous. You're up at 5am, you have four practices. You have to fit school into that too. And it made you answer tough questions: 'Do you really want to do this? Do you really love the game or just enjoy it?'
They're renowned for sending players to college in the US. And that was the reason why I didn't sign with the pro clubs. I knew the path I wanted to go down.
I had to figure out who I was on the court. I was always a scorer but I had to add other facets to my game to make myself more desirable. Being one-dimensional isn't going to cut it at any level."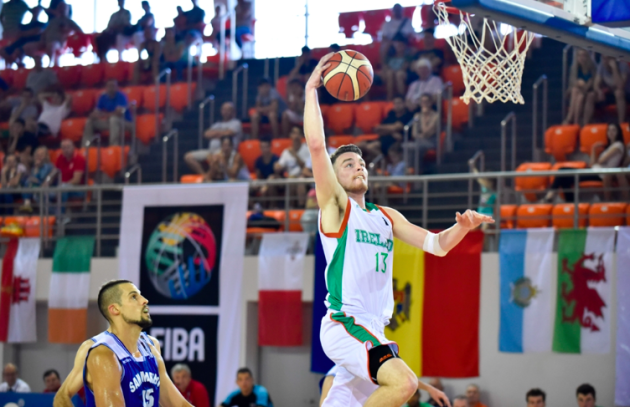 Jordan Blount in action for Ireland.
There were some key moments during his time at CBA. At the Under-18 EuroLeague Next Generation tournament, he was named to the All-Star team after leading the competition in scoring and rebounding. Then, something similar with the Irish Under-18s at the 2015 European championship in Austria. The consistency was crucial. And it inevitably led to discussions with various US schools.
Georgia Tech wanted him but suggested he attend a prep school in Florida. Blount was unsure and held off from committing. It proved a smart decision. When he did head to the US it was to the highly-regarded Spire Institute in Ohio – a high school that attracts plenty of attention from college scouts.
Within the first week of playing there, Blount had five offers.
It was a new experience, having to field interest from coaches across the country. Deciding on where to go was overwhelming but with the University of Illinois at Chicago (UIC), he felt the project mirrored a lot of what he'd done previously.
"It was about who needed me rather than wanted me," he says.
"I came on my visit and fell in love with the place, the atmosphere, Coach (Steve) McClain's energy. And we're building the programme here. That's what it's been about everywhere that I've played. In Plymouth, it was the first year of their academy and we won the BCS Cup in England. In Spain, it was the first year we were in the Euro League tournament and the first time we had any player be recognised at that level. At prep school, it was just the third year but we ended up with six Division I athletes on our team. And coming here it was a new staff, new players – another rebuilding process. But it's somewhere I get to be more permanent and see the fruition of everything. So the desire was there as soon as I arrived, really.
The first couple of weeks were hard, to be honest, just adjusting to the different personalities and egos. This little, white Irish kid – why should anyone respect me? So I had to blend in. But now I'm one of the biggest characters on the team."
"In terms of imports, we have two guys from Canada but they probably just came down on the bus, like. We have a guy from Jamaica, but he grew up in Maryland. There's some international flavour but not too much."
UIC Athletics UIC Athletics
Blount is in his sophomore year and enjoying an eye-catching season. He's started every one of the team's 21 games so far and there have been some career-high totals. His passing and vision – not the usual attributes associated with a forward – came in for high praise against Dartmouth as he racked up ten assists. There was 13 points and 10 rebounds against Northern Illinois – a first double-double of the campaign. 13 points against Green Bay. Against Cleveland State, a terrific 17-11.
"Both individually and as a team the season has gone the same way," he says.
"At the start, it was a struggle. But right now we're joint-second in the conference (Horizon League). I'm playing a lot better and I'm happy with that.
It doesn't happen overnight but you need to improve over three or four years. That's not a long time. For me, it's about taking your time, enjoying the process but remembering what you're here for.
My goal is trying to win a championship with UIC. That's all I'm thinking about right now. If I can do that and develop as a player then at the end of my tenure here – whatever level I'm at – then that's where I'm at."
The NCAA is a lucrative industry. The current TV deal with CBS/Turner is worth one billion dollars per year alone. The contract started in 2011 and was supposed to run until 2024 but was extended until 2032. There's also a vast collection of other media rights, ticket sales, merchandise. It's a dizzying, relentless commercial beast.
"It's absolute madness," Blount says.
When we go on road trips, we stay at these beautiful hotels, we get steak dinners. It's an unbelievable setup. Collegiate athletes are treated better than a lot of professionals. So…I'm not in any rush to leave it! There's the cheerleaders too – who are all mad. It's a lot different from playing at the Parochial Hall up in Gurranabraher and the Neptune Stadium, like."
But, he does feel the pangs sometimes.
"Missing home? More so recently than before," he says.
"The older I get – I say that and I'm 21 – the more it affects me. I've missed a lot. In college you live in your little dorm or your apartment and you come home and you don't have your Mam cooking for you and telling you to put your clothes away – you miss that sort of stuff. The craic and the laugh back home is nothing like here. But the WhatsApp group keeps me ticking over."
And Blount can still count on his 'personal coach' checking in frequently too. After all, it's part of the DNA.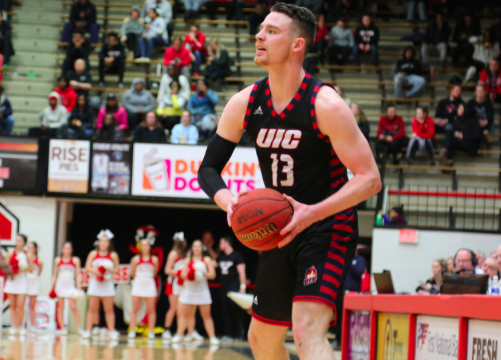 UIC Athletics UIC Athletics
"Games are on at 7 o'clock here – which means it's 1am back home," he says.
"We're not finished until about 3am or 3.30 and at 4am he'll ring me. 'Jordan, what was that turnover about?' 'Why didn't you shoot that shot?' And I'll be like, 'G'way man and let me sleep!'"
The42 has just published its first book, Behind The Lines, a collection of some of the year's best sports stories. Pick up your copy in Eason's, or order it here today (€10):