IRELAND U17S KICK-OFF their Euros campaign against Serbia in the Stadium Kostrena, Croatia tomorrow, and there is a mood of confidence within the camp ahead of the tournament.
This positivity is reflected by Jordan Doherty's response when asked about his side's aims ahead of the event.
"Our aim is to go as far as we can and hopefully win the tournament," he tells The42.
"We've got the ability, we've got the players to do it, so I don't see why we can't win (the Euros).
Our team spirit and togetherness are really important. There's a real good atmosphere. It's a winning atmosphere within the group — everyone wants to win. Everyone wants to do well for themselves and for each other, so I think that's important.
"We're a hard-working team — that's expected at this stage, that's the bottom line for us. From there, we've got the quality players to get the ball down and play."
While such talk may seem very optimistic given that the tournament includes some of the powerhouses of European football including Spain, Italy, Germany and France, this Irish team's performances so far have been accomplished.
In a qualifying group that also featured Slovakia, Greece, Cyprus, Kazakhstan, Faroe Islands and Andorra, Ireland won six games out of six, earning four clean sheets along the way. In attack, they were also impressive. Brighton starlet Aaron Connolly managed seven goals in six games, while Adam Ihah of Corinthian Boys claimed four in six.
One notable aspect of the squad's makeup is how many players are based in Ireland. Of the 18 players currently in Croatia, 10 play their football domestically, while only three are with top-flight English clubs — Lee O'Connor (Manchester United), Nathan Collins (Stoke City) and Gavin Kilkenny (Bournemouth).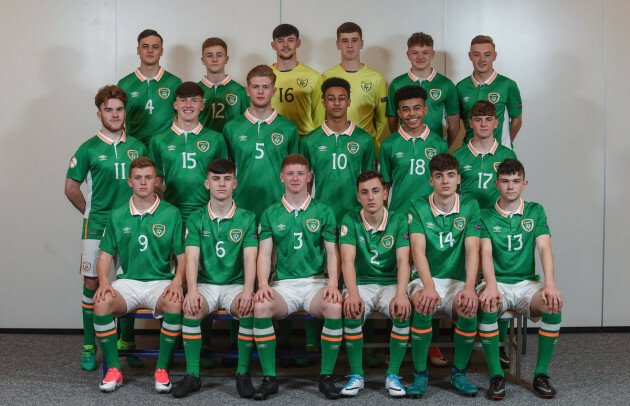 Ireland won six games from six in their qualifying campaign for the Euros.
Is this a sign that Irish players are starting to resist the lure of the elite clubs and instead go to places where they are more likely to get first-team opportunities?
For everyone it's a personal decision," Doherty says. "It depends on where you feel you can make the biggest impact. The place where you can better yourself and better your own career. That's the place where you want to go — everyone's got their own choices to make."
Doherty, who can play in both defence and midfield, started off at local side Balscadden before joining Home Farm at the age of seven and going on to become their club player of the year prior to his departure.
He spent eight years at the top Dublin schoolboy club before ultimately joining Sheffield United, whose senior side were recently promoted to the Championship.
I had quite a few other offers from different clubs, but when I went to Sheffield United, I really enjoyed my time there and got on with everyone," he says. "There's a real winning atmosphere and I sensed that was the place for me."
Doherty, who turns 17 in August, has impressed since joining the Blades and looks well set to contend for a first-team spot in future, having spent this season alternating between the team's U18 and U23 sides.
The U18s have had a really good season," he adds. "We have a final on 10 May — I obviously won't be there. It's the final of the national league, which is a really good achievement.
"The 23s, considering how young we were this year, we've had a really good season.
So with the first team, it's obviously been a really good year and hopefully it'll be more of the same next year."
The Balbriggan native moved to England after completing his Junior Cert, with Sheffield United subsequently looking after the player's educational needs.
Homesickness, he says, is never an issue, thanks to the wonders of modern technology.
We've got things like FaceTime — I talk to my family every day and they're very supportive, so that really motivates me."
Provided he starts, Doherty is likely to play his first-ever game in front of TV cameras on 10 May, with Ireland's final group match against Germany set to be screened live on Eurosport 1. It is an experience, the youngster insists, he won't be getting overawed by.
It's nice, but at the end of the day, we need to win the game. It's a big game for us, it's a big game for the group, so we're not really too focused about being on TV, it's about getting the job done and playing to the best of our abilities."
Nor are the Irish team overly worried about coming up against some of the best sides in the world at this level.
We haven't done a lot (of video work) because we try to focus more on ourselves. We've got the quality to go and beat teams regardless of what they do. It's 80% about us, 20% about them."
Republic of Ireland Under 17 Squad – UEFA European Under 17 Championship
Goalkeepers: Brian Maher (St Patrick's Athletic), Kian Clarke (Bohemians).
Defenders: Lee O'Connor (Manchester United), Kameron Ledwidge (St Kevin's Boys), Nathan Collins (Stoke City), Jordan Doherty (Sheffield United), Daryl Walsh (Waterford FC), Joe Redmond (Birmingham City).
Midfielders: Aaron Bolger (Shamrock Rovers), Luke Nolan (St Patrick's Athletic), Brandon Kavanagh (Bohemians), Richard O'Farrell (St Patrick's Athletic), Gavin Kilkenny (Bournemouth), Tyreik Wright (Lakewood AFC).
Forwards: Callum Thompson (Wolverhampton Wanderers), Rowan Roache (Blackpool), Adam Idah (Corinthian Boys), Aaron Connolly (Brighton & Hove Albion).
Fixtures
Thursday, 4 May: Republic of Ireland v Serbia, Stadium Rujevica, Rijeka, KO 15:30
Sunday 7 May: Republic of Ireland v Bosnia & Herzegovina, Stadium Kostena, KO 15:30
Wednesday, 10 May: Republic of Ireland v Germany, Stadium Rujevica, Rijeka, KO 11:00, LIVE on Eurosport 1
The42 is on Instagram! Tap the button below on your phone to follow us!