EVEN THOUGH SPAIN finished an incredibly disappointing World Cup with a comprehensive victory over Australia, one of their players still cut a deeply frustrated figure in the direct aftermath of the game.
As he walked through the mixed zone, on his way out of the stadium, Jordi Alba passed in front of AS reporter Javier Gomez Matallanas and said:
"Next time I'll rip your head off."
As Matallanas offered nothing but a bemused reaction, Alba followed up his initial barb with another threat:
"Yes, yes – next time. I'm warning you."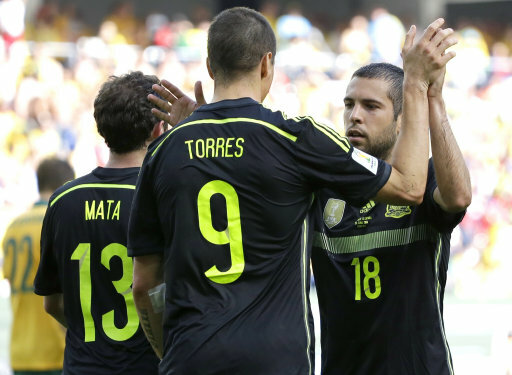 Fernando Vergara / AP/Press Association Images Fernando Vergara / AP/Press Association Images / AP/Press Association Images
According to witnesses, Alba then confronted Matallanas again on the flight back to Spain where, Joined by Sergio Busquets, the full-back accused the sports-writer of being 'a grass'.
For what it's worth, Matallanas spoke to a Spanish radio station after Alba's initial outburst and couldn't get his head around what the Barcelona defender was referring to.
I have no idea why (he said what he did). I have not written anything about him. I don't remember writing anything about him at all."