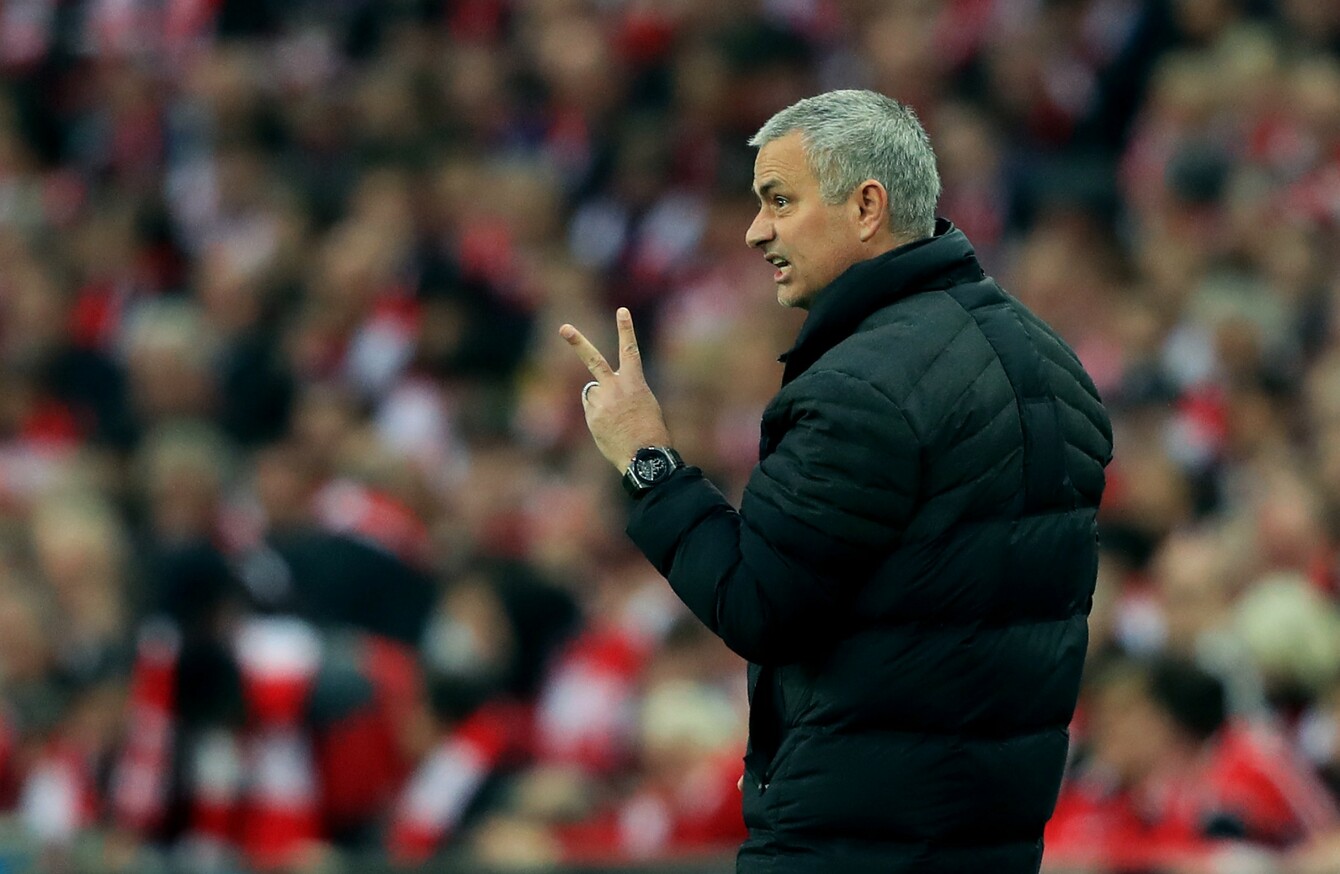 Image: Adam Davy
Image: Adam Davy
IN A WAR of attrition, Jose Mourinho normally comes out on top. And that's what's probably irritating him more than anything else in the aftermath of Manchester United's FA Cup quarter-final defeat to Chelsea on Monday night.
It was a fascinating encounter with a litany of intriguing sub-plots. And hardly any of them disappointed.
When so many clashes between elite Premier League teams fade into obscurity, this had an edge. And it had the hallmarks of what could yet develop into a proper rivalry.
Whereas much was made of how Mourinho and Pep Guardiola would reignite the flames this term, both have been on their best behaviour – something surely helped by both teams' relative struggles this season.
But Mourinho cherishes the edge. And it's almost reassuring to see him back in his natural habitat, stirring the pot mischievously.
He has identified Chelsea and Antonio Conte as the perfect targets. There's probably an assortment of reasons for this. Firstly, the Italian is flavour of the month. Secondly, there remains a bitterness towards his former employers for the way he was forced out in December 2015. Thirdly, there is a dislike there – as evidenced by the way Mourinho, with the irony seemingly lost on him, lectured Conte on sportsmanship following United's 4-0 drubbing at Old Trafford back in October. Fourth, it's just good sport.
In the words of Alfred Pennyworth,
Some men aren't looking for anything logical, like money. They can't be bought, bullied, reasoned, or negotiated with. Some men just want to watch the world burn."
It's not a new trick. But Mourinho didn't just begin chirping about Conte ahead of Monday's fixture. Back in mid-February, he ridiculed Chelsea's approach under the Italian.
"They defend very well and with lots of players", he said.
But Conte doesn't bite. He knows better than that. After all, his mentor is Carlo Ancelotti – whose served many a megalomaniac from Milan to Chelsea and lots in between – but who has kept his dignity throughout.
He may snarl and swear and wildly gesticulate on the touchline but, in press-conferences and in interviews, Conte usually offers up a knowing smile, a short response to questions and avoids the conspiracy theories. He also avoids speaking about other clubs.
Certainly, it's easier not to be dragged into slagging matches when you're cantering to a Premier League title in your very first campaign in English football. But Conte has little time for theatre. He's fuelled by a fear of laziness. As his Juventus side eased three successive Serie A titles between 2012 and 2014, there was no drop-off. There was no resting on laurels. There was work to be done. And that is Conte's way.
The fear for Mourinho is that Conte is a threat to his legacy. He has assembled a magnificent side, made some smart tweaks and even smarter additions and will strengthen even more in the summer.
And Mourinho is afraid. That was clear when he put together his plans to contain Conte's Chelsea on Monday and attempt to upset them and get under their skin at every available moment.
His pre-game comments about how Chelsea played on the counter-attack were misguided and wild. And he effectively rubbished them himself (along with his laughable words last month) by choosing the team and formation he did.
He selected a back six, worried so much by how the movement of Eden Hazard and Willian leads to Marcus Alonso and Victor Moses becoming consistent attacking threats on the flanks and which means Chelsea usually have five attacking players when going forward.
The practical thinking was default Mourinho. As was the way in which he encouraged United to be physical and push the boundaries regarding the handling of Hazard.
The Belgian was certainly targeted – the ultimate compliment – and directly led to Ander Herrera's sending-off, a moment that completely changed the remainder of the game and effectively erased any possibility of United mounting their own offensive strategy.
See Sport
Differently
Get closer to the stories that matter with exclusive analysis, insight and debate in The42 Membership
Become a Member
Mourinho smiled wryly on the touchline, the dark arts he masterfully oversaw so many times at Stamford Bridge ultimately costing him this time.
But the edge was back. And for a few minutes after Herrera's dismissal, it was electric. Hazard was hit again. Both managers clashed on the touchline. The vitriolic abuse finally got the better of Mourinho who responded to the home fans – quite typically and inevitably – with a fingered salute. It wasn't tawdry. It was edgy. Just the way he likes it.
And for that first half, we finally saw Mourinho cultivate this Manchester United in his own image.
It's taken a while but the team's strategy had his fingerprints all over it. It was interesting to hear Frank Lampard speak in the BBC studios at half-time about how Mourinho would rile his players by telling them everything was against them: the referee, the crowd, the world. The idea was to whip them into a frenzy, to illicit a big response. But a man down, it was immensely difficult. When Kante scored so early, it became nearly impossible.
Still, even in the aftermath, Mourinho couldn't help himself troll a little more. He described Paul Pogba – who, with the exception of the opening 15 minutes – was largely anonymous – as 'the best player on the pitch'.
And he took care to remind the Chelsea fans who abused him (so bizarrely at times – Judas?) that he remains their Special One.
All of this was designed to irritate – Mourinho seeking to gain any foothold in any conversation and deflect from Chelsea's victory.
In many ways, he succeeded. But Conte remains unaffected by it all. Whether or not it stays that way is unclear. And maybe that comes back to whether Mourinho can do enough to properly instigate a rivalry and get back to being a contender.